Emergency Preparedness School Kit Every One Needs
With school starting right around the corner, I thought it would be appropriate to put together an Emergency Preparedness School Kit For Kids. I realize a lot of people home school their children, but these kits could be placed in your car, and if you needed them each child would have their own kit. You never know when a car accident could happen and you are stranded on the freeway or even some local streets in the city. I made these specifically for children to have available in their backpack if an emergency happened at the school.
I have heard about and read about lock downs at school. I want every child in the world to have an emergency kit for kids.
Items For Emergency Preparedness School Kit:
1. Card with child's name, address and emergency phone number/contact information
2. Write a short note telling your child you love them and add some words of encouragement in case you are separated for an extended time period
3. Water, I added three emergency drinking water packets that last for five years. They are approved by the US-Coast Guard. Each one has 4.2227 FL Oz. Easy to open even for a small child. They have a small tear area
4. Crackers with cheese-yes it is junk food but it would be something to help fill a small tummy in an emergency
5. Lightsticks-remember it could become dark at the school or in the car depending on how you use this emergency kit. These are non-toxic, cool to the touch, no heat and zero flames. You can add a flashlight, but then you would have to rotate the batteries and hope they do not leak.
6. Peanuts-who wouldn't love some peanuts. Unless of course, you are allergic then you would put some other snack in the kit
7. Jerky-most kids love jerky and it is filling
8. Nature Valley snack bar-its crunchy and will take some time to eat it
9. All Natural Fruit Strip-most kids love fruit leather
10. Emergency blanket-this would be great if the power goes out and it gets cold at the school. They can wrap themselves up in the thin life-saving warm heat sheet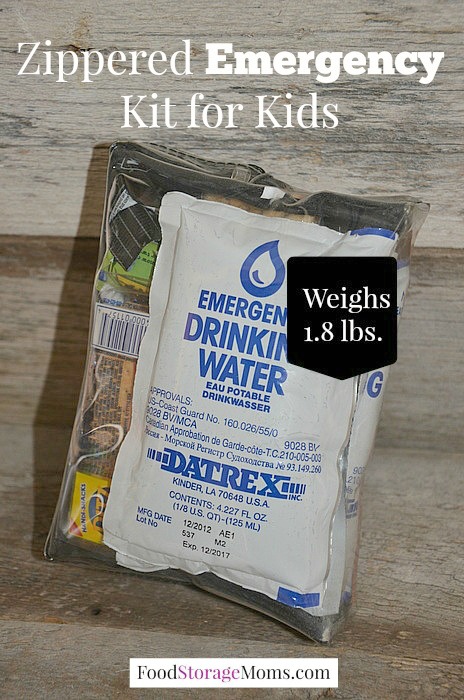 These are just a few ideas of what you might want to put in your child's emergency kit. You never know what might happen at school. We have all seen on the TV or read in the newspaper about school lockdowns. We have heard about roads shut down and closed because of fires, car accidents, etc. Let's be prepared for the unexpected. I put all the above items in a small zippered clear makeup bag about 5-1/2 inches by 7 inches by 2 inches.
I weighed the bag totally full with all the items above and it weighed about 1.8 pounds. If I had placed cartons of water the bag would have been too small. I also worried about leakage in those boxed drinks. I realize most schools will not allow medications to be put in backpacks so I did not add those items. I wanted to make a compact bag that is fairly inexpensive and sturdy at the same time. This kit could be a real blessing to all our school children and teachers.
I mentioned on Facebook about this emergency preparedness school kit and received some great comments:
Scott reminded me that some kids are allergic to peanuts…so if the classroom where your child attends has a no peanut policy obviously you will have to fill your bag w/o out peanut products. A small stuffed animal, games or familiar small toy could comfort a small child until reunited with family.  If you have an MP3 player with a radio could hopefully give some "news" as to the emergency at hand. Cell phones, of course, are fabulous for your kids to have them in the case of any emergency (they can call 911).