Emergency Toilet Set You May Need In A Disaster
Emergency Toilet Set: You may need one sometime in the future if you have an unforeseen disaster or emergency. Or maybe a power outage and the sewer lines do not work because there is zero electricity in your neighborhood. I am really trying to show every possible type of preparedness situation you might need to consider. Here's the deal, I am going to show you two different ideas today. The six-gallon setup shown above and one other emergency toilet idea.
I have one of these stored in my garage ready to use if needed here at the house or to take somewhere offsite. We all have to use the bathroom, it's a fact of life. It's not the most comfortable thing to talk about, but we must if we want to be prepared for the unexpected. So I decided to show you my emergency toilet set complete with the items needed to be stored inside this six-gallon bucket. Remember, never get rid of buckets because you can always use them for so many things. You can buy five-gallon buckets, but the larger ones are easier to use and not have to squat down so far to the ground.
Here Are The Items I Store Inside The Bucket (Emergency Toilet Set):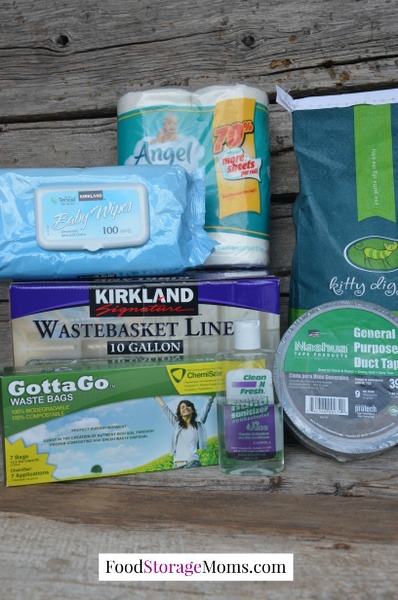 1. Box of 10-gallon size bags (500-count), I bought these at Costco. You can buy the green ones but they are so expensive
2. Toilet paper at least 3-4 rolls
3. Hand Sanitizer
4. Baby Wipes
5. A collapsible shovel (not shown)
6. Kitty litter or sawdust to help reduce the odor
7. Duct tape to attach the bags to the bucket to prevent slippage
Five Gallon Versus Six Gallon Bucket Emergency Toilet Kits:
I was asked today why I prefer the six-gallon buckets for emergency toilets. Here's the deal. This is not the first time I have been asked so I decided to show you a picture of the difference. If you are 5 feet tall or less the five-gallon emergency toilets would work fine. That extra two-inches makes all the difference of someone over 5 feet tall. If I could find a 7-gallon bucket that would be even better!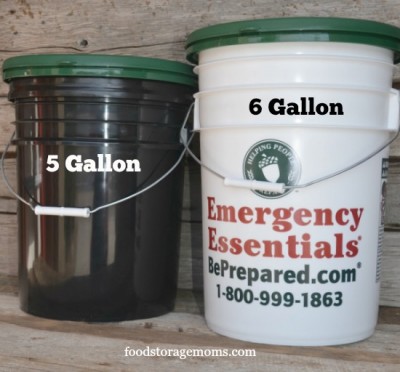 Two Different Toilet Seat Styles
I need to show you the two different toilet seats I found to use for the six-gallon emergency toilets. The black one I bought several years ago. The green one is a new and improved emergency toilet seat. This new green one I found at Emergency Essentials. It has a rubber type gasket with a latch/lock incorporated into the lid and base. It is really a lot sturdier than the black one I purchased years ago.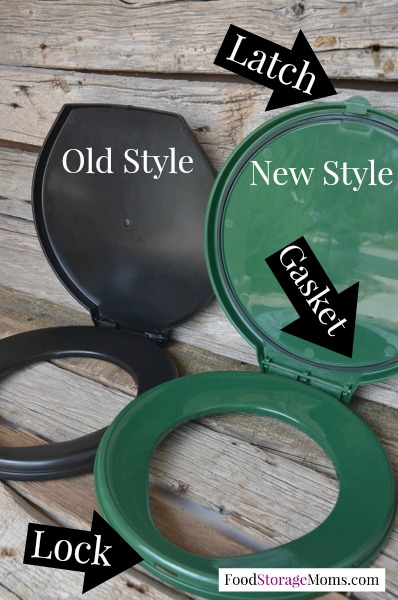 Garbage Bag Toilet
Okay now, let's look at another option for an emergency toilet. I realize some of us have smaller homes and may not have a way to store items like the emergency toilet set shown above. I had seen something similar to the bag toilet below somewhere. Someone suggested putting a tennis ball in the bottom of the toilet bowl. I am not going to suggest that because I am a nervous nellie and I am afraid it will clog the toilet.
I suggest turning off the water taps below your toilet so just in case the water/sewer lines begin to work again…these big old garbage bags do not go down the toilet. Although with the kitty litter it would be almost impossible to "flush" it. I am thinking I would duct tape the handle to the toilet so NO ONE can flush it until I remove the tape.
Here is the first step to another type of an emergency toilet set. One large garbage and bag and 3-4 cups kitty litter.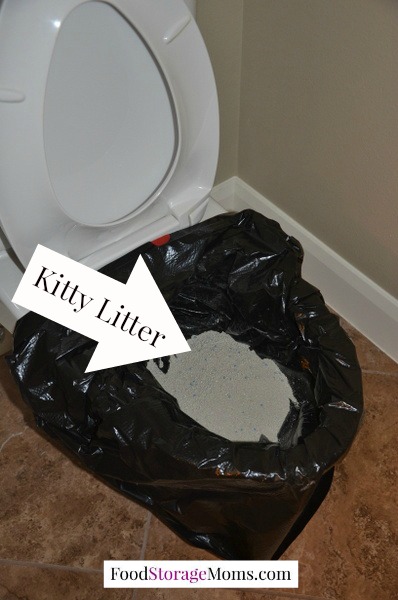 That emergency toilet set is with the toilet seat up. Below is the toilet ready to use. I did a similar emergency toilet post last year but wanted to update with this new garbage bag emergency toilet idea.  In either example shown, you would want to dispose of the bag with all its "goodies" in the proper way once things are back to normal.  You could CAREFULLY empty the contents in small increments in the functional toilet, or dig a hole and bury the bag and contents in a location that wouldn't put nearby water supplies at risk.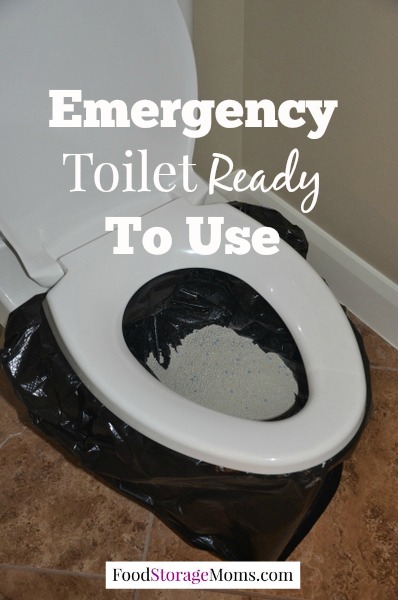 September is National Emergency Preparedness Month so I hope this inspires you and your family to be prepared for the unexpected. Blessings..