Pork: Everything You Need to Know
Although eating pork is forbidden in a number of worldwide religions (Judaism and Islam), and even illegal to do in certain countries, it's still the number one most consumed red meat in the world. That's because it tastes so good! If you've never been able to enjoy a hog roast before, you don't know what you've been missing.
Pork is high in protein and is a rich source of several different vitamins and minerals, providing you with several health benefits that may interest you. This is why you should consider adding a moderation of pork to your healthy diet, if you haven't already. Here's more on pork and everything that you need to know about it. In case you missed this post, Pulled Pork In A Slow Cooker
Pork: Everything You Need to Know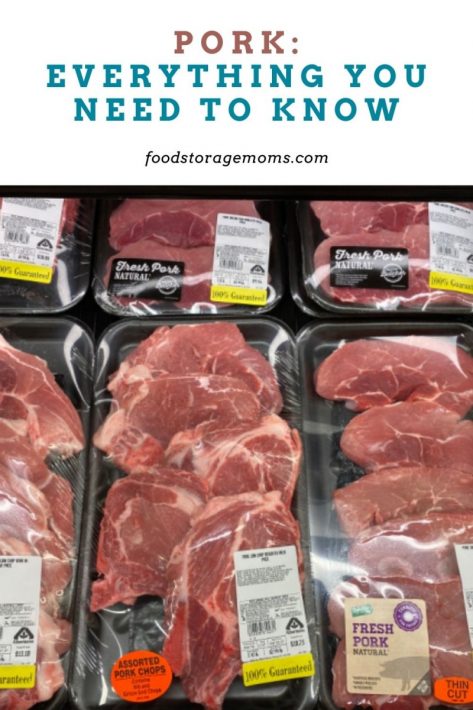 Most Common Cuts of Pork
The following are some of the most common cuts of pork that you will find at the grocery store. Each one is different as far as tenderness, flavor, and even price. You've probably cooked or grilled most of them before. If you have a meat thermometer that would be awesome. I always use one for any cut of meat I bake or barbecue. The pork must have an internal temperature of 160 degrees F. to be safe. Instant Thermometer
Pork Chops
Pork chops come from the loin and are quite tender and lean. They cook quickly, and can be set on a dinner plate with almost anything. They're so good I'm actually cooking them tonight.
Pork Tenderloin
Pork tenderloin is also cut from the loin of a pig, yet is considered to be the most tender of them all. It's usually a smaller cut of meat that is delicious when combined with rubs, marinades, and spices.
Pork Loin Roast
Pork loin is sold boneless and bone-in and is one of the most affordable cuts of pork. It comes with a mild taste and is still considered lean, even with the fat that sometimes comes with it.
Pork Spareribs
Spareribs are probably the most common cut of pork that you will find at the grocery store. It's a bit tougher and fatty at times, but if cooked right, you will be treated to a tender and tasty slab of ribs.
Pork Shoulder
If you love pulled pork, the pork shoulder is the way to go. It's also a budget-friendlier cut of meat. It has more fat than the leaner cuts, but that only means that it has more juiciness, tenderness, and flavor.
Nutrition Facts
A 3.5 ounce of ground pork that's cooked provides you with these nutrients (fats and proteins may slightly vary):
Calories: 297
Protein: 25.7 grams
Water: 53%
Fat: 20.8 grams
Fiber: 0 grams
Carbs: 0 grams
Sugar: 0 grams
Protein
As you can see, pork is made up of a lot of protein. When lean pork is cooked, the protein content is right around 26% by fresh weight. When it's dry, the protein content can be as high as 89%, putting it towards the top of dietary sources out there as far as protein is concerned. It also contains all 9 amino acids that are essential for human growth and maintaining healthy muscles. This is why you see certain people like bodybuilders, recovering athletes, and post-surgery patients eating so much pork because it helps to build and repair muscles.
Fat
You will find that pork has varying amounts of fat in it, depending on the cut and how well it's been trimmed. Clarified pig fat (lard) is a great fat to use when cooking. Pork contains about an equal amount of saturated and unsaturated fats.
Vitamins and Minerals
These are some of the vitamins and minerals that you will find present in pork. They each play an important role in keeping you healthy.
Vitamin B12 plays a big role in helping with blood formulation and proper brain function. If you were to have a deficiency with this vitamin, it could lead to anemia and damaged neurons in your brain. This vitamin can mostly be found in foods that are of animal origin, and pork is certainly one of them.
Vitamin B6 helps with the formation of red blood cells.
Thiamine is a B vitamin that plays a number of different roles as it pertains to proper body function. Pork contains a rich amount of thiamine, which is strange because most other red meats typically don't.
Niacin is also in the vitamin B family (vitamin B3). It helps with a number of functions throughout the body, and is beneficial for growth and metabolism.
Zinc plays an important role keeping our brain and immune systems healthy. Pork is high in zinc.
While pork may contain a smaller amount of iron than beef and lamb, there's still a decent amount present.
It's a good source for phosphorus, which promotes body growth and maintenance.
This mineral is mostly present in animal derived foods, and this meat is no exception. It helps to fight off infections and improve our metabolism.
Meat Compounds
Pork also contains a handful of antioxidants, besides vitamins and minerals. Each of them provides you several health benefits. Creatine is one that promotes muscle energy and growth. You've probably heard how bodybuilders use creatine as a supplement to help make them stronger. Taurine is another antioxidant in pork, which benefits the heart along with your muscle function.
Glutathione is another essential antioxidant that's present in pork, which is thought to reduce oxidative stress that produces free radicals. There's also cholesterol in pork, but if you consume it in moderate portions it shouldn't play a factor in your cholesterol level.
Health Benefits
Muscle Mass and Maintenance
As you and I grow older, maintaining muscle mass becomes even more important. If we allow our muscle mass to deteriorate by not exercising and eating healthy, we will experience a decreased quality in life, which can eventually lead to muscle degeneration and sarcopenia.
A great way to preserve muscle mass is by eating pork and other foods that are rich in protein, along with exercising regularly.
Improves Exercise Performance
Consuming pork and other meat products will not only help you build and maintain muscles, it will also improve your overall physical performance. This means you may not become fatigued as easily, and your muscles will function more properly. This is because of the creatine, taurine, and beta-alanine (amino acid) that's present in pork.
Heart Disease
Heart disease is the leading cause of death in the United States. Pork and other red meats have been given a bad wrap in this area, but research has mixed opinions on the subject. There have been studies done that have shown that consuming too much red meat can lead up to heart disease, type 2 diabetes, and cancer, but as long as you're eating the right amount of lean pork, you will be better off.  
How long can I store Frozen Pork?
I'm going to quote the USDA, "Frozen foods are safe indefinitely. For best quality, fresh pork roast, steaks, chops, or ribs should be used within four to six months; fresh ground pork, pork liver or variety meats should be used within three to four months; and home cooked pork; soups, stews or casseroles within two to three months. July 17, 2019."
Final Word
Pork is a red meat that should be enjoyed in moderation. Even though it's not considered a diet food, it does have a host of vitamins, minerals, and antioxidants that help keep your body strong and healthy.
You also want to be sure that you cook your cut of pork thoroughly so that you don't get sick or have adverse side effects. Here are 100 pork dinner recipes that look amazing that you may want to check out. What's your favorite way to cook it? I'd love to hear from you. May God Bless this world, Linda