Memorial Day Menu For Your Family
Can you use some help with a Memorial Day Menu? When gathered together our family is large and we cook all of our meals at home when we get together. Here's our menu for you! When I worked I looked forward to three day weekends so much since I tended to work long hours and didn't interact with family and friends as much as I would have liked. Now that my daughters have moved on to create their own life stories and memories we started our once a year get-together on Memorial Day at our little home with the whole crew, or at least whoever can make it.
This year the count is 22 people so far and it takes a bit of planning before the Memorial Day weekend arrives. We don't have any burial graves that we can go visit and place flowers on that are very close, but none the less, we are making memories together as a family. I have four flags that I purchased to display on four of the curbs of homes surrounding my home.
American Flag
I actually pay the $35.00 every year to our neighborhood Boy Scout troop to post one in front of my home. It looked lonely to only have a few flags, so enough said. It is beautiful to look at the five flags around my home. They will be hanging all three days of the weekend. Gotta love it!
You might want to start a tradition, if you haven't already, to show your patriotism by displaying our American flag at your home or business every national holiday, or for that matter all year long. My husband belongs to a civic club called The National Exchange Club. Every year the club here in St. George, Utah honors a family and a business that displays the flag all year long.
"Proudly We Hail Breakfast"
They call this their "Proudly We Hail Breakfast." The family and business owner are invited to the club's weekly breakfast and they are invited to tell their story regarding why they feel inclined to display the flag so consistently. We have heard some wonderful stories of heroes from the past, and not too distant past. The guests are given a plaque to hang on their wall at work or home to acknowledge the appreciation the club members feel for their display of Love of Country. Check it out at National Exchange Club
In case you didn't know, I have four daughters and 17 grandchildren. Now everyone has jobs or commitments, so not everyone can come here to our home in Southern Utah on Memorial Day. Our family is so large now that it's impossible for us all to get together for Thanksgiving, Christmas, etc. The weather is extreme in some areas and the cost is prohibitive to get together for all holidays at this stage of our lives.
We don't like to eat out because with this many people we can't mingle at a restaurant and the cost would be ridiculous. Besides, we call ourselves the sister-wives because of how everyone pitches in to make the meals, snacks, and clean up.
We have a swimming pool in our backyard, thanks to the inheritance from my mother after she died. I know she is looking down from heaven and knows that we are all together and making memories. The whole family sits outside and we laugh from morning until night, literally. We never leave the house because we make all meals right here, snacks and water. Lots of water.
Memorial Day Menu
Breakfasts:
Mickey Mouse pancakes, bacon and orange juice
Scrambled eggs, link sausages, and orange juice
Egg, cheese and sausage patties on toasted English muffins with orange juice
Cold cereal is always available with bananas and milk.
Milk and chocolate milk
Lunches:
Here are my chicken salad and egg salad recipes that are really easy to make and everyone loves them.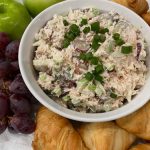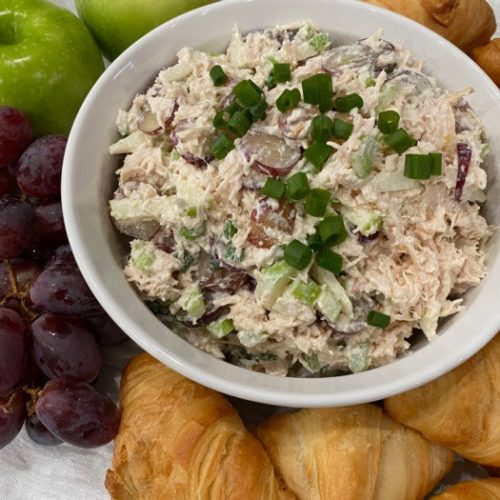 Chicken Salad Recipe
Ingredients
3

cups

cooked shredded chicken breasts

1

cup

chopped apple

1/2

cup

chopped celery

2-3

chopped green onions

1

cup

sliced red grapes

1

cup

Mayo or Miracle Whip (I used Mayo)

1/2

teaspoon

dill weed

salt and pepper to taste
Instructions
Shred the cooked chicken.

Combine the cooked shredded chicken, chopped apple, chopped celery, chopped green onion, and sliced red grapes.

Mix everything together in a large bowl.

Grab a small mixing bowl, and combine the mayo or Miracle Whip with the dill weed, salt, and pepper until thoroughly mixed.

Scoop the "dressing" over the chicken mixture. Stir well. Serve on a bed of lettuce or in a roll/croissant.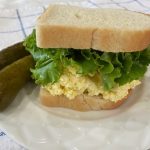 Egg Salad Sandwich Recipe
Ingredients
8-9

hard-boiled eggs peeled and finely chopped

1

tablespoon

sugar

3/4

cup

Mayonnaise or Miracle Whip Salad Dressing

Salt & Pepper to taste
Instructions
Boil your eggs in a saucepan, pressure cooker, in the oven, or a Sun Oven outside.

Drain the hot water, cover the cooked eggs with ice and water. Peel when cool.

Chop the eggs as finely as possible. I use a chopper.

Combine the eggs, mayonnaise, or Miracle Whip.

Stir in the salt, pepper, and sugar. Serve on a bed of lettuce or make a sandwich with the mixture.
Lunch meat, bread/rolls, vegetables, and fruit
Chicken salad, egg salad, croissants, vegetables, and fruit
Crackers, sliced cheese, sliced meat, vegetables, and fruit
Dinners:
Here are a few recipes to make your weekend cooking a little easier. Life is good when we eat together as a family.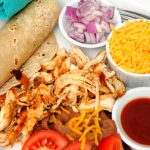 Copy Cat Café Rio Chicken by FSM
Ingredients
3-4

chicken breasts or equal amount of chicken tenderloins

2

cans Rotel Tomatoes

1

teaspoon

garlic salt

1

teaspoon

chili powder

1

teaspoon

of sea salt

1

teaspoon

pepper

1-2

limes squeezed over the cooked shredded meat when ready to serve
Instructions
Put everything in a slow cooker and set on low for about 8-10 hours. Use two forks to shred the meat just before serving or leave as cubed meat. Squeeze fresh limes over the meat just before serving. Great with flour or corn tortillas.
Pulled Pork Recipe by Food Storage Moms
Ingredients
3

pounds pork tenderloin

1

12-ounce can Dr Pepper or 20-ounce Bottle Dr Pepper

1

onion, chopped or sliced

salt and pepper to taste

Barbecue Sauce of choice
Instructions
Grab a slow cooker and put the onions in the bottom. Next, place the pork in the slow cooker on top of onions and salt and pepper to your taste. Pour the can or bottle of Dr Pepper over the meat. Put the lid on and cook on low for 6-8 hours until meat is fork-tender and easy to shred with two forks. Serve with your favorite barbecue sauce on French Bread Rolls with coleslaw, if desired.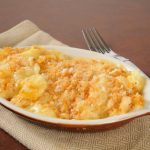 Cheesy Potatoes
Ingredients
12

Potatoes (shredded or sliced)

1

Pint

Sour Cream

2

Cans Cream of Chicken Soup

1/4

Cup

Butter

2-3

Cups

Cheese-grated

1

Cup

Frosted Flakes type cereal
Instructions
Combine all of the ingredients in a large bowl, and sprinkle with salt and pepper. Grease a 9 by 13-inch pan and scoop the mixture into the pan. I crush the frosted flakes and sprinkle them over the casserole. Bake at (350°F) = (176°C) degrees covered with foil for 1 hour, or until bubbly.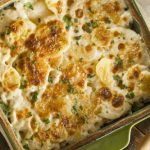 Swiss Cheesy Potatoes by Food Storage Moms
Ingredients
3

packages-3.5 ounce dehydrated potatoes

re-hydrate according to your brand of potatoes-mine takes 45 minutes covered with water and drain or fresh potatoes sliced, peeled or cubed to fill a 9 by 13-inch pan about ½ full because you will add the cheese

3-4

cups

grated Swiss Cheese

depending on how cheesy you want yours

½

cube of butter melted

1

tablespoon

minced onion

I use freeze-dried

1

cup

whipping cream

Salt & Pepper to taste
Instructions
Preheat oven to 350 degrees. Place ½ of the rehydrated potatoes in a 9″ by 13″ greased pan. Next, layer with ½ of the cheese, sprinkle the minced fresh or freeze-dried onion over this layer. Add the rest of the potatoes and drizzle the butter over this layer. Add the rest of the Swiss cheese and pour the whipping cream over the last layer and salt and pepper to taste. Cover with foil and bake for about one hour, or until heated through and bubbling.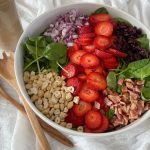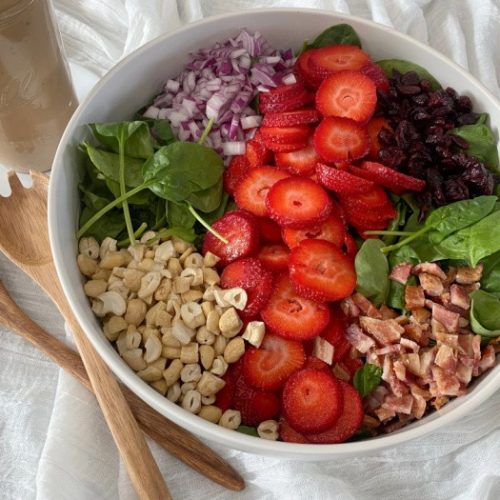 Strawberry Spinach Salad
Ingredients
One bag of baby spinach or salad greens (your choice, any size)

6

pieces

of thick bacon (cooked, drained and crumbled)

1/4

cup

chopped cashews or sliced almonds

1/4

cup

craisins

1/4

chopped red onion

8-10

ounces

of sliced fresh strawberries
DRESSING:
1

cup

mayonnaise

1/4

cup

milk

1/8

cup

of your favorite balsamic vinegars (strawberry is good for this salad)

1/8

cup

sugar

2

tablespoons

strawberry jam
Instructions
Strawberry Spinach Salad
Grab a large bowl and layer the spinach, bacon, cashews, Craisins, chopped red onions, and freshly sliced strawberries.
Strawberry Spinach Salad Dressing
Use a blender to mix the ingredients for the dressing. Chill the dressing and pour it over the salad just before serving.
Slow cooker copy-cat Cafe Rio chicken
We cook a large pork tenderloin cut into four pieces with our favorite barbecue sauce for 8-10 hours on low in a slow cooker.
Swiss cheese shredded potatoes
Baked broccoli and sliced baked yams/sweet potatoes
Spinach, chopped apples, strawberry salad with a poppy seed dressing
Barbecued Hamburgers, etc.
I want to share my hamburger and hot dog bun recipe with you, they are really easy to make. Obviously, all you have to do is change the shape of the dough.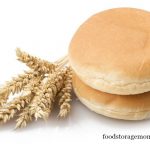 Hamburger Buns
Ingredients
2-3/4

cups

flour

– I use bread flour

2-1/2

tablespoons

SAF instant yeast

1

teaspoon

of sea salt

4

tablespoons

butter softened

1

teaspoon

onion powder

2/3 

cups

parmesan cheese-grated

2

tablespoons

sugar

1

egg

2/3 

cups

water
Instructions
Combine the ingredients in the order shown above into your Bosch or Kitchen Aid Mixer with a dough hook. This is by far the easiest recipe to make hamburger or hot dog buns (depending on how you shape them).

I add more flour until the mixture pulls away from the sides of the bowl. Cover and let rise with some greased plastic wrap for about one hour. Remove plastic and evenly divide the dough into 6 balls.

Roll each ball, tuck the edges under, and place on a greased cookie sheet. Flatten each ball to about 3-1/2 to 4 inches wide.

Cover the rolls with plastic wrap and let rise until double. Remove plastic wrap and bake at 350°F) = (176°C) degrees for about 20-25 minutes until golden brown.
Hamburgers and hamburger buns
Hot dogs and hot dog buns
Ready-made salads, sliced onions, sliced tomatoes, and cheese slices
Baked homemade French fries with homemade fry sauce
Ketchup, mayonnaise, mustard, pickles, and relish
Snacks
This is one of my favorite dishes to make for friends and family.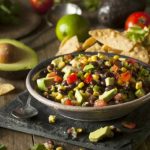 Salsa Recipe by Food Storage Moms
Ingredients
3

cans black-eyed peas or black beans (drained and rinsed)

2

cans of corn (drained)

3-4

tomatoes chopped

3

avocados-chopped

1

bunch cilantro-chopped

1/2

sweet purple onion, minced

Juice of 2 Limes

Good Seasonings Italian Dressing Packet-prepared or just make it yourself vinegar and oil dressing
Instructions
Mix all together with the amount of dressing you prefer, then just Salt & Pepper to taste! Serve cold with tortilla chips. Great as a side dish, too!
Chips-salsa
Fruits, vegetables, and nuts
Harmon's Grocery Store cream cheese ball and crackers
Chocolate milk, regular milk, orange juice, smoothies
Marshmallows, chocolate and graham crackers (Smores)
Frozen Creamies, banana, chocolate and orange flavor
Water is served at every meal and outside in the backyard
Final Word
My menu costs about $10.00 per person for the entire three days. It sure beats eating out, and I know what's in the food we are consuming. You can see we eat very frugally here at our Memorial Day three-day weekend. Please have a wonderful and safe weekend. May God bless our country at this time. Linda
Be prepared for the unexpected: Prepare Your Family for Survival: How to Be Ready for Any Emergency or Disaster Situation
WebMD Keeping Food Safe Outside