How To Make Mac And Cheese With Food Storage
Here is an easy last minute mac and cheese meal for just about anyone. I added a spinach salad and dinner was ready in about 45 minutes. I wanted to buy a product that would let me make Mac and Cheese without buying cases of the boxed kind. Don't get me wrong, I really like those, but with just my husband and myself, it doesn't make sense to buy a case of them anymore. Plus, the grandkids are not as fond of it like they used to be. I like to try the food storage product before I buy several #10 cans for long-term. If you learn How To Freeze Pasta/Macaroni by Food Storage Moms. your macaroni is ready ahead of time anit'sts really fast to make this mac and cheese.
So I ordered a can of Honeyville Grain powdered cheese sauce to try and make my own "containers" of Mac and Cheese. We all have lots of elbow macaroni in our food storage stash, right? I paid about $27.00 including tax and shipping for the powdered cheese sauce. The #10 can states it has 41 servings (1/4 cup dry powder).  I used a 1/2 (dry powder) cup with one pound of macaroni. That's a whole pot of mac and cheese. I realize I can make mac and cheese with canned dry butter, freeze dried cheese, water, instant milk, macaroni and some flour.  I think if I have to make a HUGE pot of mac and cheese for the neighborhood I can do it quickly with this powdered cheese. Kids love this meal!
Here is the recipe I came up with:
Linda's Homemade Mac and Cheese:
Bring 8 cups of water to a boil and add:
1-one pound box elbow macaroni or (4 cups)-Boil for about 7-8 minutes, drain.
Whisk the following:
1/2 cup dry  Honeyville Grain Powdered Cheese Sauce:  Honeyville Powdered Cheese.  Honeyville: "Shelf Life: 3 to 5 years in a sealed #10 can (oxygen absorber included) under ideal storage conditions (cool, dry place). Once opened, it has an average shelf life of 6 to 12 months."
2 cups hot water, wait 3-5 minutes after whisking. (It looks a little runny at first, but it does thicken).  Combine the cooked macaroni, and it's ready to serve!
Please Note: You can also bake it (it tastes like the mac and cheese some restaurants make) in a greased 9 by 9-inch pan with 1/2 cup crushed Ritz crackers or corn flakes on top. Bake covered at 350 degrees for 20-30 minutes. Yummy!
Gift Pint Jars Of Mac and Cheese:
Here are some pint size jars you can make ahead of time for your food storage stash or have ready to take to a friend or neighbor just because we like to do that!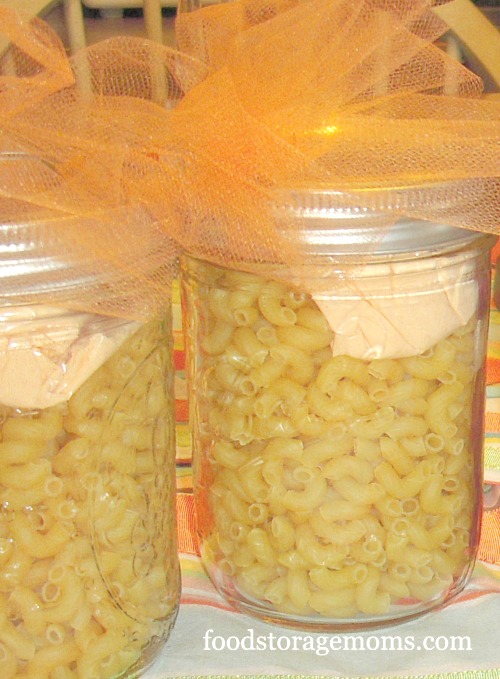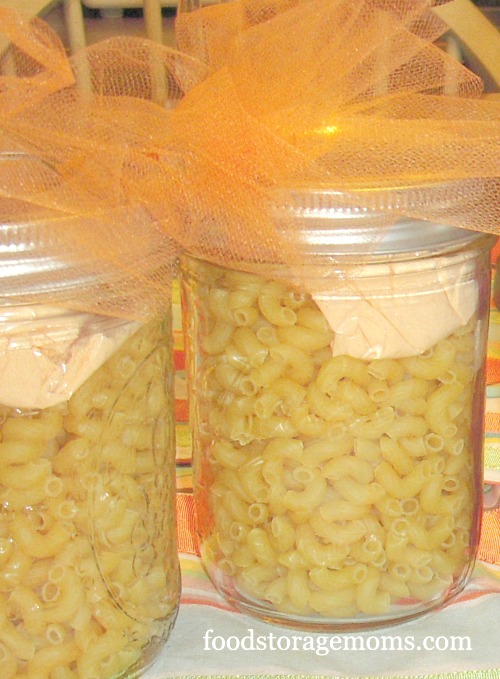 This is what I put in each pint size wide mouth jar:
1- 3/4 cups dry, uncooked elbow macaroni
3 Tbls. dry Honeyville Grain powdered cheese sauce (I put the cheese sauce in a baggie and placed it on top of the macaroni in the jar)
Instructions for pint jars:
When ready to cook, boil macaroni for approximately 7-8 minutes, drain. Whisk 3 Tbs. of the dry Honeyville Grain cheese sauce with 3/4 hot water. Wait 3-5 minutes. Combine the cheese sauce with the cooked macaroni.
***I added some colored tulle to make it look festive!  You can make a tag or sticker with instructions, and it's ready to go. Gotta love our food storage!