Easy Homemade Caramel Apples And Popcorn
This easy homemade caramel recipe is an old family favorite. I use it for apples or popcorn. It's gooey, yummy caramel and it stays soft, but not drippy. I guess that is how I would describe this caramel. I use it for apples in the fall and popcorn in the summer or anytime in between! This is a family reunion favorite treat!
Homemade Caramel:
Boil:   4 cups brown sugar
2 cups light Karo Syrup (without high fructose sugar)
Add:   2 cubes (1 cup) butter cut into pieces to melt faster
2 cans Sweetened Condensed Milk
Combine all the ingredients together and stir constantly the entire time while cooking over medium heat. Cook to a semi-firm ball. If I drop some caramel in a cup of cold water and if it can be made into a semi-firm ball…it's ready. This is the size pan I use to make my caramel, it is a four-quart stainless steel pan: Farberware Classic Stainless Steel 4-Quart Covered Saucepot
If you want to make Homemade Caramel Apples:
Wash the apples and dry completely. Put the "Popsicle" sticks in the apples and place the apples on parchment paper in the refrigerator. The caramel sticks to cold apples better than room temperature apples. You might wonder why I have a small hammer next to the apples….it was the only way I could get the sticks into the crisp apples. I forget every year to cool the apples with caramel before dipping them into the mini chocolate chips…yes they melted..at least most of them. Almonds and the coconut are NOW my favorite toppings!!
Roll The Apples When Slightly Cool: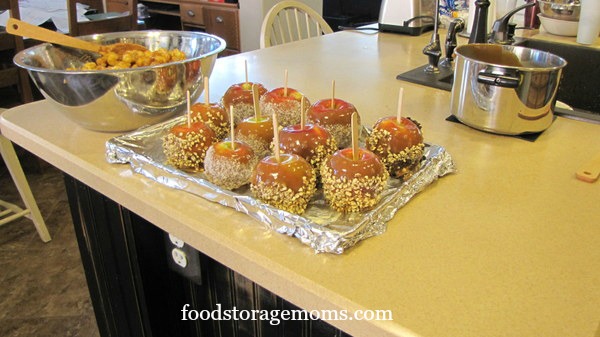 Use The Same Homemade Caramel On Popcorn: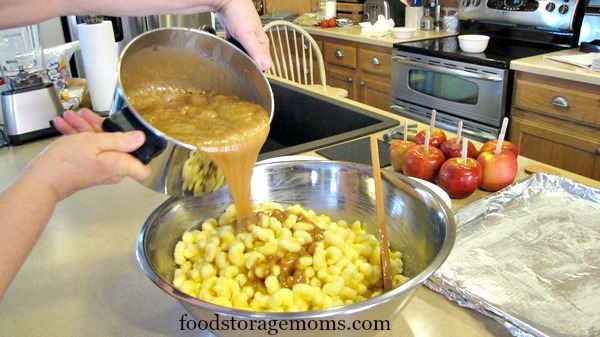 This makes a lot of caramel for popcorn. I like to buy "Nu-crisp" already  popped popcorn at Harmon's, or a similar grocery store. The package I used today is called "Corn Pops" (not the cereal corn pops).  Put the popped popcorn or corn pops in a very large greased/buttered  bowl and be ready to stir the caramel over 1 pound  popcorn very quickly. I love the smell of freshly made caramel in my house…..yummy! These are my favorite stainless steel bowls for mixing: ChefLand Mixing Bowl, Large, Stainless Steel, Set of 4 Sizes – 3, 5, 8 and 13 Qt
. Expect two things two things to happen after you make and serve these fun treats: (1) your fingers and teeth will get sticky caramel all over them, and (2) your family will beg you to make more batches once these are quickly eaten up.  Enjoy!