Quick And Easy Crepes Made From Scratch
I don't know about you but when I hear I can make quick and easy crepes from scratch I jump at the chance. I have one of those fancy crepe makers, but when I went to my daughter Stacie's for a graduation party for my granddaughter she used a plain griddle like this one: Black & Decker GD2011B Family Size Griddle, Black
. My feeling is this about crepes, in a disaster or unforeseen emergency if we have a barbecue, outdoor stove of some sort that can be used with a griddle we can make crepes. Lots of crepes.
The neighborhood can bring all the fruit or veggies in their refrigerators to my house if the power goes out and we can all fix crepes. Of course, we can always fix pancakes, but crepes sound luxurious, right? I typically always have those cans of whipped cream ready for the grandkids to spray in their mouth or put in their hot chocolate. Oh, what we grandmas let our grandkids get away with. Life is good with a can of whipped cream in a child's hand.
Easy Crepes Recipe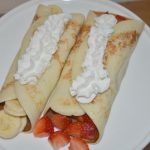 Easy Crepes Recipe
Ingredients
3

Eggs

3

Tablespoons

Coconut Oil

I didn't melt it-I just put it in the blender or vegetable oil

6

Tablespoons

honey

1-1/2

Cups

Bread Flour

1-3/4

Cups

milk
Instructions
Place all the ingredients in order shown and mix in your blender on low until mixed. Heat your skillet and pour approximately 1/2 cup batter onto your greased hot griddle/skillet. This amount will depend on what size pan you are using. You basically need to just cover the bottom of your pan or make two circles with the batter on a hot griddle. Cook about 25-40 seconds and flip the crepe over and cook another 15-20 seconds. That's it! Easy, and so yummy!!!

Serve with fresh fruit like strawberries, raspberries, blackberries, blueberries, bananas, etc. Add some whipping cream and you have an awesome breakfast or dessert. I made these last night for dinner. Life is good when you have whipped cream with crepes!
Blender Mixing The Easy Crepes
These are so easy you just dump the 5 ingredients in the blender and turn it on low until mixed thoroughly, although you could use a Danish whisk like this one: Danish Dough Hand Whisk / Mixer 11″ or 14″

Look For The Bubbles
All you do is heat your skillet or pan and pour 1/2 cup of batter ever so carefully into a circle. Cook about 30-40 seconds on one side (after you see the bubbles in the crepes) and turn them to cook the other side for about 15-20 seconds.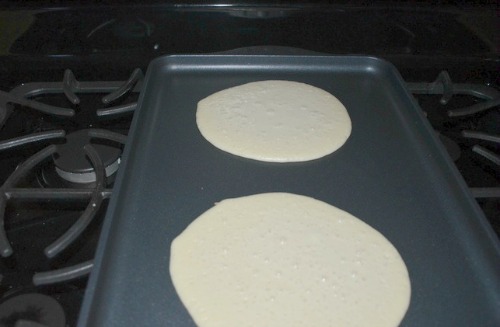 The more I share these recipes the more we will all be ready for any unexpected power outage. We will be ready to cook in the neighborhood and work together after any disaster.
My other crepe pan: CucinaPro 1448 12 Inch Griddle & Crepe Maker
Awesome Readers:
Savannah: Just soften 8 ounces of cream cheese, add 2 tbs of honey, and 1/2 Tsp of vanilla. We spread it on the crepe, roll it up, then top it with whatever fruit we have in the house or pantry! So yummy!