Quick And Easy Slow Cooker White Chicken Chili
Do you have a favorite slow cooker white chicken chili recipe? This recipe I modified from another recipe so I could use just my food storage stash. I am trying really hard to stop stocking the freezer with frozen chicken. My daughter, Stacie is here and I do not want to spend a lot of time in the kitchen while they are here visiting.
This is why I love the slow cooker, or crockpot, as some people call them. I love to set and forget my dinner meal.
White Chicken Chili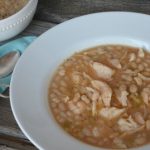 White Chicken Chili
Ingredients
3

cans

15-ounces each of small white beans (not drained)

2

cans

12.5-ounces each can of chicken (drained)

1

stick butter or reconstituted powdered butter equal to 1/2 cup

2

cups

chicken broth

1

cup

mozzarella cheese grated or freeze dried-reconstituted

4-

ounce

can of green chilies chopped

¼

cup

freeze-dried onions or 1 onion

chopped

16-

ounce

jar of salsa

sour cream to garnish

Tortilla chips crushed for garnish
Instructions
Add all the ingredients in order into a slow cooker and cook on low 5-6 hours. Serve with crushed tortilla chips on the soup with a dollop of sour cream.
It is so comforting to know you have all the ingredients to make this delicious meal right in your pantry or food storage closet and don't have to travel to the store.  I think this recipe not only takes great but with the chicken and beans, it is high in protein.  My grandkids loved this meal and actually asked for seconds.  We were able to put the leftover chili in the fridge for a second meal over the weekend.  You could also make a batch and put it in the freezer for future entertaining or a quick meal when you are on the run.  Just pull it out, put it in the microwave and you are set.
It is still a little cool here so the slow cooker white chicken chili was a real hit tonight for dinner. This is such a great soup to make for a crowd because you can just add another can of beans…..yep we always have enough to feed anyone who shows up for dinner…that's how we roll here…enjoy!