How To Make Pumpernickel Restaurant Bread
When you go out to dinner and they serve you that dark bread, I call it Pumpernickel restaurant bread. I am not sure what the bread is, only that it is just dark, dark brown. I looked the word up on Google. It said it was a dark bread with rye, whole wheat or combination whole wheat flour. I am sure every bakery has their own take on the bread. Well, I decided to give it a try. My daughter, Heidi sent me an email…..yep, I always have to modify recipes…that's who I am! I did not add caramel coloring or the bread could have been really dark.
I had to take a loaf to a dear friend, Lynda to see if it passed the taste test…she liked it!
Pumpernickel Restaurant Bread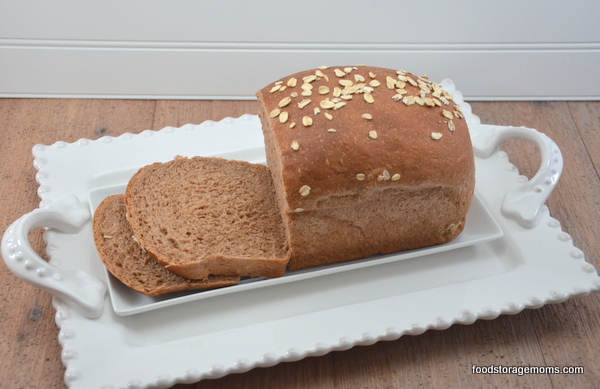 Pumpernickel Restaurant Bread
Ingredients
2-1/2

Cups

hot water

1/4

cup

oil

I used olive oil

3/4

cups

honey

1

tablespoon

SAF Instant Yeast

1

tablespoon

dough enhancer

optional

1

tablespoon

lemon juice

optional

1

teaspoon

Real Salt

3-4

cups

white bread flour

3-1/2

cups

whole wheat flour

I prefer freshly ground hard white wheat

rolled oats

for dusting the top of loaves after placing in pans to rise

1/4

cup

dry cocoa

2

tablespoons

caramel color

optional-I did not use this
Instructions
I start at the top of the ingredient list and place everything in a bread mixer. I start mixing and add the white flour until the dough pulls away from the sides of the mixer. I continue to mix the bread for 5-8 minutes. I let the dough rest 10 minutes and then divide the dough into four-one pound loaf pans. You can make two loaves if your pans are larger. Place the loaves into greased pans. Dust the loaves with rolled oats and cover with greased plastic wrap. Let rise another 45-60 minutes. Preheat oven to 350 degrees. Bake the 4 small loaves for 27-32 minutes. Bake the 2 larger loaves for about 30-40 minutes.
These are my favorite bread pans to use to make this Pumpernickel Restaurant Bread pan: One pound bread pans