How To Start A Fire In A Fire Pit
There aren't many things I enjoy as much as gathering my family for an evening around a warm fire. When Mark and I lived in Northern Utah years ago all four of our daughters and their families lived fairly close and we'd get together for a BBQ, swimming, and a fun time around a fire. I'd encourage all my readers to do the same, and that's why I've decided to write about how to start a fire in a fire pit.
Gatherings with fire as a centerpiece have been going on since man first discovered fire. Of course, fires back then were a critical need for basic survival. To have fire available is truly a blessing that we all tend to take for granted. We use a form of fire to run our gas stoves for cooking. We also have a form of fire in our gas furnaces to heat our homes.
Fires can also be experienced as part of a disaster when we see homes, forests, businesses, and more consumed by fire out of control. Yes, fire can be our friend and our worst enemy, depending on the circumstances.
In this post, I'd like to outline how having a fire pit available can prove to be a true lifesaver during an emergency, and how getting one started and maintained safely is important information we can all use. In case you missed this post, My Favorite Emergency Fuel To Store For Survival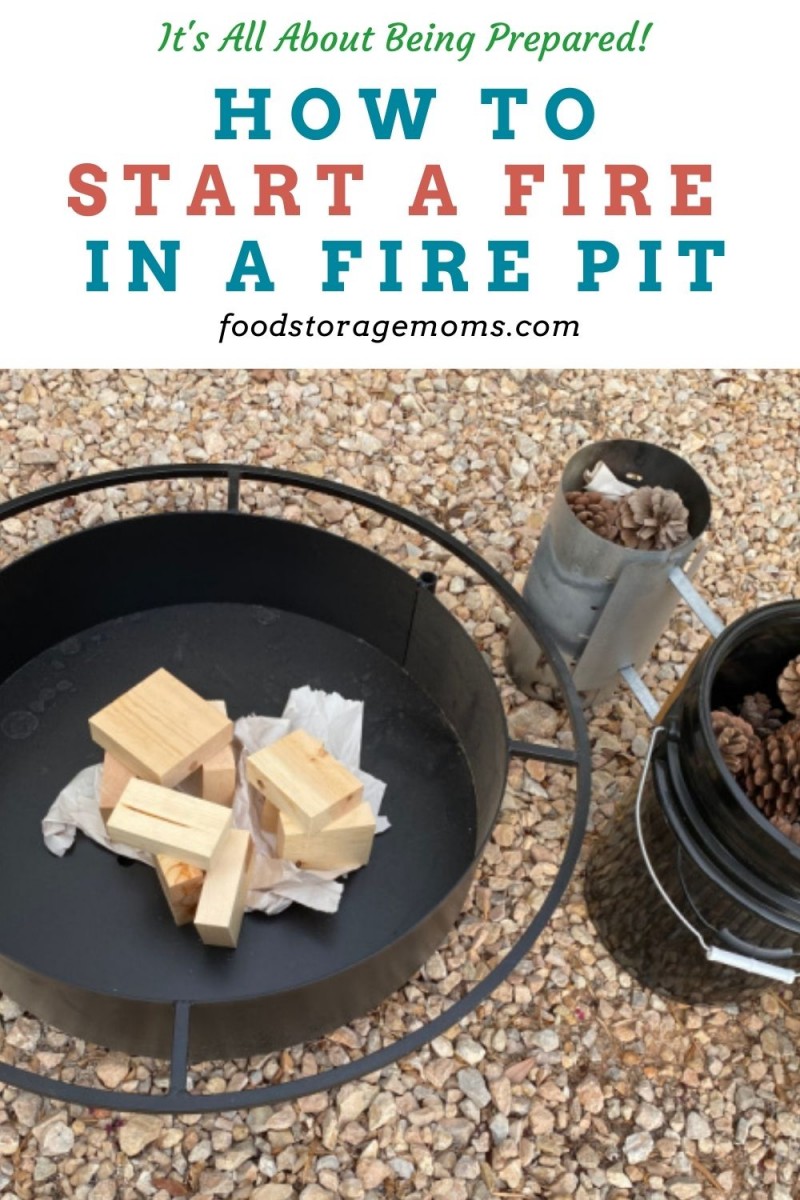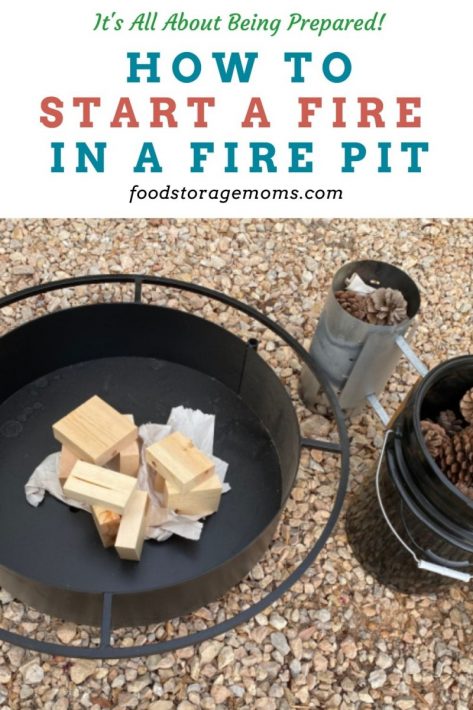 Why Should I Have a Fire Pit?
By the way, I've seen the term or word fire pit as both two words or one. For today's post, I decided to use the two-word version since it seems to be the most common usage.
Besides being a centerpiece for families during the good times, a fire pit can be the mainstay for your family's ability to prepare meals and keep warm when a disaster hits. Firepits are a convenient way to cook foods outside if your in-home cooking options aren't available. They are also a source of heat if you are forced to live or just sleep outside for any reason.
Do I Need to Buy a Fire Pit, or Can I Make My Own?
Mark and I bought a metal firepit a few years ago. One of the attractive things about ours is that it's small enough to move around our yard. We have a space in the backyard near our lawn where we can put it for an evening campfire or family fireside.
We also can put it on some rocks out front if we have some neighbors over for a fire during Halloween or other cool temperature holiday get-togethers.
Many families will construct a more permanent fire pit in their yard. You need to find a location that's not too close to any possible fire hazards like a tree, shed, or even your home itself.
Remember, fires can send off ashes with the slightest breeze, so be safe when locating and using the firepit.
I've seen firepits made out of concrete, cinderblocks, bricks, flagstone, and metal. I'm not sure the building material makes a lot of difference, you just need to decide how big you want it, whether you want it lined on the bottom, and then dig your hole and place the firepit rim or sides around the hole to the desired height and thickness.
It seems like most firepits are circular, but you could make it square or rectangle, if that suits you and the space you have available.
What Should I Use as Fuel in My Fire Pit?
All fires need some type of fuel to burn. Most backyard fire pits use various types of wood from local large bushes or trees. To get the fire in the fire pit to start properly you'll need different sizes of wood pieces and increase them as the fire gets bigger.
Let's discuss the terms most frequently used:
Tinder
This fuel is usually small, dry, and quick to burn. You should consider gathering some tinder in the form of easy-to-find things like newspaper, pine needles, pine cones, very small tree or bush branches, and even leaves.
This fuel is placed at the bottom of the fire pit and forms the base for the fire. Don't compact the tinder, it needs air and space so the fire can not only start easily but flare up to the next level of fuel, the kindling.
Kindling
This is the fuel that is ignited by the tinder and lasts long enough to get larger pieces of wood to burn. The idea is to grow your fire by gradually placing larger pieces of fuel on top of the fire.
It is best to form a cone or tee-pee-shaped bunch of wood pieces above the tinder in the size most of us call twigs, small tree branches, or dry sticks.
You actually start the fire by lighting the tinder, which then ignites the kindling, which in turn causes larger branches or logs to then burst into flame. As mentioned above, it's important to place the kindling so it gets plenty of air or it won't burn properly.
Firewood
Why is this fuel often referred to as seasoned firewood? This fuel is made up of split logs, large branches, or other larger pieces of wood that are available. The keyword here is "seasoned."
If you go out in the forest to gather firewood, it is hard to determine how old the wood might be. If you're allowed to cut live trees, they represent the least seasoned wood available since they are still green.
Seasoned firewood is wood that has been given enough time to fully dry out. It should be kept under an overhanging cover, or even a waterproof tarp for an extended period so it can completely dry out.
It could take months, or even years to be dry enough to efficiently burn in your fire pit. The goal is a 20% – 30% moisture content, but who knows how to measure that?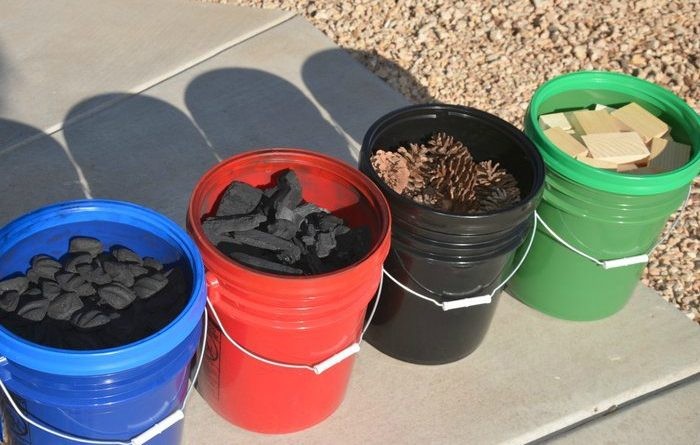 So How Do I Light the Fire in My Fire Pit
You'd think lighting the fire after all this preparation work would be the easiest task. In a perfect world that would be the case, but life doesn't seem to go perfectly when it comes to fires.
You'll find that wind and moisture are your biggest challenges getting the fire going.
Mark tells me stories of being in the Boy Scouts and having to start a fire up in the mountains on a campout. Often mountain breezes came into play, or a late afternoon rainstorm suddenly took the troop by surprise before they could get a fire going.
All us Boy or Girl Scouts know we need matches whenever we want to start a fire outside. Matches are fine, but they don't put out much of a flame. If your tinder and kindling are small and dry enough you could make them work.
Otherwise, you'll need something with a larger flame, like a cigarette lighter, or even a butane torch lighter.
We have a bunch of butane torch lighters stored in our kitchen. For the most part, they work ok, but I wish they were made better so they'd be more reliable. You have to push a button while you flip or roll a switch.
It usually takes me a few minutes to get one to light. Once they do light, the flame generally is sufficient enough to light the tinder, and away we go. I use one of these, Fire Starter Chimney In the first picture above and the one below, you can see a circular tube with a handle attached. I call it my fire starter chimney and it has come in handy a number of times. With the tinder inside you can more easily start the fire because the chimney helps protect against the wind, and the fire is more concentrated. They work great.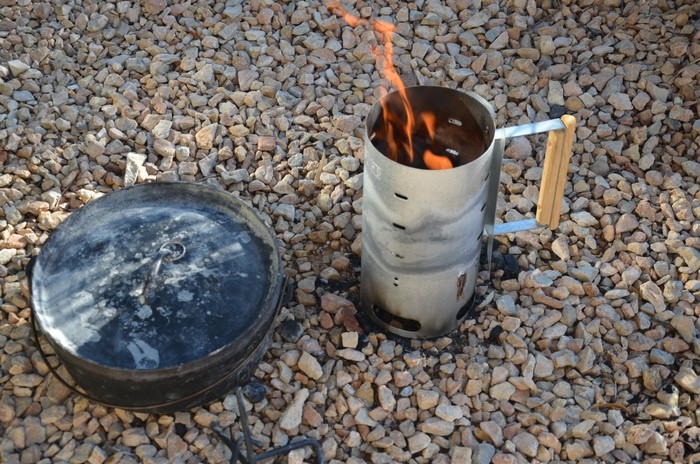 What Are Some Safety Issues When Using a Fire Pit
We discussed earlier the importance of placing the firepit in a location with limited exposure to flammable materials. That also goes for the fuel you plan to burn during your cooking or campfire session. Keep those logs at a safe distance from the firepit itself until you're ready to use them.
Don't let the fire get too big based on the size of the fire pit and what is close by. Maintaining control is so critical. Always have a large bucket or two of water, or even a water hose, close at hand so you can douse the fire if needed.
You'll also want to fully extinguish the fire before you retire for the night. Don't get lazy and think the fire will eventually die out and be safe. Use that water to be sure. Look for any "hotspots" throughout the firepit itself.
Some tools you may want to have available so your fire pit experience goes as planned without any injury to you or a family member would include a fire poker, some tongs, and fireproof gloves. I've even seen people wear goggles, although I think that may be overkill.
Final Word
It has been fun and interesting to write about fire pits. During my research, I've discovered some new ideas when it comes to how to start a fire in a fire pit. We all enjoy a warm friendly fire on those cool nights.
A fire pit can be the nucleus of a memorable family or neighborhood activity. The key is to get a brisk fire started and maintained properly.
With the information shared today, that should be an easy task for any of my readers. Let's all keep prepping and make the most of every day. May God bless this world. Linda