Fun and Free Ways to Celebrate Dad

He is the hardest person to shop for, and the day we celebrate him is just around the corner. Every year we scour the internet looking for the perfect Father's Day gift, something he doesn't have. What we may fail to realize is that dads love homemade gifts and love creating memories with their family. Chances are, he doesn't want you to spend money on him, anyway. The best gifts always come from the heart, so here are 15 fun and free ways to celebrate dad (or the father figure) in your life.
15 Ways To Celebrate Dad's Day
1. Scavenger Hunt
Lead him on a scavenger hunt from the bedroom to a homemade breakfast of his favorite foods. Don't forget the coffee, hot chocolate, or orange juice!
2. FREE Printable Father's Day Card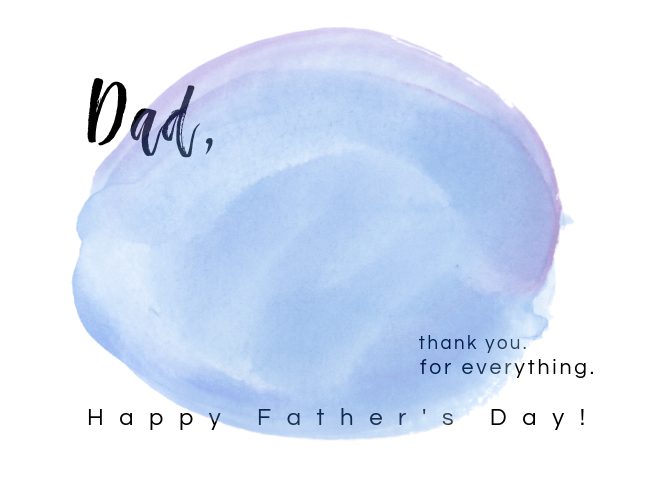 2 Father's Day Cards for Dad and Grandpa
3. Coupons For Dad
Make a few coupons for dad to redeem throughout the year. These could be good for anything from a child-free day fishing or spending the day with the adult (or young) children he loves so much!
4. Father's Day Questionaire
Ask the younger kids questions about Dad or Grandpa, and see how silly or spot-on their answers turn out! Check out this questionnaire from "Crafting Chicks" Father's Day Questionaire and FREE printable
5. Make His Favorite Meal
A way to dad's heart is through his stomach, right? Make him a delicious meal with a recipe from Food Storage Moms Recipes
6. Have Kids Read To Dad/Grandpa
Have the kids read a book to him, just because. It's summer, and for many children that means summer reading programs are up and running and offering incentives for kids to read. How about picking a book to read to him and take no "commission!" (Maybe even practice it beforehand if it's a new book.)
7. Clean His Room
Have the kids clean their bedrooms. While you're at it, have them clean his room!
8. Wash His Car
If you have the materials, and he isn't too particular about how it's done, you could give his car a bath.
9. Surprise Dad
While we are on the topic of chores, how about mowing the lawn? Or pulling weeds? (Make sure the kids know which are weeds and which are flowers!!) You could even have the kids pick up, ahem, after the dog. It's a stinky job, and Dad would sure appreciate not having to do it.
10. Play Time-Epic Battle
Leave one Nerf gun and a handful of darts by the front door. Include a note luring him into an epic battle. When he walks in the door, game on!
11. Water Balloon Party
Paint, color, or tape a target on everyone's t-shirt and have a family water balloon fight.
12. Electronic Support
Offer free tech support. He may even have a short running list of questions and tasks he needs your help with on his phone, TV, or computer. Clear his browsing history for him. Upload his photos to Google Photos so he has room for more pictures. Save his most-visited websites into easy-to-access bookmarks. Create a list of internet usernames and passwords in case he forgets them.
13. Meaningful Quote
Copy a meaningful quote onto a sheet of paper and make some doodles and artwork to surround it. On the back, write a short note telling him how much he means to you.
14. Interview Him
Put your phone/tablet/computer away and have a conversation with him. Take some time and interview him. Ask him about his fondest childhood memory. Who was his best friend? Who was his first date? What's on his bucket list? Record or write down the answers. You will be grateful you did.
15. Make A Homemade Gift
Raid his scrap wood and materials, and if the kids are allowed to use his tools, have them make him something unique! (If they can't use his tools, use tape instead.)
Final Word
Try one, two, or even three of these fun and free ways to celebrate dad and be sure to share how he loved it! What are your plans for Father's Day? Please keep prepping because we need too. May God bless this world, Linda