Fresh Tomato Salsa Recipe
This is my favorite fresh tomato salsa recipe! This recipe is from my friend, Kathleen. Whenever we have a neighborhood get together she brings a bowl just for me. Yep, just for me. She knows I love it. Just a small bowl to eat by myself. She brings a large bowl for the rest of the group.
The reason I love this recipe so much is that I have almost all the ingredients in my pantry. The other items like tomatoes and Cilantro are always in my garden. I keep all the different canned goods in my pantry so I can make this recipe all summer. You can make it with different beans and serve with different kinds of chips. I can actually eat it just as a meal. The great thing about this recipe is that it is a healthy and tasty treat.
It seems that so often the meals that taste the best have sugar or other things to add flavor that really isn't good for you. Not with this tasty recipe. Eat this and feel good about it. My husband would want a piece of meat with it. I could easily be a vegetarian. I just bought some meat at Costco and I tell you the prices just keep going up. I really wish I could just raise a cow on land and feed it grass. Yes, I would have to research how to do it, but I can learn.
My favorite chopper: OXO Good Grips Chopper
Fresh Tomato Salsa Recipe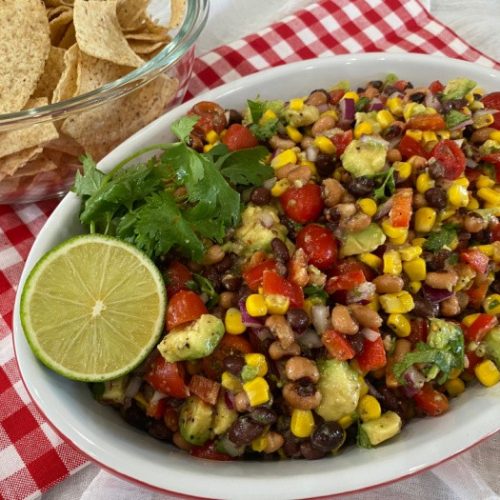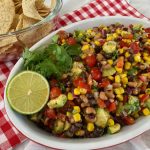 Cowboy Caviar Recipe
Ingredients
2

cans of blackeye peas, drained and rinsed

2

cans of black beans, rinsed and drained

2

cans of corn, drained

2

cups

tomatoes chopped

1

red bell pepper, stemmed, seeded, and chopped

1/2

cup

diced sweet purple onion

3

avocados-pitted, chopped

1

bunch cilantro-chopped

2

fresh limes juiced

Good Seasonings Italian Dressing Packet-prepared, or just make it yourself as a vinegar and oil dressing

salt and pepper if needed

1

bag of Tortilla chips
Instructions
1. Grab a large bowl and layer the blackeye peas, black beans, corn, chopped tomatoes, red bell pepper, purple onions, avocados, and cilantro.

2. Drizzle the lime juice over the salad.

3. Make the salad dressing as directed on the packet.

4. Pour the dressing over the ingredients in the large bowl.

5. Salt and Pepper if needed.

6. Serve cold with tortilla chips.

7. Great as a side dish, too!

8. Please store leftovers in the refrigerator for up to 3 days.
Let me know if you have a favorite fresh tomato salsa you make all the time! Have you tried the lime tortilla chips at the store? Oh, my gosh, they are yummy!