20 Scrumptious Valentine's Day Desserts
I'm sharing 20 Scrumptious Valentine's Day Desserts with you today! If you're looking for indulgent desserts to celebrate Valentine's Day, you'll want to explore this collection of scrumptious ideas. You'll find recipes for cakes, pies, brownies, cookies, cupcakes, trifles, and more. While many of these swoon-worthy desserts look decadent, you'll be surprised to find that most are actually very easy to make.
From chocolate to strawberries and from red velvet to heart-shaped treats, you'll find delectable inspiration from these irresistible Valentine's Day recipes. Whether you're making dessert for family and friends, or that special someone in your life, you'll find delightful ideas to help make your Valentine's Day extra sweet!
You may be thinking this is a little early for Valentine's Day, but I like to be prepared by having the ingredients readily available, and I also like options so I can choose one special recipe to plan on, or a variety for the days before and after this romantic holiday. No matter who's in charge of the kitchen, here are some great dessert ideas to prepare for the special someone in your life!
Take some time now to review the list, then pick a few to dial down on to see what it will take in time and ingredients. If you truly want a memorable dessert, take the time to plan ahead, it will be well worth it.
In case you missed this post, Valentine's Day Sour Cream Sugar Cookie Recipe
20 Scrumptious Valentine's Day Desserts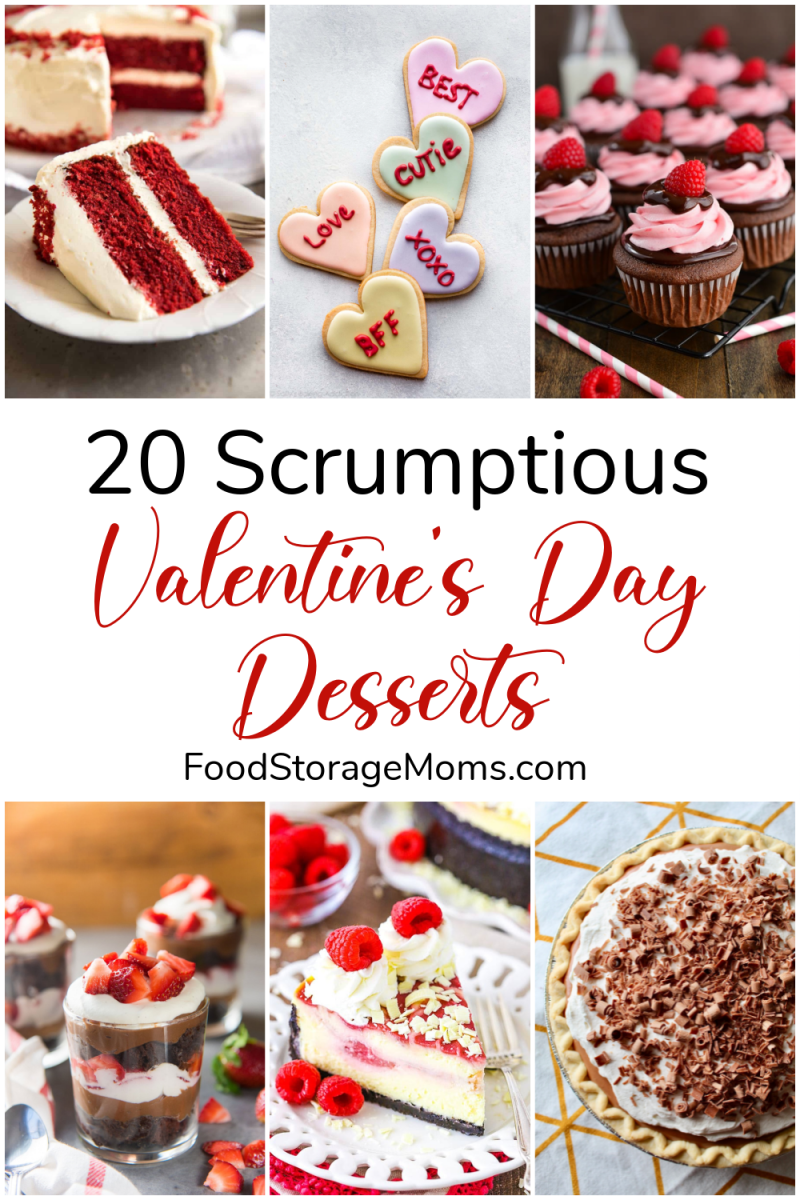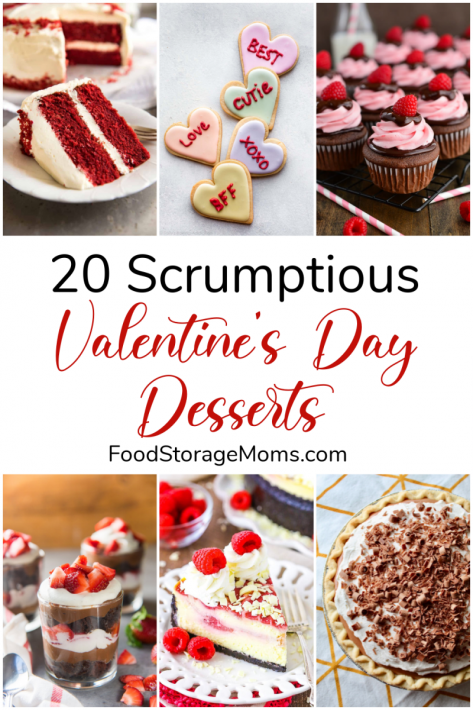 Raspberry Chocolate Cupcakes by Handle The Heat
This homemade cupcake batter is full of powdered cocoa and baking chocolate for a rich flavor. Top the baked and cooled cupcakes with a layer of glossy ganache before adding a swirl of homemade butter and cream cheese raspberry frosting. Add one more drizzle of chocolate ganache and top things off with a fresh raspberry. It's a deliciously sweet way to celebrate Valentine's Day.
Red Velvet Cake by Recipe Tin Eats
A luxurious red velvet cake with a sweetened cream cheese frosting is always appropriate for Valentine's Day. The unique flavor of red velvet shines through in this homemade cake batter that makes a two-layer cake. The easy frosting is whipped until creamy and sandwiched between the cake layers, as well as covering the top and sides. Add a dusting of red cake crumbs on top for a little fancy decor, and serve up this stunning dessert to the ones you love.
Giant Heart-Shaped Chocolate Chip Cookie by House Of Nash Eats
Share your love of chocolate chip cookies with one big baked effort that's shaped like a heart. Perfect for parties, this giant cookie is baked, cooled, and then decorated around the edges with piped-on chocolate buttercream frosting and red and pink heart sprinkles. Kids and adults will adore this special dessert.
White Chocolate Raspberry Cheesecake by Life Love And Sugar
Raspberry offers a sweet fruity component to this cheesecake that's filled with decadent white chocolate. An Oreo cookie crust holds this magnificent cake that's swirled with raspberry filling before being baked. Once chilled, decorate the top with whipped cream, fresh raspberries, and white chocolate shavings.
Homemade Strawberry Layer Cake by Life Love And Sugar
Layer cakes are always impressive, and here, this 3-layer effort provides a beautiful way to incorporate strawberries into a buttery and tender cake batter. The homemade pink strawberry frosting is a sweet and delicious way to decorate this lovely cake that's perfect for so many occasions.
Hot Fudge Swirled Red Velvet Brownies by Something Swanky
These brownies are all decked out for Valentine's Day thanks to a red velvet-inspired batter that incorporates cocoa powder, buttermilk, and red food coloring in the delicious mix. But don't stop there! Once in the pan, add dollops of jarred hot fudge to the batter and swirl it through for a beautiful pattern. You'll serve this lovely dessert to rave reviews!
No-Bake Vegan Black Forest Tart by Unconventional Baker
This impressive no-bake cake tart is deceptively simple to make. It's a rich chocolate cake made with almond flour, Medjool dates, maple syrup, and cocoa powder, which is mixed to a brownie-like consistency. Press it into a tart pan and add a layer of cherry jam before chilling it in the fridge. Top with a layer of whipped cream, fresh cherries, and chocolate shavings. It's so easy and outrageously delicious!
Strawberry Milkshake Cupcakes by The Girl Who Ate Everything
Up-level a boxed cake mix with strawberry jello and bake these cupcakes to delicious fruitiness. A homemade buttercream frosting is infused with strawberry flavor making these pink cupcakes taste just like a strawberry milkshake.
Crème Brûlée by Carlsbad Cravings
Sweet custard with a rich caramelized top is perfect for those who prefer a non-chocolate treat. Easily made in individual ramekins, this crème brûlée is a luscious dessert with an air of elegance to it. When you whip out your kitchen torch to create that golden sugary shell on top, you'll be as impressive as this indulgent crème brûlée dessert. No torch? No worries, your oven broiler can work its magic.
Raspberry Lemon Heart Hand Pies by The Organic Kitchen
Adorable and delicious, these portable pies are shaped like hearts and hold a tartly sweet filling of lemon and raspberries. A heart-shaped cookie cutter makes quick work of the pie crust shells which hold the homemade filling. Seal the crust edges with a fork, and then give them an egg white wash before baking to golden perfection. These hand pies are the perfect family-favorite dessert any time of the year to show your love.
Easy Chocolate Bundt Cake by The Girl Who Ate Everything
If chocolate ever needed a dessert to be enjoyed, then this bundt cake is it! Chocolate pudding mix and chocolate chips join with a boxed cake mix to produce this easy cake that bakes into a gorgeous form, thanks to a bundt cake pan. Finish it off with a glossy drizzle of melted chocolate. Swoon!
Valentine's Day Heart Sugar Cookies by Sally's Baking Addiction
These irresistible sugar cookies will be a hit with everyone during Valentine's Day. You'll appreciate the soft and buttery dough that makes using a heart-shaped cookie cutter easy to work with. Bake, cool, and ice the cookies with homemade royal icing in pastel colors. The fun part is writing your conversation sayings on them with a writing tip for icing bags. So cute!
Strawberry Chocolate Brownie Trifle by The Flavor Bender
Impressive and yet simple, you can assemble this trifle dessert with the classic combo of strawberries and chocolate. In individual glass serving containers, layer crumbled brownies, chocolate pudding, whipped cream, and sliced strawberries for a beautiful presentation that's perfect for Valentine's Day.
Red Velvet Roll Cake With White Chocolate Cream Cheese Filling by Brown Eyed Baker
A bar of sweet white chocolate and cream cheese mixture provides the filling for this beautiful red velvet cake roll. The sumptuous red velvet cake is baked, carefully rolled, and left to cool before unrolling it to apply the filling. Re-roll the cake, wrap and chill it in the fridge. When ready to serve, dust it with powdered sugar. Once sliced, it's a stunning presentation, perfect for Valentine's Day.
Black Forest Layer Cake by Saving Room For Dessert
If you're looking for a showstopper Valentine's cake, make this easy layer cake that's actually quite simple to make. Chocolate cake layers are separated by sweet whipped cream, cherry jam, and fresh pitted cherries. Top it all off with a glorious chocolate ganache and ruby red cherries. Irresistible!
Baked Chocolate Fudge Doughnuts by How Sweet Eats
Whether you serve these with a cup of coffee or a glass of cold milk, these fudgy doughnuts will definitely be loved by friends and family. The rich doughnut batter is full of cocoa powder and chopped chocolate for a deep flavor. Bake, cool, and cover with a chocolate ganache. For Valentine's Day, add a drizzle of glaze made with blood orange juice and confectioners sugar. It will produce a natural pink color that's perfect to celebrate this holiday.
Cookies And Cream Red Velvet Lava Cakes by Oh Sweet Basil
Individual servings of lava cake are made with a red velvet cake mix, baked, and then stuffed with a cookies and cream chocolate bar. When ready to serve, just microwave these red desserts to warm them up and help melt the inside "lava." Plate up, add a scoop of ice cream and warm hot fudge on top, then dig in!
White Chocolate Valentine Madeleine Cookies by Urban Bliss Life
Soft on the inside and delicately crispy on the outside, these homemade madeleine cookies are a lovely dessert for Valentine's Day. To celebrate this holiday, dunk the end of each cookie in a melted white chocolate mixture and garnish with red, white, and pink sprinkles. These cookies are simple, elegant, and scrumptious.
Chocolate Covered Strawberry Brownies by Spaceships and Laser Beams
Make this extravaganza of a brownie dessert by layering your baked and cooled brownie batter with sliced strawberries which are topped with a thick and creamy layer of chocolate ganache. Refrigerate until set. Serve to rave reviews!
French Silk Pie by Cinnamon And Coconut
Rich, creamy, and oh, so scrumptious, this French silk pie is everything you want in an elegant dessert for a special occasion. Making this dessert is a labor of love and patience since after it's baked, it needs to chill in the fridge, preferably overnight. Finish it off by topping it with freshly whipped cream and chocolate shavings. Perfection!
Final Word
I hope you enjoyed my Valentine's Day Desserts today. It's all about teaching our kids how to cook from scratch and follow a recipe or two. What better way for them to show their love for all the family than to help make one or more of these delicious desserts? Give them a chance to help out and you'll be seeing a lot more of them in the kitchen going forward. May God Bless this World, Linda