How To Make Skinny Zucchini Pizza Crust
Have you made a Skinny Zucchini Pizza Crust before? I had never heard about a pizza crust made from zucchini. My cute friend, Rochelle shared this recipe with me. Oh man, is it ever good! This year I did not have excess zucchini in my garden as I have had the last 45 years. I just barely picked one the other day. I have had maybe 8 total in my small garden this year. I still do not know what happened.
I have tomatoes galore, cucumbers in abundance. I have lots and lots of basil. Do you love the smell of basil as much as I do?
Zucchini Pizza Crust:
Here is what the raw mixture looks like: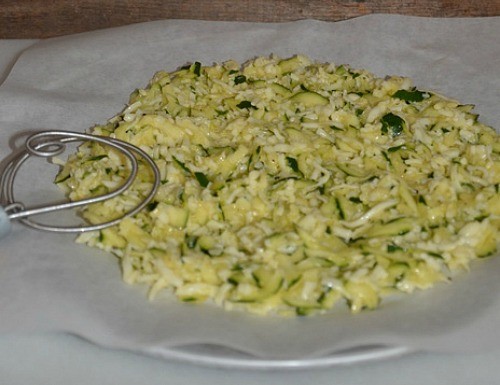 Here's the deal. I love just about anything with cheese. Well, this is very similar to a frittata, but much thinner because this only has one egg. Yes, the cheese is low-fat mozzarella cheese and is still stringy like a regular pizza would be. I will be making this recipe for a very long time because of all the options I can use for this crust. Just add freshly sliced tomatoes, olives, a meat of choice. You can add sauce, but I did not in this one today. You could add mushrooms, etc. My husband even liked it and he is a meat lover's pizza kind of guy.
The recipe said to use a pizza stone, but I did not want to drag mine out and it worked just fine with a plain round pan. Be sure and cut the parchment paper to fit the pan. I had mine extended over the pan…just FYI, I could have had a fire. Just saying…things happen. I don't use parchment paper that much, but I should have known better. I took a picture of this and sent to one of my daughters who enjoys cooking a lot of meals with tons of veggies. She will love this recipe.
What would you add to your zucchini pizza? I would love to hear from you. Enjoy!
Skinny Zucchini Pizza Crust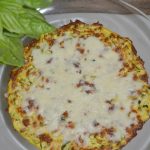 Skinny Zucchini Pizza Crust
Cuisine:
American, Italian
Ingredients
1

cup

of shredded/grated zucchini

1

large egg

1

cup

low-fat grated mozzarella cheese

½

teaspoon

black pepper

½

teaspoon

garlic powder

3

tablespoons

of pizza sauce

optional

Basil for garnish
Instructions
Preheat your oven to 450 degrees. Wash and grate the zucchini using a cheese grater, place it in a bowl and let sit for about 10 minutes. Squeeze out the excess water using a cheesecloth or a hand towel. Place the zucchini in a bowl and add the egg, ½ cup of the cheese and all the seasonings. Stir until evenly mixed together. Cut a piece of parchment paper to fit your pizza pan or pizza stone. Spread the zucchini mixture into a circular shape onto your pan using a spatula. Bake for 20 minutes. Remove from oven, add the sauce if desired and sprinkle the other ½ cup cheese over the pizza. Bake another 5-10 minutes. Allow it to cool a few minutes before slicing.
Here's to being healthy one step and a time!