Quick And Easy Peach Cobbler Recipe
This quick and easy peach cobbler recipe I actually baked in my Sun Oven. The peaches are so delicious this year so I picked up a box to eat, bake and freeze. My husband has been eating fresh sliced peaches on his cold cereal every morning. Do you love fresh fruit as much as I do?
Here are the ingredients in the peach cobbler: butter, sugar, flour, baking powder, salt, milk, cinnamon, and of course, the peaches. The ingredients are almost always in our food pantries. Yay! Use of this recipe is great when peaches come in season. What's really cool is that this recipe can be used with almost any fresh fruit.
Sun Oven: dark non-shiny pan
Here is what the batter, soon to be crust for the peach cobbler, looks like. You grease the pan of your choice and scoop in the batter. I had to use a dark non-shiny pan so I could bake the peach cobbler recipe in my Sun Oven. Yes, I love the solar life. No electricity…..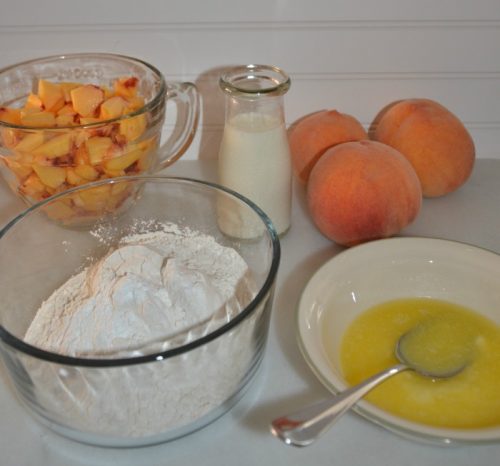 Ready To Bake After Combining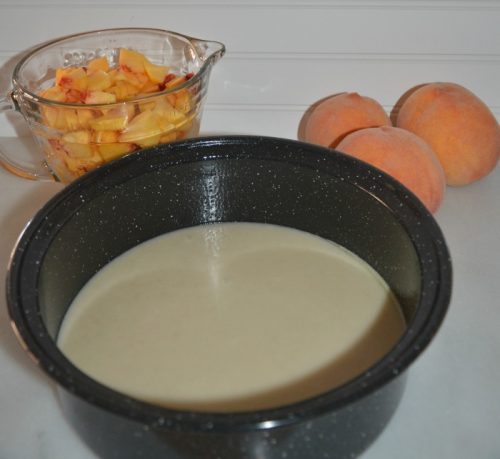 Here is the Peach Cobbler baked in my Sun Oven. I preheated the Sun Oven to 300 degrees. I decided when I had the pan ready to go in the Sun Oven I would just bake it a tad longer. It took another half hour to get the temperature up to 350 degrees.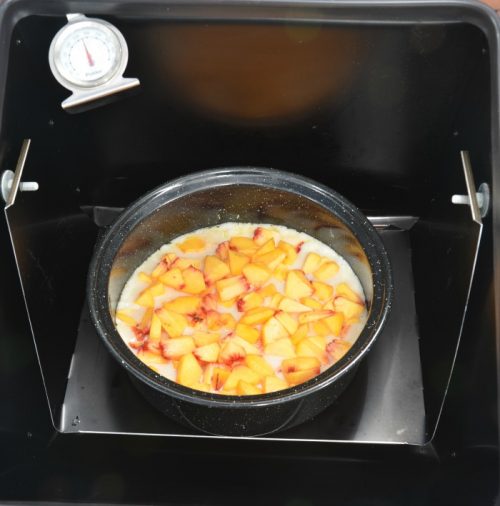 Finished Easy Peach Cobbler
I baked it for 1-1/2 hours instead of the one hour the recipe suggested. It's really okay because the Sun Oven keeps the recipes moist and yummy!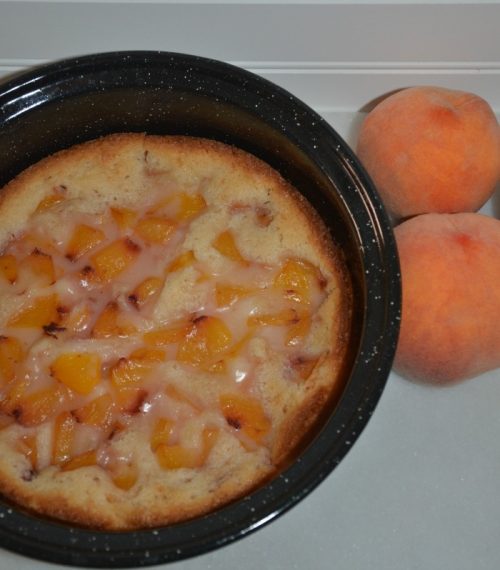 I took Mary Ellen's recipe and modified it a bit with some of my mom's ingredients, more sugar & some cinnamon. Yes, I have a sweet tooth. I hope you enjoy this fresh peach cobbler as much as we do! Enjoy!
Easy Peach Cobbler Recipe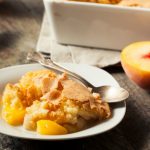 Easy Peach Cobbler Recipe
Ingredients
1/2

cup

butter

melted

2

cups

of sugar

1

cup

flour

1-1/2

tablespoons

baking powder

3/4

cup

milk

1-2

teaspoons

cinnamon

3-4

cups

peeled and sliced or cubed fresh peaches

I like more peaches
Instructions
Melt the butter, add the milk and combine it with the dry ingredients. Stir until blended and scoop in a greased pan. Place the peaches on top of the batter and bake at 350 degrees for about one hour. Serve with ice cream or whipped cream.

My favorite things:
All American Sun Oven- The Ultimate Solar Appliance
John Boos RA03 24-by-18-by-2-1/4-Inch Reversible Maple Cutting Board
Wusthof 9″ Double Serrated Bread Knife Classic, Black
Kelly Kettle Ultimate Stainless Steel Large Base Camp Kit