Easy Pizza Dough Recipe Anyone Can Make
Easy Pizza Dough Recipe anyone can make.  Who wants to learn how to make their own pizza dough? We really don't want to run to get pizza if we can make it at home! I think most of us have some sort of tomato sauce, tomato paste, pizza sauce or spaghetti sauce. All we have to do is add a little Italian Seasoning to the tomato base and we are good to go. I try to stock one or two small bags of sliced pepperoni in the freezer for when I want to make a pizza and for a certain salad I make. I really like knowing what is in my pizza dough…..
I use the following items from my pantry or freezer to make a pizza (the toppings are all optional items)
Pizza Dough and Toppings
1. flour, SAF yeast, salt, water and olive oil for the dough
2. tomato sauce, pizza sauce or spaghetti sauce
3. pepperoni
4. freeze-dried onions (reconstituted)
5. freeze-dried mushrooms (reconstituted)
6. freeze-dried bell peppers (reconstituted)
7. freeze-dried sausage (freezer-then reconstituted)
8. cheese: freshly grated, frozen, freeze-dried (reconstituted)
9. freeze-dried chicken (reconstituted) I use my favorite barbecue sauce with the chicken
10. dehydrated cilantro
11. dehydrated tomatoes (put under the sauce before adding cheese)
12. bacon-freezer
13. anything fresh from the garden if in season-basil for sure
14. pineapple
15. olives
Easy Pizza Dough Recipe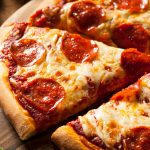 Pizza Dough Recipe
Ingredients
3

cups

flour

2

teaspoons

SAF instant yeast

1

teaspoon

salt

1

tablespoon

sugar

2

tablespoons

oil

1-1/4

cup

warm water

1-14-

ounce

jar pizza sauce or an equal amount of homemade sauce

3-4

cups

grated mozzarella

sliced pepperoni

chopped veggies like onions, bell peppers, or olives
Instructions
Start getting your coals ready, they need to be hot and ready to cook. I use 8-9 coals below the 12-inch Dutch Oven. I use 14-16 coals on top of the lid. So, start with kindling to get 20 briquettes ready.

Mix the dough by hand and make a circle the best you can to fit a 12-inch Dutch oven. Grease the Dutch oven or use a disposable liner. I like to cook one side of the pizza dough then flip it over to cook a little more. I then add the sauce, meats, and veggies. When the pizza is done I remove it from the coals and add the cheese. Put the lid back on and let it melt/cook for 5 minutes until the cheese is melted.

You can also bake this pizza in your oven on a greased pizza pan at 350 degrees for 20-40 minutes depending on how much cheese you put on it.