Natural Yeast Waffle Recipe
Today I am sharing a natural yeast waffle recipe because I know a lot of people are trying to learn how to use natural yeast. On Saturday two people contacted me because Melissa Richardson had given them my email address to get a natural yeast starter. Melissa Richardson is the co-author of the cookbook, The Art Of Baking With Natural Yeast. If you ever have a chance to see her in action I would sign up for one of her classes, ASAP.
She lives in Utah right now, but will soon be moving to the East Coast so her husband can attend school in another state. I met Melissa about two years ago and I literally fell in love with her within seconds. She is amazing and so humble about what she does.  She put herself through college by baking bread and selling it. She did make a YouTube showing how to feed your starter, if you are unable to make it to one of her classes.
You basically use ONE cup starter, ONE cup water, stir and then add ONE HEAPING cup of freshly ground whole wheat flour. I use a danish whisk or a wooden spoon to stir my starter. You do want to store your start in the refrigerator with a lid that allows air to flow through. Remember, the starter is alive and needs air to breathe. You can use a regular canning lid and ring, but turn the lid upside down inside the ring to allow air to flow through it. You will turn the lid, but not too tight. Loose….to let the natural yeast breathe.
Here are the ingredients: natural yeast, egg (s), salt and olive oil. That's it! This is the only kind of waffle maker I have, yes it is Mickey. All my grandkids want these waffles made when they come to visit. It's a tradition. This particular VillaWare Mickey's waffle maker is over 20 years old and still going strong…..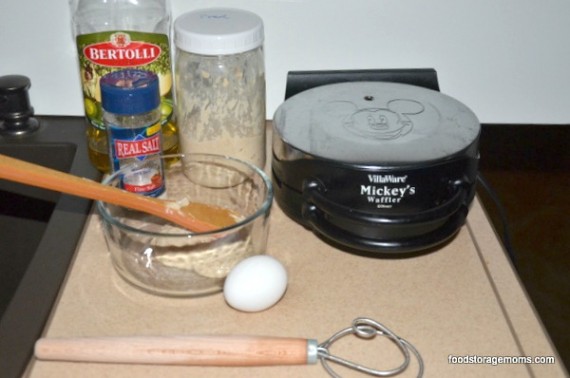 Finished product: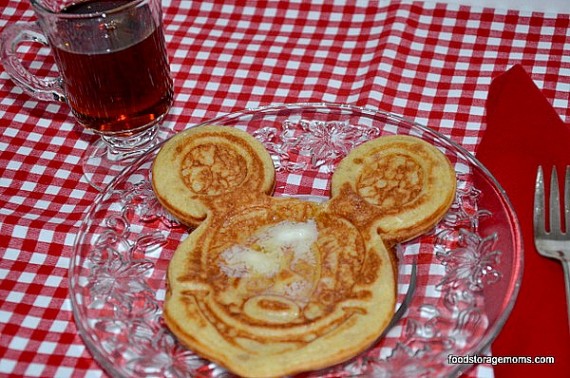 I hope you enjoy this recipe as much as my family does.
Natural Yeast Waffle Recipe
Prep time: 
Ingredients
1 cup starter
2 eggs
1 tablespoon olive oil
¼ teaspoon salt
Instructions
Place all of the ingredients in a medium bowl and whisk with a spatula or Danish whisk. This recipe has been adapted from "The Art Of Baking With Natural Yeast" by Melissa Richardson.
Heat a waffle iron and bake as directed per your waffle maker.