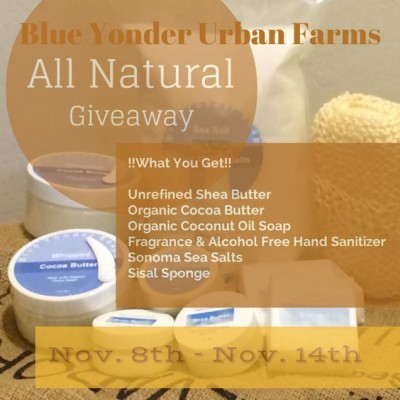 I am so excited to be involved in this All Natural Spa Products giveaway sponsored by my friend, Karen @Blue Yonder Urban Farms! I have never made soap or my own hand sanitizers. I love the fact that these are fragrance FREE and Alcohol FREE natural spa products.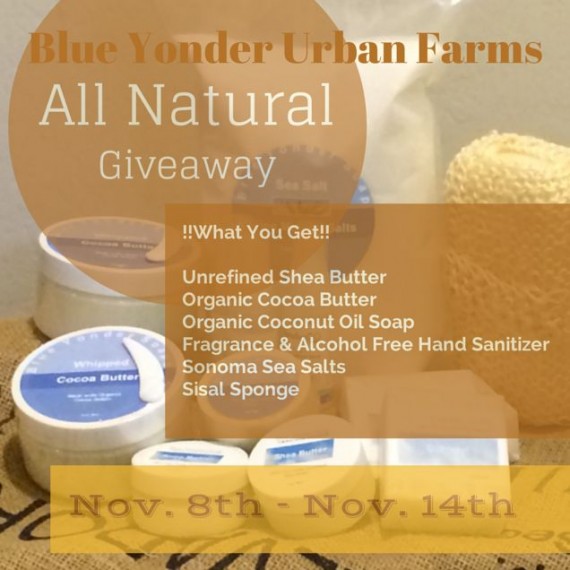 Here are the items included in this fabulous giveaway:
4 – lbs Sonoma Sea Salt
1 – Sisal Sponge
2 – 8oz Jars Cocoa Butter
1 – Cocoa Butter Bar w/case
2 – 1oz Jars Unrefined Shea Butter
3 – 3.5oz Bars Organic Coconut Oil Soap
3 – Fragrance & Alcohol Free Hand Sanitizers
My Soap Ingredients-Yikes!
I decided I would look at the ingredients of the hand/bar soap I use for my home. It's my thirst for researching the unknown I guess you could say. I thought my hand/bar soap was safe because the box said Cocoa Butter….Yikes, I can hardly type the words on the container let alone pronounce them. Here are just a few…I hope I type them correctly! LOL! My dermatologist recommended the soap I use. Hmmmmm. Of course not everyone can make their own soap. I get that…
Decyl Glucoslide,Pentasodium Pentetate, Tetrasodium Etidonate, Titaniun Dioxide….I can't type anymore….there are too many long words. I really want to use and learn to make all natural spa products. Yep, I am on it! I am so glad I met Karen and a few other people who are educating me on the process of making our own soap! WooHoo!
This Natural Spa Gift Bag sponsored Giveaway is open to any resident who is 18 years of age or older who lives in one of the 48 US Contiguous States. This giveaway starts on Saturday, Nov. 8th at 12:00 am (EST) and ends on Friday, Nov. 14th, 2014 at 12:00 pm (EST). The winner will be notified by email and will have 48 hours to respond. If we do not hear back from said winner in the designated time period of 48 hours we will choose another winner and they will have 24 hours to respond from the time the notification email is sent. Please check your SPAM email folders. Good luck to everyone!