How To Make The Best Homemade Mexican Lasagna
This is my really easy to make Mexican Lasagna recipe that your family will love. I stock all of the ingredients to make dishes just like this one. I came across my old recipe book with this Mexican Lasagna recipe. I just had to make this delicious recipe today. It's one of those neighborhood cookbooks that my sister designed with friends way back in 1988. Yep, this cookbook is 27 years old and still going strong with so many recipes! It's a bit tattered with the spiral binding, but the recipes are still awesome. When raising our four daughters we tried to have a Mexican meal at least once a week.
The kids seemed to like tacos the most, but we did try other recipes too. It seems a little strange to mention Mexican and lasagna to describe a meal entree, but the ingredients and the way things are layered you can see how it all comes together. With this recipe, your meat lovers are certainly kept happy, but the other tasty ingredients should keep everyone who loves delicious food pleased they sat at your table.  Prepare and enjoy!
Mexican Lasagna Ingredients:
1. 1-15 ounce can of chili without beans
2. 1-pound fried hamburger (drained)
3. 1-10 ounce can enchilada sauce
4. 1-16 ounce can refried beans
5. 8-10 ounces of grated cheese fresh or reconstituted freeze-dried cheese (drained)
6. 1/2 cup chopped onions or freeze-dried onions
7. 8 ounces of sour cream
8. 4 ounces of chopped green chilies, optional
9. 12 flour tortillas-cut into bite-size pieces
The reason I love this Mexican Lasagna recipe is that I always have all of the ingredients in my pantry. Yes, even freeze-dried cheese and sour cream. I always have flour tortillas in the freezer, or I can make them fresh on the griddle. This is one of those meals that is economical and easy to prepare in 15 minutes or less. Grab a can opener and spray the casserole dish. Now, I can hear some of you say I never eat casseroles. I get it, I really do. But I have some budgeting goals and I can not afford to eat salmon or steak every week. Well, for that matter monthly.
This is when I wish I could raise a cow, you know a cow without antibiotics or hormones. Just a good old grass-fed cow. Can you tell I am dreaming of living on a farm, well that's not going to happen! This recipe is great for family reunions, neighborhood get-together, and even funerals. Of course in Utah, they serve ham and funeral potatoes also known as cheesy potatoes at funerals.
I like to serve this Mexican Lasagna casserole with cheese, sour cream and salsa on the side. Make a tossed salad with greens and tomatoes from the garden. Life is good!
Mexican Lasagna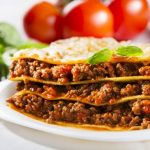 Mexican Lasagna
Ingredients
Ingredients:

15-

ounce

can of chili without beans

1

pound

hamburger fried and drained

10-

ounce

can enchilada sauce

16-

ounce

can refried beans

8-10

ounces

of grated cheese

½

cup

chopped onions

8-

ounces

of sour cream

4

_ounce can of chopped green chilies

optional

12

flour tortillas-cut into bite-size pieces
Instructions
Instructions:

Preheat oven to 350 degrees. Grease a 9 by 13-inch pan.

Mix the hamburger, chili, and the enchilada sauce together. Add green chilies to the mixture if desired. Put a little sauce in the bottom of the pan. Start layering with some of the sauce, beans, tortillas, onions, cheese and sour cream. Start the next layer with some of the sauce, beans, tortillas, onions, cheese and sour cream. The last layer is the remaining sauce and cover with the remaining cheese. Cover with foil and bake for 30-40 minutes
I hope you enjoy this Mexican lasagna as much as my family does!