How To Join A Community Emergency Response Team
It's all about how to join a community emergency response team today. I want you to picture a disaster right now. The lights just went out, the TV just went off, and your neighborhood is dark, very dark. If we should have a major power outage and lose contact with the outside world, you may not have access to your local doctors, pharmacies, grocery stores, etc. Forget about the ATM's, they will not work because the power is out. I hope you have gas in your vehicle in case you need to evacuate. Here's the deal, I am not a doomsday prepper, but I do believe we need to be prepared for the unexpected. Hopefully, you have met most of your neighbors and have had meetings to trade contact information, etc. in case you need to contact their relatives after a disaster.
I decided to pull out the stuff I have accumulated in my own C.E.R.T. bag/backpack to show you. My husband and I took a class to be C.E.R.T. certified in our community a few years ago. The term C.E.R.T. stands for Community Emergency Response Team. We called a few neighbors to do it with us. We could only talk 3 people into doing it with us. Here's the deal, I have no medical training, but I can organize just about anything. I thought to myself if we could get twenty people to join us, our neighborhood would be in better shape than it was before the classes. Well, we have 5 people that I know of right now. This will not be enough people because we could have total chaos after an unforeseen disaster or emergency.
Community Emergency Response Team Kit:
The C.E.R.T. backpack on the left above is actually my bag. The one on the right is my C.E.R.T. emergency bag with supplies. My husband has his own community emergency response team bags which I will show another day. He carries the medical supplies. We both have several duplicate items because we might not be in the same area all the time. We have slowly added to the bags as our budget could afford the items.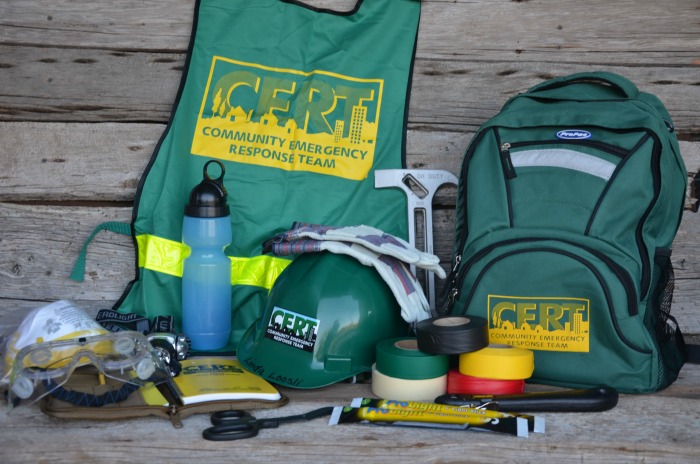 Here are the contents I have in my backpack: C.E.R.T. book to log the homes and people in the neighborhood, different colors of tape to mark the assessment of the injured people (red=needs immediate help, yellow=delay/not immediate, green means they are ok to wait for assistance), hardhat, Berkey Sports Bottle for filtering water, goggles, headlamp, work gloves, and a 4 in 1 tool (shown below), C.E.R.T. vest, light sticks and scissors, N-95 masks. We all need to be aware of where to shut off our water, electricity and gas lines. We also need to know where to shut off our water inside our homes. Of course, we would never shut off gas unless we can smell gas or a fire may be headed towards us, common sense needs to be used. If you don't have any N-95 masks get some as soon as your budget allows, you will want them, trust me. 3M 8000 Particle Respirator N95, 30-Pack
 You need one of these as well: 4 in 1 Emergency Tool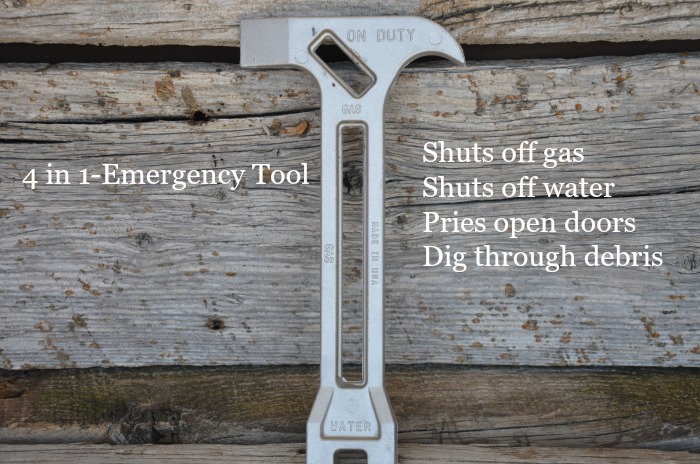 Mark's C.E.R.T. bag has all the medical supplies we will need until help comes, if it comes at all. I am aware of 2 nurses and 2 doctors in our neighborhood. Of course, I do not know everyone that lives in the subdivision. The items I have below are in my bag: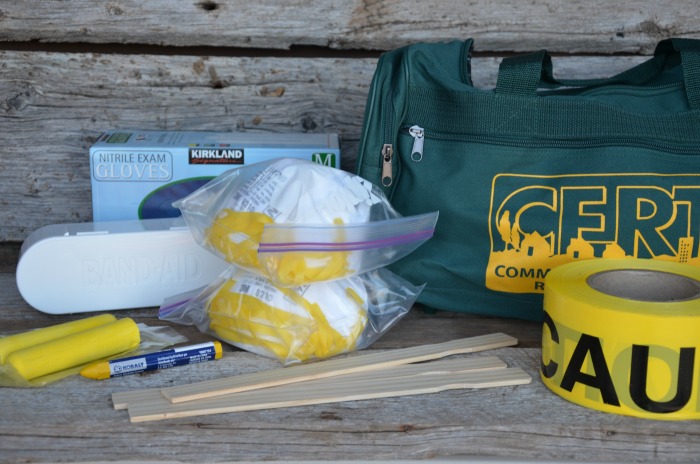 Nitrile gloves, N-95 masks (you can never have enough of them), BandAids, yellow chalk, yellow caution tape, paint sticks for makeshift splints.
We NEED to be able to take care of ourselves. We can't always depend on our government or local authorities. They can only do so much. Let me give you some statistics for OUR area in Southern Utah. These statistics are a few years old, but none the less please check out these numbers in my St. George, Utah (Washington County) area. We have on average 140,000 people living here. Washington County has 17 ambulances, 46 fire trucks, 204 police cars. We have two hospitals with 145 beds available. These numbers are scary….we cannot depend on anyone but ourselves. Please check out your local numbers. You might just be surprised…..or maybe not! You might want to Google "The Volunteer Protection Act of 1997". Check it out for yourselves. C.E.R.T. classes.  Let's all plan to be better prepared than we are right now. When the need arises it is too late.
My  favorite things:
Berkey GSPRT Generic 22-Ounce Water Filter Sports Bottle
CERT Emergency Deluxe Action Response Unit Gear Bag (Community Emergency Response Teams)
Blue Can – Premium Emergency Drinking Water
Lodge L12DCO3 Deep Camp Dutch Oven, 8-Quart
Goal Zero Torch 250 Flashlight with Integrated Solar Panel