EBOLA Healthcare Checklist Everyone Needs
Here is my EBOLA healthcare checklist everyone needs. I am not a doctor, nurse or anyone trained in the medical field. This is just my list I gathered from ideas I have read and researched. I have seen so many things on the TV, the internet, and other blogs. I was getting frustrated on what the real scoop is. Does anyone really know? I am starting to wonder……
I've seen a lot of medical books but this one is still my favorite. Medical Handbook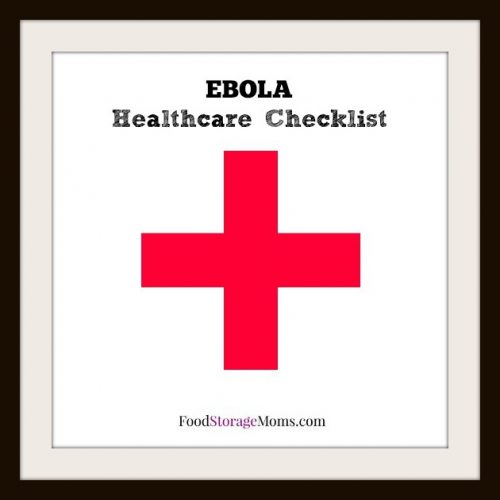 EBOLA Symptoms
I went to the CDC and found this statement and I quote :
"Symptoms of Ebola include
Fever
Severe headache
Muscle pain
Weakness
Diarrhea
Vomiting
Abdominal (stomach) pain
Unexplained hemorrhage (bleeding or bruising)
Symptoms may appear anywhere from 2 to 21 days after exposure to Ebola, but the average is 8 to 10 days.
Recovery from Ebola depends on good supportive clinical care and the patient's immune response. People who recover from Ebola infection develop antibodies that last for at least 10 years."
Here's the deal, I wanted to hear from the CDC (Centers For Disease Control) what the symptoms were for EBOLA so here you have them listed above.
EBOLA Is Spread Through Direct Contact
This statement is taken right off the CDC website but in my words:
EBOLA is spread through the transfer of urine, feces, blood, vomit, breast milk, semen, saliva from a person infected with EBOLA. The CDC is saying, in general, it is NOT spread through the air, by water or through food, although bushmeat or wild game as well as bats, may transmit the disease. EBOLA is spread through broken skin, mucous membranes such as eyes, nose, and mouth. Infected needles, syringes, and animals can spread the disease as well.
This really helped me understand the process of spreading this disease. We all know if someone sneezes that is sick with a cold we may get cold or we may not. It sometimes depends on our immune system. I must add…and washing hands. I always say wash your hands, wash your hands and wash your hands again.
My biggest concerns are for the health care workers in the clinics and hospitals. Those workers then go home and might infect friends and family. I personally have four family members that work in the healthcare field. God bless all the healthcare employees.
I know people are concerned to travel via the airlines. My question is how are the people who flew on the airplane with Mr. Duncan in Texas who has now died from Liberia? I personally have not heard anything about airline occupants. We are now hearing about the healthcare workers who cared for the fellow who died.
Safeguard Items For Our Homes
I remember taking a C.E.R.T. class and getting my certificate. We talked about making a triage, shortages of hospital beds, body bags, putting out fires, etc. I even held the fire hose and it is heavy and hard to control. One thing I did after the class was to start filling up my two C.E.R.T. bags with medical supplies. Lots of medical supplies. If I had to do stitches on someone in my family I could do it. I could control bleeding better than I could before I took the 8-week course. I know what to do with burns. My point is, we need to educate ourselves before we can effectively help someone with shock, burns, puncture wounds, broken bones and more. In some cases, the hospitals will be full to capacity. Okay, then what?
Here are some things I would stock up on as your budget will allow. If we have a pandemic we cannot all go to the hospital. We will need to take care of ourselves until help arrives if it arrives at all.
1. N95 face masks/respirators-be sure and get several sizes for different sized family members
2. Gloves-LOTS of them-latex free-you can never have too many disposable gloves
3. Gowns-Impermeable-fluid resistant-to protect the caregiver
4. Booties or shoe covers-to keep bacteria from your shoes or feet from coming into your house (remove before entering)
5. Face masks-goggles or face shield-to protect the caregiver from any sickness
6. Hand hygiene supplies-soap, anti-bacterial sanitizer, and any other hand cleaner you like using that will disinfect your hands as well as can be expected
7. Duct Tape and Plastic Window & Door coverings-you can tape off a room for infection within your home, you can use duct tape for several things
8. Food and water for a minimum of 30 days. We must think long term because someone could have it today, someone in the family in seven days…it might escalate the food and water needs for our families.
9. Garbage Bags-we need to store bags for garbage and to use for things like emergency toilets or body bags
10. Bleach-I store bleach to clean up what I feel is harmful bacteria from sewers or other bacterial issues
Here is my 30 Item Pandemic List I believe it is a good list to start with for illnesses if you cannot leave your house
t aid items at our homes before we need them. Be sure and go to the doctor when your head, heart, and gut tell you to need to see a doctor. But be prepared with knowledge if medical care is not available. Be prepared to stay home if a pandemic hits your city. Let's be prepared for the unexpected.