Easy Whole Wheat Bread Recipe Anyone Can Make
This is an easy whole wheat bread recipe anyone can make. It's very soft and moist and if you didn't see the light tan color you would almost think it was white bread. Just so you know I am a "dumper"……I start with the following ingredients and "dump" each one slowly into my Bosch Universal Plus Kitchen Machine. My mother used to make bread by hand, but my hands are pretty arthritic so I use the Bosch. Can't you just smell the whole wheat bread coming out of the oven?
This really is a no-fail whole wheat bread recipe. I have taught classes to so many people and after they feel the whole wheat bread dough they realize they can make whole wheat bread or any bread.  There is something therapeutic about dumping everything in the bowl or bread mixer and then working with the dough. It's very relaxing for me and the money I save is unreal.
I think you could almost pay for an electric wheat grinder and a Bosch bread mixer within a year by making your own bread. Of course, this would depend on how many loaves of bread you eat per week, month or year. I am just saying it's the best investment you can make for your families health and grocery budget. The skill of making your own bread is worth every penny.
Cost To Make My Whole Wheat Bread:
I believe bread making whether you make it gluten-free, white or whole wheat bread will save you money. I have the seen the loaves of bread that cost $2-$6.00 a loaf. Oh my gosh! I figured out I make my loaves for just under a $1.00 a loaf. I make mine in one pound stainless steel loaf pans because I like smaller sandwiches.
Not too small, just not the large sandwich loaf size. My daughter's make the most beautiful loaves of bread, I taught them to make bread but their loaves turn out prettier than mine. My daughter makes about 20 loaves at Christmas and gives them to neighbors for gifts. She works full time, I don't know how she does it! Gotta love it!
I buy the hard white wheat on sale and the raw honey by the case from Cox's: Cox's Honey.  The other ingredients you use very little and very inexpensive. I remember watching my mother grind her own whole wheat berries, back then it was hard red wheat. I only buy hard white wheat, it has a mild flavor and easier on the tummy.
The red hard wheat makes a heavier, stronger flavored bread. I call them bricks…..I grew up on it but I prefer my whole wheat bread recipe.
It is all about having fresh ingredients to start with before mixing up the dough…..yes you can make this bread.
If it is possible for you to learn how to make bread with your choice of flour you can survive a disaster if you have the skills to make bread. Add some peanut butter, jam, canned fruit and vegetables and you can survive for weeks if you had to without going to the grocery store. Please remember you need water….water…and more water. Please be prepared for the unexpected. My tip of the day: you can survive 3 minutes without air, 3 days without water, 3 hours without shelter in extreme heat or cold and 3 weeks without food.
 Easy Whole Wheat Bread Recipe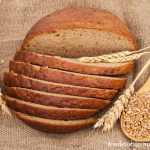 Easy Whole Wheat Bread Recipe
Ingredients
6

Cups

Warm Water

2/3

Cup

Olive Oil

1

Cup

Honey

2

Tablespoons

Dough Enhancer

2

Tablespoons

Wheat Gluten

2

Tablespoons

Salt

2

Tablespoons

Dry Instant Milk

2

Tablespoons

Saf Instant Yeast

2

Tablespoons

Lemon Juice

14-15

Cups

Whole Wheat Flour
Instructions
Instructions

Start adding the ingredients in the order shown above with one exception into your mixing bowl…start with 7 cups of flour and slowly add more flour until the dough pulls away from the sides of the bowl. I use a Bosch Mixer. I grew up making bread without a mixer..it can be done by hand. I grew up letting my bread rise twice so I still do that. Old habits are hard to break! I mix it for 10 minutes in my Bosch. Cover with greased plastic wrap until it doubles in size. Punch down and form dough into eight one-pound loaves or less if your bread pans are larger. I let the dough rise one more time with greased plastic wrap. Bake the bread at 350 degrees for 27-30 minutes. If your pans are larger you will bake your bread longer.  You will love making whole wheat bread, I promise!!
Please, note always use fresh ingredients. Have fun making bread, you will love it! And you will save money big time! Are you ready to make whole wheat bread now?
Easy French Bread: French Bread in One Hour by Food Storage Moms.
No-Fail Cinnamon Rolls: No-Fail Cinnamon Rolls by Food Storage Moms.
This is my favorite wheat: Lehi Roller Mill Whole Wheat. I watch for the hard white wheat (six-gallon buckets) at Costco which usually sell for about $18.00 give or take a bucket. I replace all the lids with reusable RED Gamma Lids. Once I buy the lids I keep the six-gallon buckets and refill them with fresh hard white wheat when needed. These are Gamma Lids: Gamma Seal Lid – Red – For 3.5 to 7 Gallon Buckets or Pails Gamma2
Shelf Life of Whole Wheat Berries and White Flour: "We recommend rotating flour every 12 months. If you want long-term storage, purchase wheat. Wheat, when cleaned and stored properly, will keep indefinitely. The best way to store flour is in an airtight container in a cool, dry place; preferably below 70 degrees. When stored this way the average storage life is 1 year for white flour and 6-9 months for whole wheat flour." Quoted per Lehi Mills Website.