How to Use Rabbit Poop Fertilizer
Have you ever heard of using rabbit poop as fertilizer in your garden? If not, you're missing out on an opportunity to provide nourishing ingredients to your soil that will help your plants grow and thrive.
It may sound strange, but rabbit poop works well as a natural fertilizer when growing food source crops and other flowers and plants inside the garden. So, if you want to use it as fertilizer to see what it can do for you, bringing rabbits to your land is the best thing to do.
Then, once you have them living on the land, you can collect their poop, add it to a pile, and use it in the soil as you need to.
In case you missed this post, Meat Rabbits: Tips for Raising Them, or this post, Raising Quail: What You Need to Know
Rabbit food: Kaytee Timothy Complete Rabbit Food is good rabbit chow, but if feeding with your own mixture, be sure and introduce fresh green vegetables slowly so your rabbits can tolerate them. The best greens are kale, parsley, cabbage, broccoli, and mint.
How to Use Rabbit Poop Fertilizer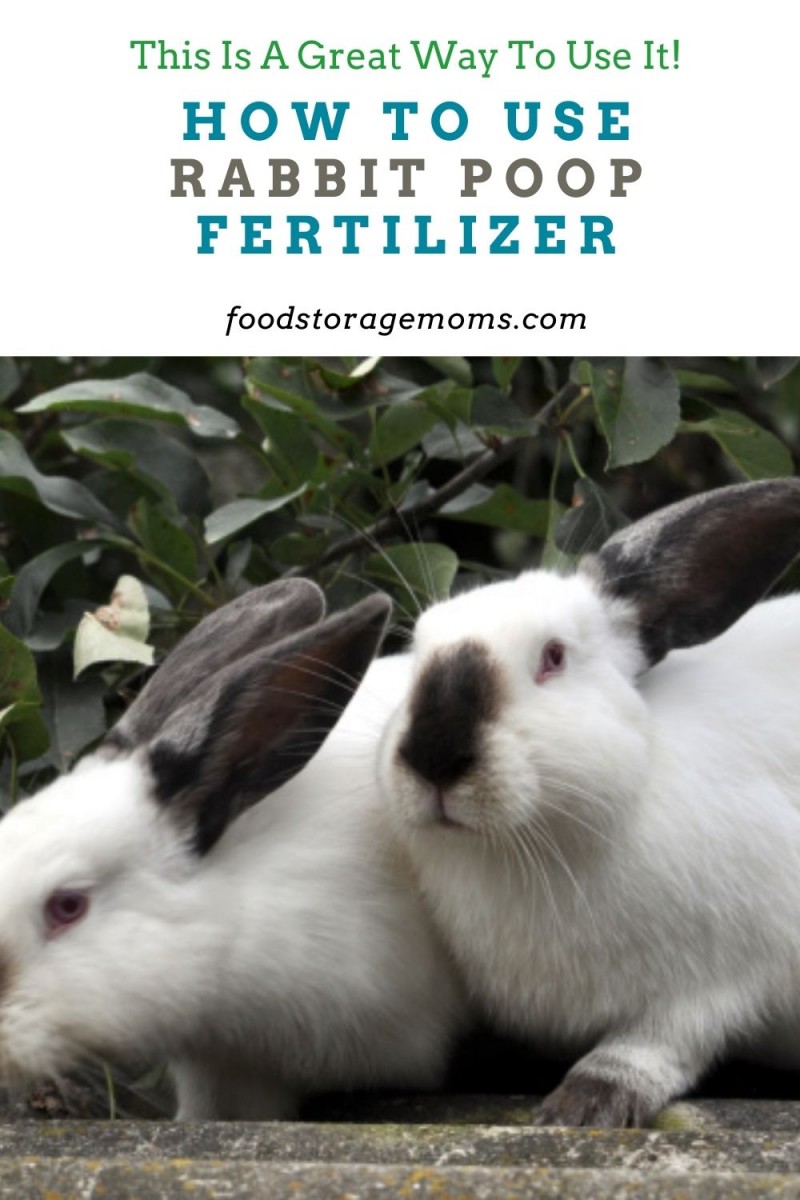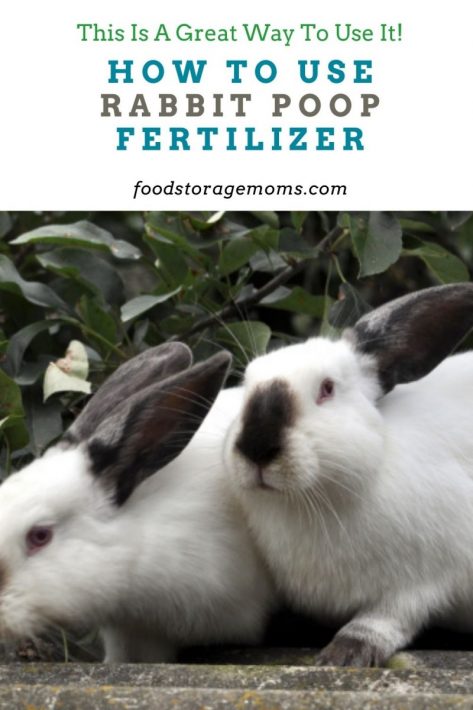 Why Rabbit Poop is Good to Use as a Fertilizer
There are several reasons why rabbit poop works as a great fertilizer in your garden. Here are some just to better acquaint you with this approach to garden soil preparation.
Helps Improve Your Garden's Soil Condition
Before you start collecting rabbit manure, saving it, and using it in your garden as fertilizer, it's essential to understand why it's genuinely good to use. First, rabbit manure can improve the condition of the soil. When the soil is in the best condition possible, it creates ideal growing conditions for all crops, including fruits, vegetables, and grains.
Adds Moisture to the Soil
Second, manure can help keep the soil moist, which is important. If you have dry soil, your plants can become dehydrated, which would cause them to die. If you want your plants to thrive, keeping the ground moist without making it too wet is a must.
The manure helps to retain the moisture so the soil doesn't dry out as quickly.
Also Adds Much-Needed Nitrogen
The rabbit manure contains more nitrogen than the manure from many other animals, including horses, chickens, and goats. You've likely heard of people using horse manure as fertilizer on farms.
It's a standard way to use manure instead of finding a way to get rid of it. And, while horse manure works wonders on the soil, rabbit manure is even better because of its nitrogen properties.
Overall, this type of fertilizer can drastically improve the condition of the soil on your land. So, if you want to grow various crops successfully, be sure to have some rabbit poop ready to use at a moment's notice.
Is It Possible to Sell Rabbit Poop?
Yes, it's entirely possible to sell rabbit poop. You may be surprised to learn that this manure is available for sale, but farmers often want to buy it and spread it around on the soil where they're growing different things, such as flowers, fruits, vegetables, and grains.
While you can always buy it if you don't want to keep rabbits on your land and tend to them, you'll save more money in the long run by purchasing the rabbits in advance.
When you have rabbits that live on your land, you can expect them to poop multiple times per day, especially when you're providing them with plenty of hay, fruits, and vegetables to eat to keep them fed and healthy.
With that in mind, you won't ever have to worry about running out of manure to use on your crops, depending on how many rabbits you have and how much of your land you plan to fertilize.
Is It Possible to Add Too Much Poop to the Soil?
As with most things, be sure to add rabbit poop in moderation. It's possible to overdo it, and you don't want to do that. While the nitrogen in the manure is ideal for your crops, putting too much of it in the soil over and over could cause more harm than good.
Try to set a fertilizing schedule that you can stick with for as long as you'd like. You can start adding the manure to your crops once a week or once every two to three weeks.
Of course, it's going to depend on what you're growing and how often you'd typically add traditional fertilizer to the soil. Don't make the mistake that some beginners make when they first start using rabbit poop.
Some people assume that you can't go wrong with adding more and more of the manure to the soil, but that often causes damage to the soil and plants they're growing.
Using Rabbit Urine with Rabbit Poop
Did you know it's possible to use rabbit poop and urine? Rabbit urine has its benefits, but you'll need to be careful with the approach you take when adding it to your plants. Never add wet bedding on top of the soil where you're growing your plants.
Instead, add the damp bedding to your compost pile. You can use it in the compost with rabbit poop, shavings, and other ingredients, such as kitchen scraps that you've saved.
The compost that you're creating using urine, poop, and kitchen scraps will provide the soil and plants with essential nutrients that keep everything growing as it should. It won't take long for you to have a full garden consisting of healthy, growing plants that continue to thrive.
Is It Safe to Use Rabbit Poop?
It's safe to use rabbit poop in the soil, even if you're growing plants that you'll eventually harvest and eat. You're putting the poop in the soil, but that doesn't mean it's going to get on the vegetables that you're growing in any significant amount. Be sure to rinse everything off after you harvest the crops as an additional safety precaution.
While it sounds strange to some, rabbit poop is an incredible ingredient for the soil that can make such a difference in your garden. Whether you're new to gardening or more experienced, you can expect to have more success with growing different crops when you're using this natural ingredient as fertilizer for the soil.
Use Rabbit Poop as Fertilizer in Your Garden
Using rabbit poop as fertilizer in the garden is as simple as it gets. You can collect the poop from your rabbits, pour it into a container, and then spread it out on the soil every so often. It works as an excellent natural fertilizer to enhance the quality of the soil and create healthier growing conditions.
Can you put too much rabbit poop in your garden?
With regular feedings, rabbit manure has more nitrogen than you'll typically find using most other animal manures. Some studies have shown that it has more than double the amount found in cow and horse manure.
Using the rabbit pellets prompts the nitrogen is being released slowly, which is good. You don't want to overdo it since excess nitrogen can encourage the plant's leaves to grow rather than the "fruit" of the plant.
A good rule of thumb is to apply 200 – 400 pounds for every 1,000 square feet of garden space.
Is rabbit poop good for my tomato plants?
When you are growing tomatoes or other vegetables in your garden, you may find rabbit poop to be the manure of choice over other options. Of the various nutrients you want in a fertilizer, there are three main nutrients that will make a real difference: nitrogen, phosphorus, and potassium.
People like rabbit manure because it can be added directly into your garden spot without the requirement of composting the manure like you might have to do with other manures.
Is it toxic to humans?
It's logical to ask whether rabbit poop is harmful to us humans. Depending on the pen location, temperatures, and cleanliness you maintain, rabbits have been known to carry parasites like tapeworm and roundworm, the common feeling is that their waste is not known to transmit any diseases to humans.
A good thing about rabbits, a single rabbit can excrete 200 – 300 pellets in a single day, which adds to the success of generating your own fertilizer, but can require you to keep up with the removal of the pellets in and around the pens so other challenges like flies and other insects don't become a problem.
Can I sell rabbit poop?
You may not have planned to raise enough rabbits to produce their manure for sale, but it can be sold as a high-quality garden fertilizer for prices between $5 and $15 a pound.
You may consider selling it on social media sites like Craigslist, eBay, and Facebook. You can also check with your local farmer's market and garden supply store to see if they have an interest.
One challenge may be the requirement to "package" the manure such that it can be transported, stored, and then sold. Unless you plan to make it a profitable project, the time and equipment involved may prove to be a non-starter.
How much do rabbits poop per day?
As mentioned above, most rabbits will drop 200 – 300 pellets each day. They will generally be the same size and shape, which means rounded and about the size of a pea or garbanzo bean. The actual size of your rabbit doesn't determine the size of their pellets.
Is rabbit pee good for the garden?
Those who raise rabbits have found that their manure isn't the only useful "offering" from the rabbits. Their urine can be added to help the rabbit manure fertilizer work even better in a garden. It also has a high percentage of nitrogen, and when combined with the rabbit manure, makes for a great soil additive.
Note that it can be poisonous to earthworms, so if you want worms to be a part of your soil prep journey, you may need to prep the manure well before using it for this purpose by not using quite as much urine.
The mixture of urine and rabbit poop is often called "bunny brew" or "rabbit compost tea." Maybe that makes it more appealing to use. LOL
How do farmers use rabbit urine?
You may not be aware, but the rabbit urine you collect can be used as an insecticide. This requires a mixture of about 1/2 gallon of concentrated urine with 3/4 gallon of water and then spray that mixture on the plants being impacted by the bugs every two to three weeks to help kill the insects.
How long does it take the rabbit poop to decompose?
Generally, takes around 3 – 5 days for the rabbit poop to completely break down. It usually doesn't dissolve completely. But keep the brewing tea in a warm, sunny, spot for best results. Use the rabbit compost tea to water your plants, giving them an infusion of nutrients.
Do worms eat rabbit poop?
If you like to see worms in the garden as a way to keep the soil more porous and better able to best benefit from moisture and fertilizer, rabbit droppings may be the right size and makeup for your worms to thrive.
The poops are fairly small, relatively dry, and don't contain too much nitrogen which can be toxic to the worms.
Rabbit manure without a heavy urine addition can be mixed with wasted rabbit feed and another plant residue to make a quality worm meal. Note that, when properly cared for, earthworms have been known to eliminate manure piles and the related odor, and fly problems that come along with it.
Can my rabbit litter be composted?

Yes, the "goodies" in your rabbits' litter tray can be used as compost. Some people will also throw in any other compostable waste they collect, which may include, leftover food and vegetable scraps, fall leaves, dead flowers, broken-down cardboard boxes, and grass clippings. This mixture will make a great compost your garden plants will love.
Final Word
When you're planting different crops, you have certain expectations. You want the crops to grow and continue to mature until they reach the point that you can harvest those plants.
One way to make sure that happens is to provide your soil with extra nourishment using the rabbit manure to your advantage. Then, you can quickly see the difference it makes in the garden! May God Bless this world, Linda
Copyright Images: California Breed Rabbits AdobeStock_239212642 by orestligetka