How to Prep for Hurricane Season
Hurricanes are known to leave behind devastating consequences, especially for those who weren't prepared long beforehand. They not only can rip families apart but can completely obliterate homes in just a matter of minutes. While preparing your home for a hurricane may cost you a significant amount of money upfront, not having the right insurance policy when left with the damage could end up costing you a whole lot more.
I have a few tips that I'd love to share with you so that isn't your story. Here's more on how to prep for hurricane season. "Prepare Your Family For Survival" by Linda Loosli
Have an Evacuation Plan
Don't wait until the last minute to decide what the best route is for you to take to quickly get out of town. Plan your evacuation route well in advance, especially for those of you who live in mobile homes. Be sure that everyone in your family is on board with where you all should meet if it happens when you're all in different locations.
It's also helpful to know where your nearest shelter is in town and how to get in touch with any family members who live further away from the danger area to see if they'd be willing to accommodate your family during the evacuation period. In case you missed this post, 12 Types of Natural Disasters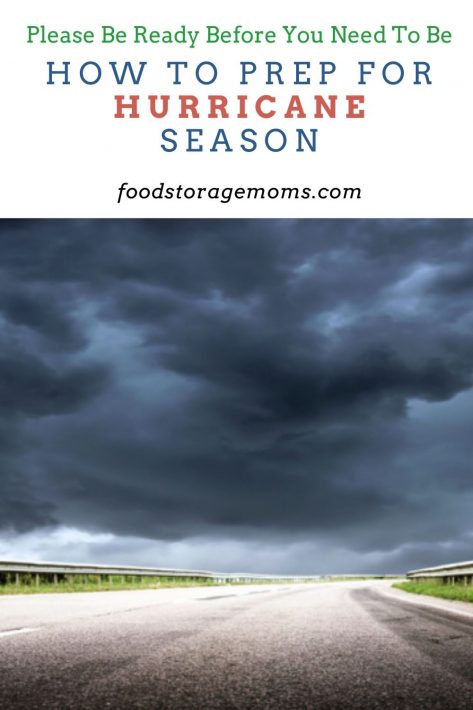 Protect Your Home
When hurricane speed winds begin to blow through your area, those winds can take harmless objects and turn them into powerful weapons that cause major devastation to your home. That is especially the case if those landscaping items create an opening in your windows, doors, or roof. While protecting your home from a hurricane won't be cheap, I'd encourage you to at least consider doing it in phases.
Cut Down Weak Branches and Trees
The last thing that you want is for a leaning tree or a huge branch to come crashing down on your home or on top of your car that's parked out in your driveway. Tree removal can cost a lot of money upfront, but it could wind up costing you more if you turn a blind eye to it. Also, be sure to remove branches that are weak or hanging low, and do your best to keep your shrubs trimmed and in good shape.
Consider Tempered Glass
Sliding glass doors are extremely vulnerable during a hurricane. With tempered glass in place, you'll have one less thing to have to worry about.
Storm Proof All Exterior Doors
Every exterior door that's around your home should be more secure by having a minimum of three hinges along with a deadbolt of no less than one inch. 
Related: Winds What You Need to Do Before They Hit
Install Storm Shutters
To keep your windows from breaking, consider installing storm shutters that will provide them with much-needed protection before the hurricane season is upon you. If this option is already a little too late or costs more money than what you can currently afford, you can also nail plywood panels to the frames of your windows as a temporary solution.
Replace Old Garage Door
It may be time to replace your old garage door and have an updated one installed that has impact protection and can handle extreme wind pressure. If high winds are able to find an opening in your home, especially with an old garage door, it can cause a lot of damage to other areas of your home.
Repair Loose Shingles
Make sure that your roof is prepared for the heavy winds and rain by using ring-shank nails and cement to protect any shingles that may have come loose.
Avoid Using Gravel or Rock Landscaping
Those of you who live along the coast should consider using mulch as landscaping around your home. Rock and gravel landscaping only provides hurricane winds and raging waters with harmful projectiles that can break through your windows.
Anchor Your Boat or Trailer
For those of you who have a boat or trailer sitting out in your driveway, you need to have some way to anchor it down so that it doesn't decide to move in with you along with the rising floodwaters. Also, take a look at your insurance policy to make sure your boat and trailer are covered.
Stock Up On Emergency Supplies Ahead of Time
Don't wait until the storm is only a day or two out and then decide to head to the store for some last-minute supplies and meals. Everyone else will have the same idea and you may not find what you're looking for. Make sure that you have at least a 3 day supply of nonperishable food that doesn't necessarily require cooking. The same goes for drinking water. You'll need at least one gallon of water per person for each day. Here are a few other items to have in your emergency kit:
Portable crank weather radio
First aid kit
Basic tools
Extra building materials (emergency house repair)
Medications you take on a consistent basis
Go Over Your Insurance Policy
Most insurance policies don't cover flood damage, which is a pretty bad thing for those of you who live in areas that could be affected by a hurricane. Be sure that you go over your insurance policy and add any additional coverage, along with wind protection and wind-blown water damage with your insurance professional.
Keep Your Important Documents Protected and Secure
Another thing that I'd strongly encourage you to do is to have all your important documents kept in a waterproof safe or container. That way you can quickly grab all your important information if you have to evacuate in a hurry. This includes marriage and birth certificates, social security cards, insurance papers, and also any valuables that you want to keep with you.
Take Inventory
Taking an inventory of all the valuable possessions in your home is important for a number of reasons. For starters, it will determine whether you have adequate enough insurance coverage for all of your belongings. An inventory will also help speed up your claim and make sure that you're receiving enough for your losses.
It will also come in handy if you have to apply for disaster aid. Your inventory checklist should be put alongside your other important documents and taken with you if you're forced to evacuate. This is an important part of learning how to prep for hurricane season.
How to Prep for Hurricane Season
If you want to learn more about Hurricane Season, make sure you read up on Hurricane Sandy and the critical issues for survivors. You can never be too prepared.
Related: What to Do Before a Tropical Storm Hits
Final Word
For those of you who live in certain parts of the country that deal with hurricanes on a regular basis, don't wait around until it's too late. Prepping and planning well in advance could very well wind up saving one of your family member's life or protect your home from the damage that could have been prevented. How do you prep for hurricane season? May God Bless this world, Linda.
Copyright Images: Hurricane Tornado Deposit photos_235988950_s-2019