This is a tip on how to freeze your excess crop of tomatoes from your garden. I'm showing you something I learned from my daughter, Heidi. We both grow tomatoes in our gardens. She said to me one day that she just puts some tomatoes in her blender and blends them until they are smooth, no peeling.
Yes, I said no peeling, no blanching!!! I did this last year and I LOVED having a few tomatoes that I could just blend or grind up and freeze. You thaw them a day or two before needing them and you have tomatoes ready to go.
Update, now I freeze tomatoes without blending as well. Yep, I remove the stem, quarter and freeze them in bags. THEN I thaw them a day or two before I will use them and blend them until smooth. You know we are all busy sometimes, just throw them in a bag and freeze them to make chili or your favorite tomato-based soup on another day. After thawing, if you blend them in a blender you don't taste the skins of the tomatoes. Easy peasy.
We all have a few extra tomatoes sometimes just after we have finished canning a huge batch. Maybe it's one or two jars worth. I'm not canning only one or two jars. And we can only eat so many bacon, lettuce, and tomato sandwiches. Okay, I decided I would show you how easy this is to do. You pick the tomatoes, wash and remove stems.
How To Freeze Tomatoes
They can be large tomatoes, cherry tomatoes, Roma tomatoes, etc. You will not blanch or peel the tomatoes. Place the tomatoes in your blender and blend until smooth. Place the liquid in the jars leaving enough space for the liquid to freeze and expand, that's it! Love it!
If you are wondering about those white lids shown below, they are made by "Ball". I have regular and wide mouth lids. Ball Wide-Mouth Plastic Storage Caps, 8-Count
, and Ball Regular Mouth Jar Storage Caps Set of 8
I would not freeze my entire tomato crop this way, just a few odds, and ends that we have extra from the garden. I need to make one disclaimer here. When I was little my mother thought a jar of canned tomatoes would be our dinner, you know canned tomatoes with milk.
Nope, I still will not eat that. I still prefer Campbell's Tomato Soup, with milk and saltines! I only use my canned or frozen tomatoes for vegetable soups, sauces, spaghetti, etc. I guess it's a Linda and Heidi thing…..LOL!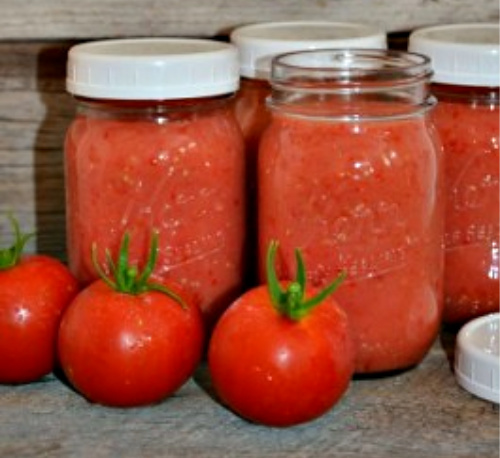 How To Use Those Tomatoes
1. makes fabulous chili
2. yummy bean soups
3. enchiladas
4. hamburger soup
5. vegetable soups
6. spaghetti sauce
7. taco soup
8. my mother's tomato soup
9. make my own tomato sauce
10 pizza sauce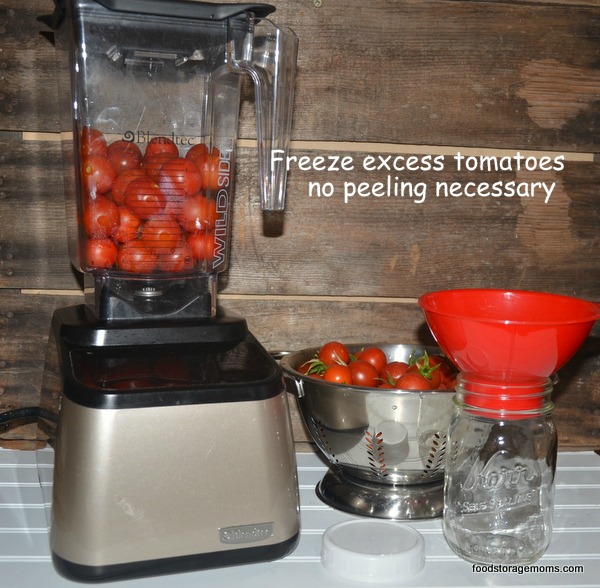 My favorite things to freeze my excess crop of tomatoes:
Prepworks by Progressive Canning Funnel for Regular and Wide Mouth Jars
Ball Mason Jars Wide-Mouth Can or Freeze – 16 oz 12pk
1pt Ball Mason Jars – Case of 12