Freeze-Dried Food Pantry Size For Emergencies

Today it's about freeze-dried food in pantry size cans. When I teach classes or I'm asked to speak to large groups, I always bring some #10 cans (7-inches tall and 6-1/4 inches in diameter), but I also bring some smaller pantry size cans. The pantry size cans I have are a bit more expensive per ounce, but in reality, Mark and I don't need to open a large #10 can for just the two of us. I'm so glad a few readers reminded me to mention the smaller cans. I thought to myself, oh my gosh, I have got to write a post about the smaller pantry size cans. Now, I did write a post a few years ago with pictures of them in my bag of food if we had to leave our home with our 72-hour kits.
It's so hot where we live, I store my 72-hours kits outside in the garage and the food in a sweater bag. 72-Hour Food Bags. I want to share this picture with the pantry size cans and the pouches I purchased a few years ago. Remember, 95% of them have a shelf life of 20-25 years. I don't like digging through stuff to rotate, so I used a Sweater Bag to store my grab and go food. They work great. Please remember that we still need to grab water to go with the food. Just giving you the heads-up here. This is the food spread out on a table: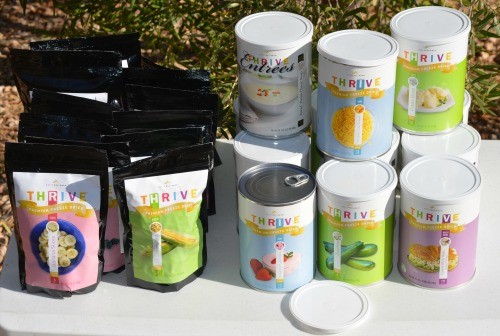 The pantry size cans are 5-1/2 inches tall and 4-inches in diameter. The reason I like them is that they are smaller in size and I don't feel like I have to open one of my #10 cans when it's time to plan a meal. I buy a lot of #10 cans, don't get me wrong, I need to for my long-term storage. But sometimes I need a little cheddar cheese, instant milk, or freeze-dried grapes. Yes, the freeze-dried grapes are awesome in quinoa salads or to eat right out of the can. Yummy!
If you ever buy freeze-dried pineapple it will disappear very fast. It's my family's favorite snack. I buy that in #10 cans. I also dehydrate excess pineapple as well. But the commercial products last longer and it saves me money in the long run.
I bought mine from Thrive Life and I highly recommend that company. You can see some pouches above as well, but today I am just talking about the pantry cans.
You may see a can of soup above and some yogurt bites. The shelf-life of those two items is much shorter than the 20-25 years. I feel like I need a soup base where I can just add water and throw in some freeze-dried veggies to make a soup. I thought the yogurt bites would be a nice treat to snack on.
My Favorite Pantry Size Freeze-Dried Food:
Soup base:
I can't find a soup base on their website. I can see some pouches, but they may have discontinued the cream based soup in pantry size cans.
Freeze-Dried Vegetables:
The website won't let me grab the pantry links, so here is the Thrive Life Vegetable Link. I have all of these and have tried each and every one of them. Please remember that freeze-dried food is a bit more expensive, but you can eat the food right out of the can. It uses less fuel and lasts 20-25 years (in a cool room). You don't have to wash the veggies, slice or chop them. You can use these in soups, stews or eat them as a side dish after you hydrate them.
Please keep in mind if you see they do not have the one product you want today, it may be out of stock because it is out of season.
Bell Peppers
Broccoli
Butternut Squash
Cauliflower
Celery
Corn
Green Beans
Green Chili Peppers
Green Onions
Green Peas
Potato Dices
Onion
Spinach
Sweet Potatoes
Zucchini: I noticed it is not available at this time. I did not like the zucchini, too chewy for me.
Freeze-Dried Fruits:
I have tried all of the fruits I have listed below, except the cranberries. They are all fabulous, no washing, slicing or cutting up anything. Freeze-dried food lasts longer, just check the shelf-like of the kind you decide to buy whether it's this brand or another company. Thrive Life is the only one I am aware of that sells pantry size cans. Thrive Life Fruits Link
Apples
Apricots
Bananas
Blueberries
Blackberries
Cherries
Cranberries
Grapes
Mango
Peaches
Pears
Pineapple
Strawberries
Raspberries
Instant Milk:
I highly recommend this milk. I don't drink milk, but I have made this milk for Mark and used it when I make my white bread.  Thrive Life Instant Milk Link
Please remember I don't sell these, but I do recommend them and I have several cases of the ones I have listed. I will never recommend any food I have not tried. When I taught classes in my home before I started my blog, I had my neighbors taste test all of these items. My plan today was to let you know that you can buy pantry size cans of all these items. They are great for one person or a couple. I think even large families may want a pantry size can of say Parmesan cheese because a #10 can might be too much for them to use before it goes bad once opened. Thanks to all of you who read and apply the things we discuss on the blog. You'll be so glad you implement a food storage plan for your family.