How To Feed Your Family Breakfast After A Disaster
Today, it's all about how to feed your family breakfast after a disaster. Now, it may not be a hurricane, tornado, or flood, it may be undrivable icy roads. Let's assume we will not be able to leave our home, so we will have to prepare whatever we have in our house today, tomorrow, or maybe even for weeks. This is not about 72-hour kits or bug-out bags. We will not leave our home. Do you have a supply of paper plates, cups, or plastic silverware? Yes, we can wash our regular dishes, but what if we have no power to heat the dishwater? I don't want to use up all my fuel to boil water, so I stash a few plates, cups, bowls, and silverware for any unforeseen disaster.
I saw a post about planning for food after a disaster that my friend, Julene wrote over at Prepare Today about "Post Disaster Meals, No Cooking Required". She actually wrote it back in October 2012. She has been a good friend of mine and inspires the world with ideas on food storage and preparedness. I decided that not all my readers would have seen her post so I am writing one similar to her post today.
So let's get started. I want to break this out into three sections, breakfasts, lunches, and lunches/dinners. Of course, you will know what foods your family can and cannot eat. These are just examples to help you get started and think about what you might need after a disaster or unforeseen emergency. One thing we must all have is water. In my opinion, we can never have too much water. I am talking about drinkable water first and other water needs for personal hygiene and cooking. Today I am only planning BREAKFAST Meals.
After A Disaster Breakfast Number One: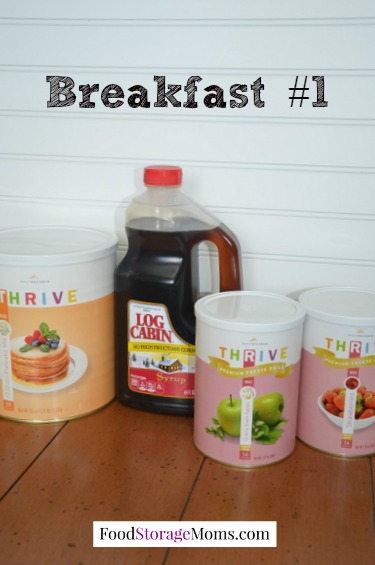 My first breakfast choice is pancakes with syrup and freeze-dried fruit (apples and strawberries). I am thinking more than likely after a disaster we will have some fresh fruit in the refrigerator. Most of us have cans of fruit or jars of fruit we have canned. If I have some eggs in the refrigerator I would use them up if it appears the disaster could be longer than a few days. This is assuming you have a gas barbecue or butane stove. I would highly recommend getting one with some extra cans of butane fuel. I used one for almost six weeks (used only one can of butane). I used my SunOven as well as a Dutch oven to prepare meals when I was stove/ovenless (is that a word?) for almost 6 or 7 weeks. LOL! Camp Chef Butane 1 Burner Stove with Camping Case
and 12 Butane Fuel GasOne Canisters for Portable Camping Stoves
After A Disaster Breakfast Number Two: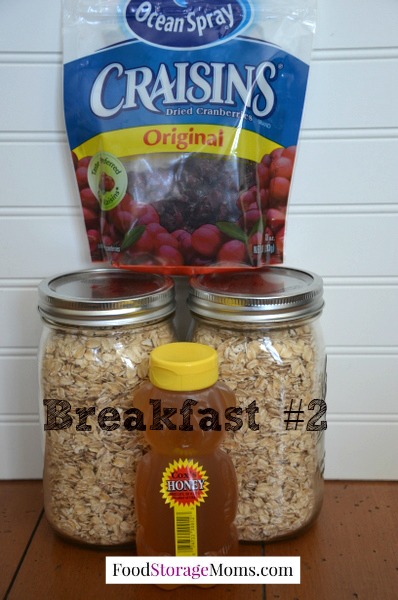 Most of us have some kind of oatmeal in our food storage, so this is a good one to make for breakfast. It's really easy to prepare with just some boiling water, add some fruit and you are good to go. This is my favorite Cox's Honey that you can use to sweeten your oatmeal if desired. If you have milk to use up in the refrigerator you can pour some over the oatmeal. If not, I would recommend a #10 can of instant milk if you do not have animals to provide the milk you want. I don't drink milk, but my husband will want some cereal so I always have several #10 cans of instant milk or the boxed shelf-stable Gossner's milk shown below. One great thing about oatmeal is you can add nuts, craisins, raisins, and freeze-dried fruit of almost any kind. Easy peasy…
After A Disaster Breakfast Number Three: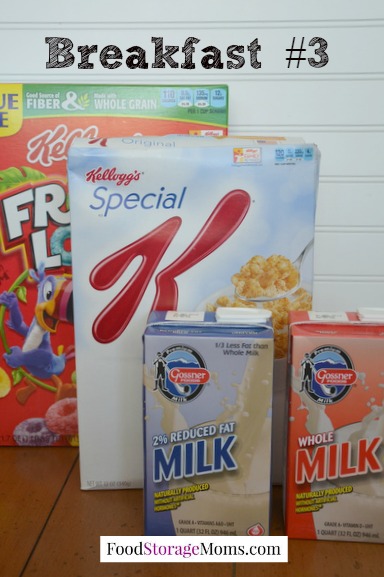 You probably know me by now, I keep a lot of cold cereal in my pantry. Yes, people look at me at the store when it goes on sale, like really??? Do you eat that much cereal??? Yes, my husband does. Life is good with cereal, milk, bananas, and the newspaper to read every morning. The less I have to go to a grocery store the better.
After A Disaster Breakfast Number Four: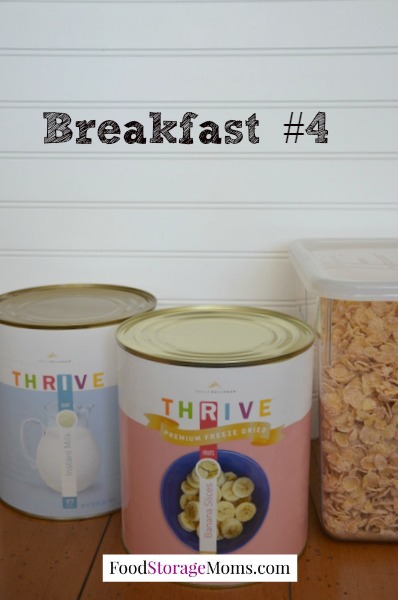 Here is a picture of cold cereal, my favorite instant milk, and freeze-dried bananas. I want you to be aware of the different milk products you can buy. Most grocery stores sell instant milk. This particular company's instant milk product has a shelf life of 25 years unopened and 2 years if opened. The storage temperature would have to be cool (not a hot garage). If you use soy or rice milk stock up some extra ones in case you need them. Plus, most are shelf stable, and even better no refrigeration is necessary. Here again, a friendly reminder to store water, lots of water.
The reason I put this post together is to make us think about what we have in our houses today to feed our family for a week, two weeks, or more. Of course, I would love fresh vegetables from the garden, but with temperatures of 30 degrees at night right now and for the rest of the winter months, that is not possible. If I can't drive to the store because the roads have washed away or an extreme ice storm is coming..I will be calm and relaxed knowing I can prepare several meals for my family. Tomorrow I will share planning LUNCH Meals, the day after that will be planning DINNER Meals. Of course, all meals can be switched around, I just wanted to give you pictures to help you plan meals. Hopefully, you will see that you have most of these items in your pantry right now, ready to go.
Thanks again for being prepared for the unexpected, we never know what unforeseen disaster may hit our neighborhood or community. Let me know what food items you store for breakfast that I can add to my list today. Lunches and dinner ideas will be tomorrow and the next day.
My favorite things:
Lodge LDP3 Reversible Grill/Griddle, 9.5-inch x 16.75-inch
Camp Chef Camping Outdoor Oven with 2 Burner Camping Stove
Emergency Essentials Water Barrel – 55 Gallon Drum
OvaEasy Powdered Whole Egg 10 Cans (2 x 1.67 lb cans)