Community Emergency Response Team (CERT)
Mark and I took the course called Community Emergency Response Team, also known as CERT, about six years ago. We wanted to learn how to respond to emergency situations in our community when needed. We will give critical support to people until medical personnel, paramedics, EMT's, or firefighters come to take over.  The course will help you in your neighborhood to save lives, literally, after a disaster. I have written a few articles about the program but I want to encourage more readers to take the course, if possible.
The Community Emergency Response Team group will be the first people to come and help in your neighborhood after a disaster. The government officials will be busy trying to get to their own destinations as directed by their appropriate officials.
This means that those of us who are trained by CERT will step up to the plate and do things we have been trained to do. In most cases, we are not medically trained. If you think about it, the medical personnel will be heading to clinics, hospitals, and makeshift medical care facilities. So our neighborhood and community will be helping each other, hopefully.
The course teaches you what to do after any disaster, how to choose someone to be in charge and right down to the colors of tape needed for letting others know which condo, home, or apartment dwelling is in need, or not. You need to have someone in charge of emergency response very quickly after a disaster.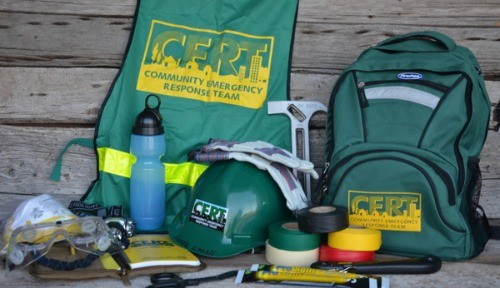 Here are the contents above in my backpack: C.E.R.T. book to log homes and people, different colors of tape to mark the assessment of the injured people (red=needs immediate help, yellow=delay/not immediate, green means they are ok to wait for assistance, black=death), hardhat, Berkey Sports Bottle for filtering water, goggles, headlamp, work gloves, and a 4 in 1 tool (shown below), C.E.R.T. vest, light sticks and scissors, and N-95 masks.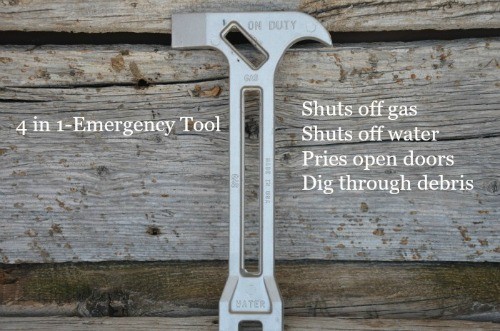 We all need to be aware of where to shut off our water, electricity and gas lines. We also need to know where to shut off our water inside our homes. Of course, we would never shut off gas unless we can smell gas….or a fire is coming our way…common sense needs to be used. Nitrile gloves, N-95 masks (you can never have enough of them), BandAids, yellow chalk, yellow caution tape, and paint sticks for makeshift splints.
I have talked about this before, but I will mention it again. Here's the deal, after a power outage, for example, during the first 24 hours you will look to see if the neighbors have lights. Hmmm, they don't. The next 24 hours you will go check with your neighbors to see if they know what's going on. The first 24 hours may not be a big deal, depending on the type of disaster or emergency, but the next 48 hours could be critical if people don't start looking out for each other. It's during the second 24 hours that people realize they have not prepared themselves for disaster by storing food, water, and other items we've talked about on this blog for years. This is when people may get mean, okay, let's just say they WILL be mean if they are not prepared at all.
Hunger and being thirsty is not a pretty thing, and seeing your family look at you for food and water will be awful if you have not planned ahead. Please remember, we must be self-reliant, the government will not deliver any food or water for days, weeks or months possibly. I want you to think about what's in your house this very minute, that may be all the food and water, toilet paper, soap, etc. you have for a very long time.
The roads may be so damaged you can't drive on them. The stores are closed due to a major disaster. If the stores are open the shelves will be empty within 24 hours or less.
Community Emergency Response Team
Here are some of the things you will learn if you take all of the classes. My two favorite things in the class were learning to use a fire hose (it's heavy and awkward to use) and listening to a doctor trained in psychological first aid.
Disaster Preparedness
Fire Safety
Disaster Medical Operations-Part 1
Disaster Medical Operations-Part 2
Light Search and Rescue Operations
CERT Organization
Disaster Psychology
Terrorism and CERT
Course Review and Disaster Simulation
We NEED to be able to take care of ourselves. We can't always depend on our government or local authorities. They can only do so much. Let me give you some statistics for OUR area in Southern Utah. These statistics are a year old, but none the less please check out these numbers in my St. George, Utah (Washington County) area. These are about to change because we have some hospital expansions going on right now. We have on average 140,000 people living here. Washington County has 17 ambulances, 46 fire trucks, 204 police cars. We have two hospitals with a total of 145 beds available. These numbers are scary….we can't depend on anyone but ourselves. Please check out your local numbers. You might just be surprised…..or maybe not! You might want to Google "The Volunteer Protection Act of 1997". Check it out for yourselves. C.E.R.T. classes
My Favorite Things:
CERT Emergency Response Supplies
4-In-1 Tool
Emergency Response Flashlights
Tape Needed For Homes/People
How To Deal With Mental Health
Copyright pictures:
Disaster: AdobeStock_169465415 mbruxelle