10 Things to Keep in Your Fire Safe Box
As all my faithful readers know, my heartfelt wish is for each of them to feel the need to be as best prepared for unexpected emergencies as they possibly can. Of course, it takes more than just feeling the need, they need to take those critical action steps to move forward with those preparations. That includes evaluating what would constitute 10 things to keep in your fire safe box.
The "things" I'm making reference to aren't necessarily expensive jewelry, or other possessions. I'm really thinking more about documents that you have that can make all the difference if your home burns down, is flooded, or may even be wiped out by a violent storm. You are now left to deal with the aftermath and how to reconstruct your life, so to speak.
Many of you have taken advantage of my Emergency Binder that you can download from my website. It outlines and has printouts of pages/sections of documents that will prove critical as you try to pull your life back together. Check it out and download it, if you haven't done so already.
Most of us have a safe deposit box at a bank, or at least we should have one. That is generally one of the safest places for critical documents and other valuables. That is where we would keep most of the "originals" when it comes to documentation. The challenge is, the bank could have also been affected by the disaster, may be closed for a period, or is not accessible from where you live.
The fire safe box, as we'll discuss later, is something portable that you'll grab if you have to evacuate, but will for sure be kept in a location within your home you feel will be the safest. This is the one I purchased: CIOEY Fireproof Document Bags – Fireproof Box
Since each of us has different circumstances we live and deal with each day, your critical documents may vary somewhat from mine, but there are certainly some documents we'll all need if we've been through a devastating emergency. Let's take a look at 10 things to keep in your fire-safe box as starters, and we may even outline a whole bunch more if you're interested.
10 Things to Keep in Your Fire Safe Box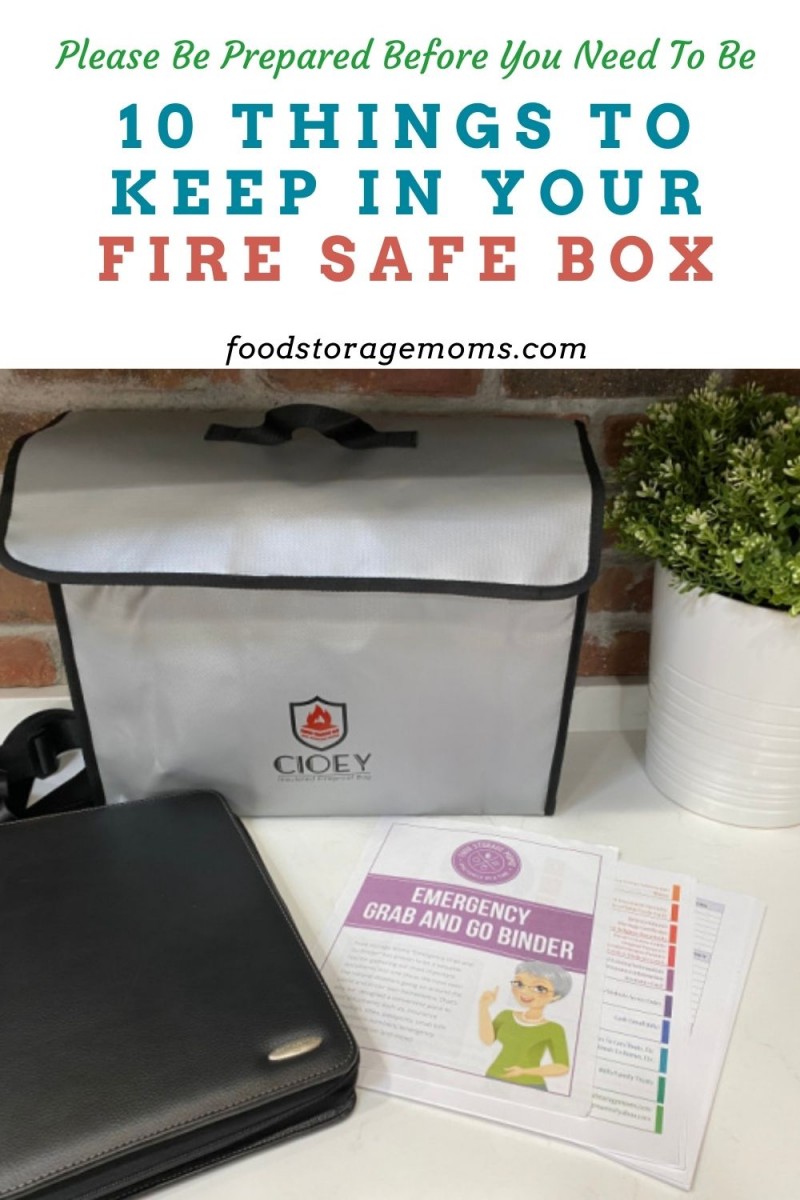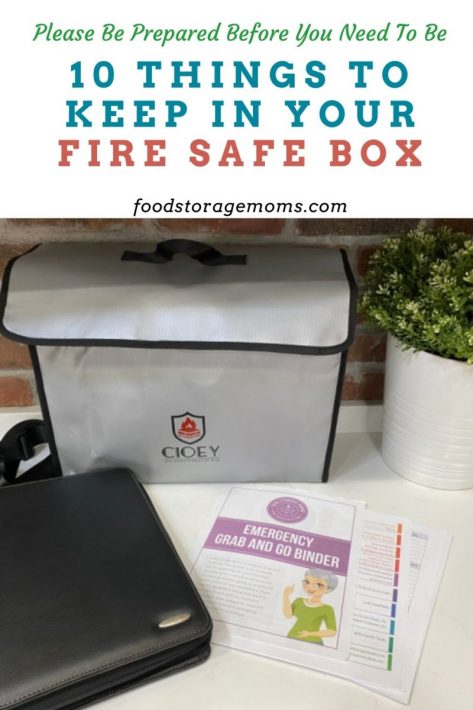 Proof of Insurance
No matter what type of disaster has fully, or partially, destroyed your property, you will need copies of insurance policies. If you are flooded out, hopefully, you've got flood insurance. Fire is the most common emergency we can face, no matter where we live. Of course, there are sections of the country where people face tornados, hurricanes, earthquakes, etc. Be sure to have the contact information for your agent who can assist you in this desperate time of need.
You should also have copies of your health insurance policies. Hopefully, you come out of the emergency safe and sound, but you may have been injured and will need to show you have medical coverage for the treatments you'll possibly be going through.
Heaven forbid, but one of your loved ones may be pass due to the disaster. In that case, you'll need copies of life insurance policies which will list the amount of coverage, who the beneficiaries are, and how to file claims. If you tend to deal with one agent for all your insurance needs, call that agent as soon as possible.
Documents to Prove Who You Are and Your Family Members
As you pull your life together, you may need to prove who you are, the makeup of your family, and other vital information. The best source of this information is a birth certificate. You should have one for every member of the family, especially if they are still living with you.
This may also need to be backed up with adoption papers of a family member who was brought into the fold through legal adoption. If there happen to be foster children living with you at the time of the emergency, for your protection and the safety of those children, foster parent documentation should be kept too.
In today's society, many of us are immigrants that need to have proof of naturalization or formal citizenship. It wouldn't hurt to also have passports, green cards, or military ID cards to help prove who you are.
Pictures
I have mentioned this before about adding at least two pictures of every family member and pet in case you are separated after an unforeseen disaster. One for you to keep, one for the "board" (missing persons/animals).
Rhonda mentioned this important information, Besides proving who *you* are–consider adding pictures of pets, who could get lost or separated from you in an emergency. If possible, have the picture taken *with you* to prove the connection/ownership. Show both sides, and show any identifying marks, scars, whorls, tattoos, etc. In the case of animals like horses, with a shaggier winter coat, take winter pictures as well.
Leanne mentioned we should take photos of our home interior/exterior and a list of our personal property.
Social Security Cards
After an emergency, you might find yourself looking for new employment. It could be your place of employment was also destroyed, or possibly damaged to the point it may not open for an extended period. You'll need to sign a new W-4 and possibly have to present your SS cards as part of the employment and benefits process.
Proof of Marital or Partnership Status
It's surprising how many new circumstances we find ourselves in where proof of marital status is serious business. It can affect tax filings, medical insurance coverage, 401K participation, medical leave benefits, and more. It would also be a good idea to include any marriage-related agreements, such as prenuptial.
If you are no longer married, you should also have proof of that status by way of a divorce decree, alimony requirements on your behalf or one where you have to pay, and also child support stipulations.
Estate Documents
The last thing you want to get involved in is a contested estate status situation. You for sure not only need a will but one that is somewhat foolproof by way of legal certification, notarization, etc. You may also have a trust that has been set up to help protect your financial assets from tax issues that may come up later.
Many of us have established what is called a living will. It may not be related to the current emergency situation, but a living will direct your surviving family members what your wishes are in case you become incapacitated and can't make life-altering decisions on your own. That may actually include where you want to be put on life support, or taken off life support under certain circumstances.
There also may be times when the use of a power of attorney may be appropriate. There may be a situation where you are put in the position to sign papers on behalf of someone else. It may include the authorization to sign off/sell assets, place someone in a care center, provide for burial arrangements, etc.
Special Government, Military, Retirement, or Disability Benefit Documents
One of the worst things to happen after an emergency is to cut off from any special benefits for some reason. Maybe the home or apartment you were living in was government-subsidized housing, or a VA loan was in place. You want to be able to document your status as one who should continue to qualify for these benefits without interruption.
Proof of Home Ownership Is Vital
Yes, you can go to the county clerk's office to get copies of trust deed filings, but they may be closed when you need the information, or it may cost you fees to get copies. If you have copies of your mortgage documentation, real estate deeds of trust, and any other property ownership documentation specific to your location, be prepared and have them in your fire safe box.
Proof of Vehicle Ownership, Current Registration and License Info
One of life's joys is getting to interact with your city, county, or state's Department of Motor Vehicles (DMV). Sorry to say, but they tend to be the subject of many not-so-friendly jokes due to their operating hours, less than helpful service, and stiff penalties for non-compliance with regulations. Put copies of your car's current registration, vehicle titles, and insurance papers in the fire safe box.
This also goes for copies of your state IDs and/or driver's license.
Stock, bond, commercial paper, certificates of deposit, and cryptocurrency ownership info
Again, you don't want to keep original documents at home that if destroyed could wipe you out financially. The emergency has already put you in an uncomfortable position. Loss of financial assets just compounds your challenges. Keep copies of recent bank statements, stock transfer documentation, bond purchase affidavits, etc. At least with a copy, you can show the status if needed.
Most recent local, state, and federal tax filings
If your luck is like mine, you'll find yourself in the middle of a state or federal tax audit while you are trying to pull all the rest of your life-altering issues together. If you have the last two or three years of tax filing copies available, you are much better off. If you have room, also include the backup documentation for income and deductions too.
You may want to consider some of the documents listed below too:
Reward accounts like your frequent flyer program agreements or recent statements.
Mortgage statements showing current payment status.
Lease agreements on your living quarters, car, or other property.
Student loan documents and recent payment receipts.
Record of immunizations and vaccines.
Dental records, DNA reports, ancestry data.
Military ID and/or discharge DD 214 form to prove full-time service to receive veteran benefits.
Do You Want to Have a Fireproof Safe at Home or a Fire Safe Box?
One of my readers recently introduced me to a product I wasn't familiar with, the fire safe box/bag by CIOEY. Mark and I have had a sturdy fireproof safe in our home for over 30 years. It has proved to be convenient, doesn't take up too much room, and gives us comfort to know that our critical documents are safe.
I've often wondered if we would have time to open the safe and pull out all those documents I've suggested my readers have available if they needed to evacuate in a hurry as outlined in my Emergency Binder. I've decided to make copies of the most critical items and put them in the CIOEY fire safe bag I just ordered. That way, I'll have a backup copy of things I'll need if/when we need to leave the house during an emergency. I can put the binder right in the fire safe bag and away we go.
I've outlined some of the key features that make this bag so attractive and useful as found on their website:
This bag is thermal insulated, has the highest fireproof rating for like bags, and is water-resistant. It can withstand heat up to 2000 F. using the UL94 V-0 certified fiberglass fabric. The mid-layer is also thermal insulated and has an aluminum foil coating.
It is an easy-access bag with wide openings. The materials are easy to clean using a damp cloth. Carrying the bag is comfortable since there are no itchy surfaces. It also should prove durable, and you'll find the travel strap very handy. The strap has been tested as capable of holding up to 45 pounds, and the carrying handles up to 35 pounds.
The bag is equipped with tough, lockable zippers, a Velcro covering flap, and fire-retardant stitching. It is designed well with reinforced seams, a wide hook, and loop fasteners, all showing high-quality craftsmanship. The bag is 16 inches long, 12 inches high, and 5 inches wide, dimensions that will prove versatile as you fill it with so many critical documents as outlined.
FSM FREE Printable Emergency Binder Download Please be patient for it to load and the PDF document should show up on your computer on the bottom left side of your laptop or computer monitor. Once the document finishes loading it will be ready to click and print. I prefer printing it on cardstock, and it's actually in color if you want to print with a color printer.
In case you missed this post on my FREE Binder content, Critical Documents You Need for Emergencies
Final Word
It feels so good to be prepared for the unexpected, doesn't it? I hope my post today puts a bug in your ear if it hasn't already about gathering your important documents and storing them safely. We can do this, yes we can, stay safe, stay well. May God Bless this world, Linda