20 Ways To Enjoy Turkey Leftovers
After you've spent days thawing, preparing, basting, roasting, air-frying, grilling, or deep-frying your turkey, you then get to decide how to repurpose all those delicious leftovers!
Here you'll find 20 creative ways to enjoy your abundance of turkey meat. You'll get some wonderful ideas for meal prep and planning so that you can get on with holiday festivities without having to spend all your time in the kitchen. Win-win!
From soups to salads, curries to casseroles, and from pasta to savory pastries, you'll discover new and imaginative ways to reuse that extra turkey.
Go beyond a turkey sandwich with these amazing recipes that will inspire you to get innovative with ways to enjoy your turkey leftovers this year.
Turkey Leftovers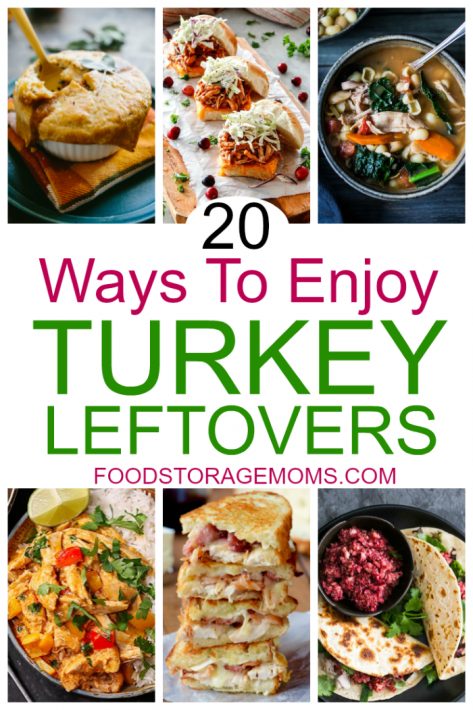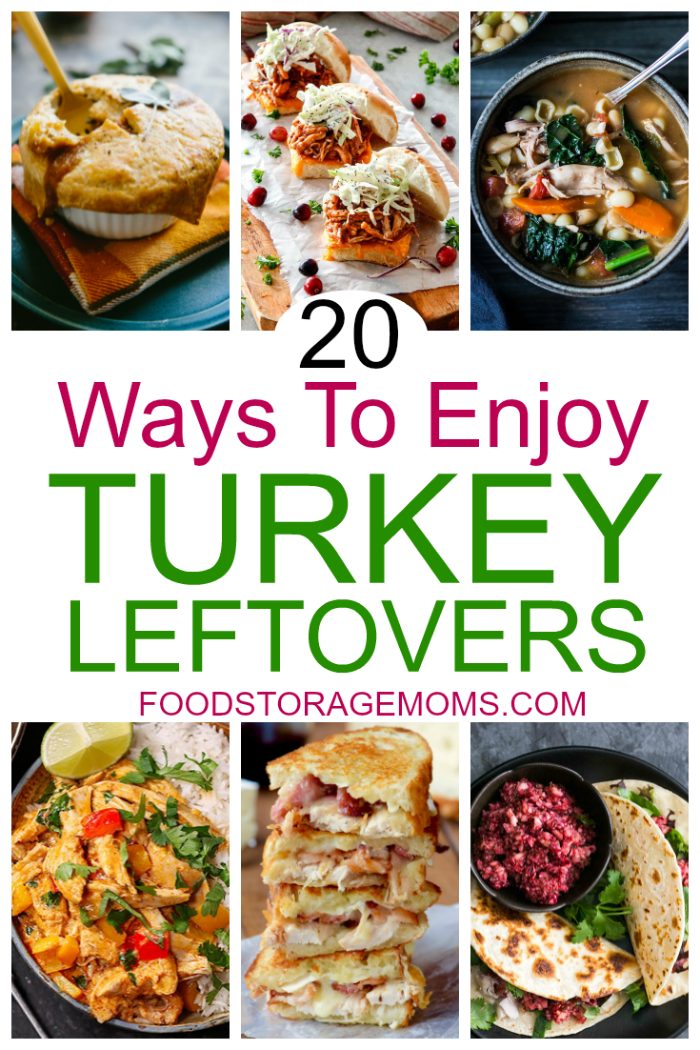 1.Turkey Minestrone Soup
Turkey Minestrone Soup by Feasting At Home
Homemade turkey stock is the base for this fabulous minestrone soup. Pasta, beans, veggies, spices, herbs, and leftover turkey complete the soup. A perfect meal to enjoy as you recover from the mad rush of the holidays.
2.Thanksgiving Turkey Shepherd Pie
Thanksgiving Leftovers Turkey Shepherd's Pie by Culinary Ginger
All your leftovers can get in on the act with this dish! Carrots, green beans, and peas are joined by leftover turkey and stuffing in this rendition of a Shepherd's Pie. Leftover mashed potatoes top this feast of a meal!
3.Turkey Tacos w/Cranberry Salsa
Turkey Tacos With Cranberry Salsa by Simply Recipes
Turkey and cranberries get a second chance to impress with these awesome tacos that use your leftovers in the most delicious way possible. Never tried turkey tacos? Now's your chance!
4.Turkey, Mushroom, Bacon Puff Pastry
Turkey, Mushroom And Bacon Puff Pastry Pockets by Recipe Girl
Fill puff pastry sheets with a savory mixture of leftover turkey, bacon, swiss cheese, and a rich and creamy mushroom sauce. Top with another pastry sheet, seal the edges, brush the tops with a little egg wash and bake these beauties. Your family will love these turkey pockets!
5.Leftover Turkey Bacon Alfredo
Leftover Turkey Bacon Alfredo Skillet Meal by The Toasty Kitchen
An easy one-pan meal is full of tender penne pasta, parmesan cheese, cream, frozen peas, bacon chunks, and of course, leftover turkey. It's a wonderful pasta meal ready in under 30 minutes!
6.Chipotle BBQ Turkey Sliders
Chipotle BBQ Turkey Sliders by Carlsbad Cravings
Here's a super simple and fun way to use up that leftover turkey. You'll make a delicious chipotle barbecue dressing using a base of cranberry sauce that gets majorly spiced before adding your leftover turkey to it. Toast some buns and then pile on this savory BBQ goodness along with some cheddar cheese. So good!
7.Leftover Turkey Detox Soup
Leftover Turkey Detox Soup by Sweet Peas And Saffron
Boost your immune system this season with this savory detox soup that will help you use your leftover turkey. In a base of bone broth, add broccoli, carrots, onion, garlic, ginger, turmeric, and turkey. Outrageously tasty and healthy.
8. Turkey Cranberry Pasta Salas
Turkey Cranberry Pasta Salad by Spend With Pennies
All your favorite Thanksgiving flavors are in this pasta salad that makes delicious use of leftover turkey. Boil and drain some pretty bow-tie pasta and begin adding the yumminess in the form of diced turkey, crunchy celery, dried cranberries, sliced green onions, and toasted slivered almonds. Drizzle with a poppy seed dressing and enjoy!
9. Turkey Thai Curry
Turkey Thai Curry by Simply Stacie
Go spicy with the addition of Thai curry paste and peppers in this turkey curry dish. Ready in as little as 20 minutes, this is a tasty way to repurpose your leftovers!
10.Turkey, Cranberry & Brie
Turkey, Cranberry, and Brie Crescent Braid by Spicy Southern Kitchen
A "braid" of crescent dough holds your leftover turkey and cranberry sauce, along with the addition of brie, a little rosemary, and a dash of Parmesan cheese. Easy to assemble, impressive to look at, and delicious to eat!
11.Creamy White Turkey Lasagna
Creamy White Turkey Lasagna by Six Sisters Stuff
Try different meat in your lasagna by putting that leftover turkey to good use! This super easy lasagna uses canned cream of mushroom and cream of chicken soup, plus a variety of cheeses to make this awesome no-tomato sauce lasagna!
12.White Turkey Chili
White Turkey Chili by Cafe Delites
Here's a comfort meal that's perfect for all that delicious leftover turkey. Heavy cream, chicken stock, onion, garlic, cannellini beans, green chilies, and turkey make up this rich and satisfying chili.
13.Turkey & Stuffing Casserole
Turkey and Stuffing Casserole by Tastes Of Lizzy T
A new casserole is invented with delicious leftovers of green beans, stuffing, and turkey. It may even taste better the second time around! You won't know until you try this easy recipe!
14. Leftover Turkey Harvest Cobb Salad
Leftover Turkey Harvest Cobb Salad by Skinny Taste
This salad is hearty enough to be a full meal with its inclusion of bacon, roasted butternut squash, pecans, and leftover turkey, all on a bed of healthy greens. Dress it with a dijon vinaigrette and dig in!
15. Easy Turkey Tortilla Soup
Easy Turkey Tortilla Soup by The Suburban Soapbox
If you love traditional tortilla soup, make this version that substitutes turkey for the chicken. Full of spicy southwestern flavors, your family will love this one!
16. Leftover Turkey Pot Pie
Leftover Turkey Pot Pies by Coley Cooks
Spaghetti? Check. Pancetta? Check. Frozen corn? Check. Cheese? Check. Leftover turkey? Absolutely. You're all set to make this easy turkey pasta meal!
17. Creamy Leftover Turkey Pasta
Creamy Leftover Turkey Pasta by Salt And Lavender
This is a fall feast of a pot pie! Leftover turkey gets combined with butternut squash, caramelized onions, and bacon to create these awesome pot pies. Make your own dough, or use store-bought pie crusts. Hearty and delicious!
18. Turkey Waldorf Salad
Turkey Waldorf Salad by Simply Recipes
Take your basic Waldorf salad full of apples, pecans, and cranberries and add a generous helping of leftover turkey. Brilliant and tasty!
19. Slow Cooker Turkey Barley Soup
Slow Cooker Turkey Barley Soup by The Food Charlatan
Turkey stock, veggies, barley, and leftover turkey make up this savory soup that gets a long session in your slow cooker while you recover from the Thanksgiving festivities. When you're ready to eat, just remove the lid and ladle this goodness into a bowl.
20. Turkey Bacon Brie Grilled Cheese

Turkey Bacon Brie Grilled Cheese Sandwich by Wine And Glue
Grilled brie cheese gets a tasty addition of leftover turkey and a few slices of bacon to make this an easy post-holiday meal. Serve with a side of your leftover cranberry sauce for good measure!
Final World
Are you as excited as I am for Thanksgiving? Please let me know if you try any of these recipes with your turkey leftovers. I love to hear from you.
Please keep prepping and be aware of your surroundings. May God bless this world, Linda