What Food Should I Put In My 72-Hour Kits Today?
I'm asked all the time, "What food should I put in my 72-hour kits?" There are many ways to do this, but I like to put items I can just add water to or eat right out of the can or a bag. I bought smaller size pantry cans with foods that I like and will eat if I have to evacuate and go down to a school gymnasium or church facility. I have to be honest here….I have tried many "pouches" with meals where you just add water.
Okay, I realize I might be a little different, but if I can't stand the smell of it I won't eat it. If I was starving, of course, I would have to down the stuff. I remember teaching a class about food storage and I had prepared a package that contained TVP (textured vegetable protein). Okay, here's the deal….I can still smell that stuff and it's been a year…LOL! I gag even thinking about it. No, I really can't still smell it, but you know what I am saying. I could easily be a vegetarian. I would eat vegetables and several different kinds of beans. Add a few fruits and I would be good to go. My husband, on the other hand, loves meat…most any kind of meat.
My 72-hour kits (food)
Here is the list I put together showing the food for the 72-Hour Kit to be used by my husband and myself: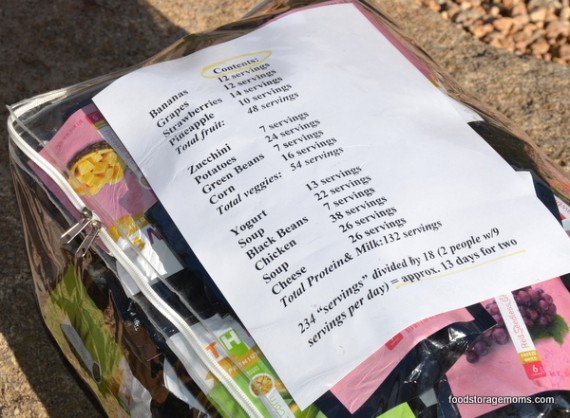 In the picture below I show all the contents spread out to help you see what I put together. The zippered bag is actually a sweater bag I bought that is 16 inches wide by 12 inches deep and 8 inches high. It is really easy to pack and label. Some of the foods have a shelf life as little as 5 years, and some have 25 years. Remember it is all about the temperature where it is stored. I have a very small home in Southern Utah where the temperatures are way too hot during the summer months to store anything in the garage. Therefore, I store my 72-hour kits in the garage…and my food inside my house.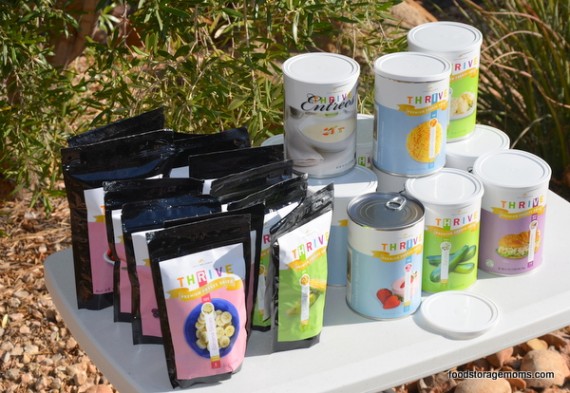 What Food Should I Put In My 72-Hour Kits?:
***These prices are as of today 05/17/2015
Here are the bags I buy to store my food storage to grab and go: Set of 2 Medium Chests 12 Guage Vinyl 12x16x8 each
My 72-Hour Kits-Fruits:
2 pineapple pouches-5 year shelf life-$8.29 each
2 banana pouches-5 year shelf life-$7.29 each
1 blackberry pouch-5 year shelf life-$8.09 each
2 strawberry pouches-5 year shelf life-$5.99 each
2 seedless grapes pouches-5 year shelf life-$9.19 each
My 72-Hour Kits-Vegetables:
2 sweet corn pouches-5 year shelf life-$6.69 each
1 green bean pouch-5 year shelf life-only pantry can available today-$7.59 each
2 potato dices pantry cans-25 year shelf life-$9.79 each
1 freeze dried zucchini pantry can-25 year shelf life-$8.99 each
My 72-Hour Kits-Protein & Milk Products:
2 baked potato cheese soup pantry cans-8 year shelf life-Only available in pouch size-$6.59 each
2 broccoli cheese soup pantry cans-8 year shelf life-out of stock-substituting baked potato soup today-$6.59
1 strawberry yogurt bites in a pantry can-25 year shelf life-$16.19 each
2 cooked white chicken meat pantry cans-25 year shelf life-$21.89 each
2 shredded Colby freeze dried cheese pantry cans-shelf life 20 years-$18.69 each
1 instant black beans-pantry can-$6.49
Approximate total for these food items is $249.35 plus tax and shipping. Remember, this is 13 days worth of fabulous food. I wanted 13 days because I know there will be people who have not prepared for any disaster. If my neighborhood must evacuate and go to a shelter like a school or a church I will have a little extra to share. I must say, please be prepared because I cannot feed the whole neighborhood. I would need a semi to drive there. Just saying.
And do not count on the government to have water and food waiting for you at the school, church or shelter. It might be days or weeks before anyone can deliver water, food or anything else. We are responsible for ourselves and our family. No excuses.
With the exception of the soups and the yogurt bites, these are only vegetables, fruits, meat, and cheese. All you need is water. The advantage to freeze-dried products is that you can eat the vegetables, fruit, yogurt bites and meat right out of the can. Of course, the soup would taste better with hot water with cheese and veggies added.
This may seem pretty expensive, but I don't have to rotate very many things more frequently than every five to eight years! Most are 20-25 years. I love this. I bought a few at a time and filled the bag as I could afford them.
Another Option For 72-Hour Kits On A Budget:
A friend of mine, Kendra and I put together some 72-hour kits on a very low budget. We were actually very proud of the cost for 2 adults, and 4 kids with a budget of $60.00. Yep, we did it, including the cost of the gallon FoodSaver bags. Now, we realized these were not the healthiest meals, but we also know that not everyone can afford to go out and buy the food above for an entire family. Yes, you could slowly, but we wanted to see what we could get on the cheap for a young family of six.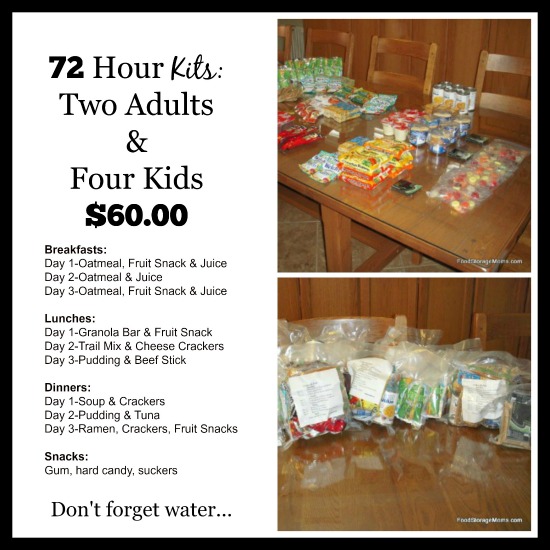 In an unforeseen disaster or emergency, we will grab our water and 72-hour kits with our Food Storage Moms Emergency Grab and Go Binder contents filled out along with our prescriptions and we are good to go!