My Huge Shout Out To Truckers On The Road
This is my huge shout out to truckers on the road today! I wrote a post a few days ago about how we should all be prepared for a disaster or an unforeseen emergency in our neighborhoods. I was so glad I received a heart-warming comment from a reader by the name of JoEllen and I quote: What you say is very accurate. Just within the last week, there was a snow/ice storm in the Portland, OR area. While in Utah they are worse, here we aren't really prepared for such weather events. I-84 was closed eastbound from Troutdale, OR to Hood River, OR and a few miles east it was closed again for "blizzard conditions." The trucks were parked in Troutdale waiting to be able to continue. I can only imagine what the grocery store shelves looked like with their bare-bones inventory system! Whether your goal is to prepare for a winter weather event or the end of the world as we know it, PREPARE! My husband and I were homebound for 3 weeks due to snow. We were warm, had power and ate just as nothing was amiss. That is a major stress reliever!" End of quote. Thank you JoEllen, for this awesome comment.
I'm going to compare this story to a conversation I had with one of my daughters a few years ago. She mentioned how much she loves being a mother, but how hard it is some days. I told her I wish every mother could have a "nanny" to carpool kids, a housekeeper, a cook and someone to do the laundry. Of course, that's not going to happen, in most families. I told her to smile every time she folds the laundry. I mentioned that kids are not usually going to say "hey mom, thanks for doing the laundry" or "wow that's awesome you made my dentist appointment" or "thanks for planning our meals and cooking breakfast, lunch and dinner every day." Of course, the kids will say "please" and "thank-you" for other things that happen during the day. My point is this, sometimes we take things for granted. Our kids or significant other may occasionally take us for granted. Sometimes, I want a wife…….yes I do.
Shout Out To Truckers:
I have a blogger friend named Wanda Ann over at Memories By The Mile, she and her husband are both truck drivers. We used to go to lunch at least once a month, but then our lives got busy writing and she was trucking with her husband all over the states. I sometimes would call her to see if she was driving where the weather was bad. She would call me back when she stopped at a truck stop or she would pick up if she was parked. I still think of she and her husband driving in bad weather. I think of them when I see a driver in a car on the highway not let a trucker change lanes. I get nervous when I see a car cut off a truck, you know a HUGE semi-truck. No one can be in that big of a hurry that they can't have some manners or be courteous to our truckers.
I'm getting ready to drive up north to see my kids and I'm watching the weather to see which day would be good for me to make the trip. Our truckers drive in rain, snow, sleet, windstorms and icy roads. Yes, they stop and park when the weather is unsafe, but they have deadlines to get the animals, supplies, milk, groceries, gasoline or whatever to their destination. I am so thankful for the truckers who really need a shout out for doing their job. Without them our grocery stores would be empty, we would not have gasoline for our cars, we depend on those awesome drivers who never get a day off. Well, maybe Christmas. Wanda Ann told me she was having Thanksgiving at a truck stop last year.
So, the next time you see one of those huge semi-trucks go driving down the highway, I hope you have a smile on your face knowing they are the ones helping us every day of the year, come rain or come shine. Literally. Let's show other drivers how WE can be courteous to the truckers driving by slowing down and letting them in a lane that they need to switch over to. When following or passing a semi- truck give enough space so the trucker can stop if he had to stop. Can you imagine trying to stop one of those babies with all the weight they carry?
Please stay clear of the tires as well, I have seen them shred all over the highway. Stay far enough back, that you or the truckers can stop or safely move out of the way to safety. I just had to post this picture below because I know we have truckers driving in these bad weather conditions and sometimes even worse weather. May God bless our truckers who we all depend on to survive, one way or another.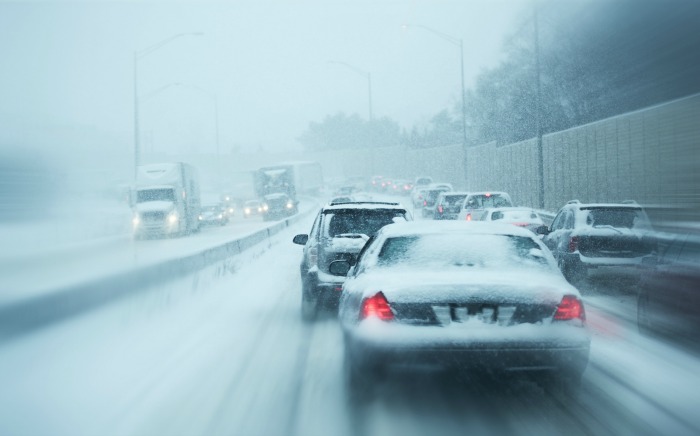 May God bless our truckers who we all depend on to survive one way or another. We sometimes take you for granted, thank you for all you do for our country!
Comments from readers:
Susan: I can chime in with JoEllen as we live across the Columbia River from Portland and we were also snowed in. I have not been to the grocery store yet this month. The two weeks of snow kept us tucked in and we decided to extend it and not shop. So far so good. We have had to get creative but this was a good test to see how we would do if we truly had to stay put. I'm missing the produce. I wish the garden was producing! But we have enough of everything else. Being prepared is a wonderful feeling. Thanks for all you do. I'm making your whole wheat bread as I type! Thanks, Sue
My favorite things:
Kelly Kettle Large Stainless Steel Base Camp Basic Kit
AAA (4388AAA) 76-Piece Excursion Road Kit
Small First Aid Kit 100 Piece: Car, Home, Survival