How To Stay Cool When The Power Goes Out
Monday was Memorial Day and so it makes it a three day weekend for some families. I am really enjoying having the screen doors open with a slight breeze coming through them. It got me thinking about the air conditioning bill. I try not to turn on the air before I absolutely have to. The power bills here in Southern Utah are ridiculous. I live in Washington, Utah and the government controls the cost of the electricity we use. They do not put it out to bid for the best price, plus they actually state they make a profit on our power bills. Okay, I will get off my soap box, for a minute anyway. Let's talk about how to stay cool when the power goes out.
Generators To Stay Cool:
If you have a generator and lots of gas to fuel it you are in great shape. I have friends that have them and LOVE them. The power goes out and the generator turns on automatically. I don't have a generator and it doesn't fit into my budget. I do have a Goal Zero 1250 that with solar I can use a fan, but I really wanted to find a CHEAP solution for just about anyone to stay cool.
Here's the deal, where I live, the weather can get up to 110-120 degrees in the summertime. Now, I could wear my bathing suit all day to stay cool if the power was out, but I wouldn't want to scare the neighbors, or myself for that matter. I was at a local store sometime last year and I usually don't fall for those sales clerk suggested gimmicks. Well, I did that day. So let me show you what I think will work for all of us on a budget to stay cool.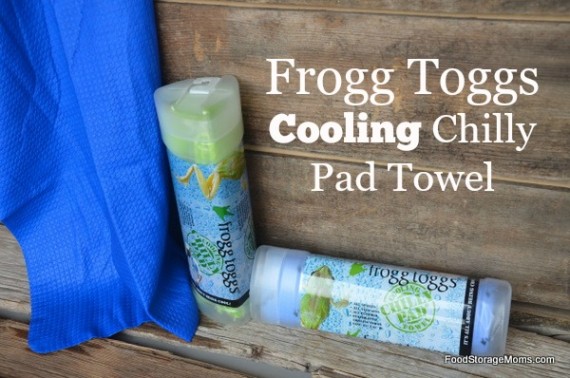 If you pull this "all purpose evaporative cooling towel" out of the plastic container all you do is wet it with a hose or spray bottle and it's ready to use. It's called a Frogg Toggs Chilly Pad Towel (32 inches by 12 inches). I used the hose outside to make it easy for me. I put the wet cloth around my neck and it immediately became cool. The fabric when dry is very stiff, but when you wet the fabric it becomes cold almost instantly, and it feels like a swimming cap. It's easy to cut and make smaller pieces for the kids. This is perfect for your house or your 72 hour kits. Here it is: Frogg Toggs Chilly Pad Evaporative, Cooling, Snap Towel
Now, I must admit my husband will not use them when he goes golfing, even if it is hot. Nope, I guess it's just not him. He would rather be hot and sweaty walking around the golf course than wear one of these scarfs around his neck. All you do is re-wet it and it becomes cold instantly again! This towel is awesome. I even suggested he cut a piece to fit in his hat to keep himself cool. Nope. Not interested. But I am very interested. I bought four of them.
The Chilly Towel is designed to last for years. Just rinse in warm water and wring it out and it's ready to use. So when the heat is on throw one of these wet babies around your neck. Great for soccer players, tennis players and golfers who will use them. They are machine or hand washable. Awesomeness! Buy one and try them, I promise you will be amazed how cold the cloth gets and how comfortable you'll feel on a really hot day.