Quick & Easy Coffee Cake Recipes
When I was growing up my family would make easy coffee cake recipes all the time from scratch. Before my husband retired, he would receive this unbelievable coffee cake every year from one of his clients. The coffee cake was made in Boston and as I remember it cost about $75.00 plus shipping. I know this because I wanted to buy one after my husband retired, I made one instead. Here's the deal, this was not just any coffee cake. It was a gift I hoped my husband would get every year…that sounds a bit greedy, but the flavor and moistness are unreal. I would save the coffee cake until Christmas morning for our family breakfast. I have practiced and practiced to come up with just the right recipe!
I really miss my days in northern Utah where the neighbors would get together outside and share coffee cake, sandwiches or cupcakes with each other. We would bring our chairs or blankets outside and enjoy the weather looking at beautiful flowers and enjoying each others company. We loved to laugh together. We need to do more of this and get away from the computers and connect with real people in person. When I was younger I belonged to a church where we had coffee cake, donuts, and pastries between sermons. I think it's wonderful to talk with people face to face. So many times it's just "How are you?" only in passing, catching only a quick "I'm doing well." That's not a conversation, really. We need to talk, really talk to each other.
I used to have porches on my houses and that makes it easier to wave to people or have them over for some coffee cake or potlucks. Let me know what you do to stay connected to people besides social media. I would love to hear.
Easy Coffee Cake Recipes
My Favorite Buttermilk Butter Coffee Cake
This recipe is so popular with my family I make it all the time. It's very moist, dense and the butter sauce is frosting on the cake so to speak! Doesn't butter make everything taste yummy? This is my favorite Bundt pan: Nordic Ware Pro Form Anniversary Cake Pan, 12 Cup
Buttermilk Butter Coffee Cake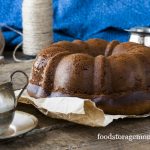 Buttermilk Butter Coffee Cake
Ingredients
2

cups

sugar

1

teaspoon

salt

1

teaspoon

baking powder

1/2

teaspoon

baking soda

1

cup

butter softened

1

cup

buttermilk

4

eggs

2

teaspoons

vanilla

1

teaspoon

cinnamon

3

cups

white flour

I use bread flour

Butter Sauce

pour on the cake after baking:

3/4

cup

white sugar

1/3

cup

butter

2

teaspoons

vanilla

3

tablespoons

water
Instructions
Preheat oven to 325 degrees. Combine and cream the sugar, salt, baking powder, baking soda, butter, buttermilk, eggs, vanilla, and cinnamon. Slowly add the flour and mix together. Pour into greased bundt pan. Bake for 60 minutes or until a toothpick comes out clean. After baking use a fork to make a few holes on the cake. Pour the warm butter sauce over the cake. Let the cake cool before removing it from the pan.

***Make the butter sauce by combining the sugar, butter, vanilla and water in a saucepan, stir constantly until blended. Do not let it boil. Just warmed and melted through.
Heather's Coffee Cake Recipe
This recipe is my friend Heather's and she makes it just about every time I go up north to see her. This recipe is really moist and dense and is as close to my beloved Boston coffee cake gift we no longer receive from Mark's client since he retired. I love this recipe! I love Heather as well!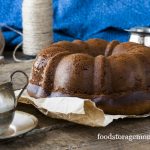 Heather's Coffee Cake Recipe
Ingredients
1

package yellow cake mix

I prefer Duncan Hines brand

1-5-

ounce

package vanilla INSTANT pudding

1

cup

sour cream

1/2

cup

oil

1/2

cup

water

4

eggs

slightly beaten

3/4

cups

chocolate chips

I prefer the dark mini chocolate chips but any flavor will work

1/4

cup

white sugar

1/3

cup

brown sugar

1

teaspoon

cinnamon

1

cup

chopped pecans optional
Instructions
Preheat oven to 350 degrees. Place all the ingredients in a large mixing bowl EXCEPT the chocolate chips, cinnamon, brown & white sugars. After blending the dry ingredients with the eggs and water, fold in the chocolate chips. Blend the white sugar, brown sugar & cinnamon, set aside. Pecan nuts are optional. Grease a Bundt pan. Scoop half of the batter into the Bundt pan and sprinkle ½ of the cinnamon mixture on top of the first layer of batter. Spread the last of the batter and sprinkle the remaining cinnamon-sugar mixture onto the top of the last layer of batter. Use your spoon to partially blend the last of the cinnamon mixture into the batter. Bake for about 55-60 minutes or until a toothpick comes out clean.
Russian Apple Pirog Recipe
This Russian Apple Pirog Recipe is made every Christmas or any other important holiday in honor of my beautiful niece, Kristina who was adopted by my sister, Denise from Russia in 1996. Please bear with me while I tell you this story about my niece, Kristina Olga L. It was in  August 1996 and my sister Denise and her husband Mike flew to The Russian Far East to adopt her. I was lucky enough to watch her big brother David along with some of my daughters. We were able to interact with my nephew David while they went through the red tape of adoption. She was in a baby orphanage. She was actually 3 years and 9 months old when she arrived in the US. She is truly a blessing to our family. She is now getting her Doctorate Degree in California.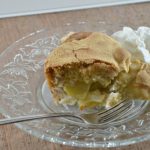 Russian Apple Pirog
(Kristina's recipe)
Ingredients
4

green apples unpeeled and cut into bite-size pieces

1

fresh lemon to squeeze over the chopped/cut up apples

3

eggs slightly beaten

1

cup

sugar

1

cup

flour

1

teaspoon

baking soda

butter to grease your pan
Instructions
Preheat the oven to 375 degrees. Beat the eggs with a mixer then add sugar, flour, and baking soda. Butter or grease the baking pan. I used a springform pan. Nordic Ware Leakproof Springform Pan, 10 Cup, 9 Inch Add the chopped apples into the buttered pan. Pour the egg mixture over the apples. Bake about 40 minutes or until set and golden brown. Serve warm or cold. If desired, place in the refrigerator and invert onto platter the next morning and serve with whipped cream or ice cream. Enjoy!
Here is a springform pan: Nordic Ware Leakproof Springform Pan, 10 Cup, 9 Inch
Let me know if you make some easy coffee cake recipes, I love to hear from you!