You Can Store Water For Survival Under Your Bed
You can store water for survival under your bed, you really can. I store 56 gallons under a queen size bed (depends on your bed frame and leg height) in my guest room. I always recommend several ways to store water. Today I am talking about the WaterBricks brand. They are available in two sizes, 3.5-gallons, and 1.6-gallons. They come with a handle and you can purchase a spigot if desired. I have both sizes. The water storage under the queen size bed, as shown above, is the 3.5-gallon size. I have the smaller ones ready to grab and go with my 72-hour kits or bug out bags. The bed skirt actually covers the WaterBricks. This room looks like any ordinary bedroom but has water stored underneath the bed for long-term storage. This is just another way we can store water long term.
I'm updating this post I wrote a few years ago to inspire you to store more water. You may remember that the American Red Cross recommends a minimum of one gallon of water per person per day. I recommend four gallons per person per day. I get thirsty just thinking of only having one gallon of water for myself each day. The reason I suggest four gallons is for drinking, personal hygiene, and cooking. American Red Cross
You Can Store Water Under Your Bed:
You can see the WaterBricks above under the queen-size bed: ***please note an awesome reader asked about the weight of the water in the WaterBricks, plus the bed and the weight of those who sleep on the bed. It reminded me of the "waterbeds" that were very popular back in the '70s. If you have a concern about weight in an upstairs apartment or bedroom consider lining up the WaterBricks behind a couch. You can also make side tables with them and you will have water when you need it. Or store some in different closets or cupboards. Buy one WaterBrick a month so you can store water for survival.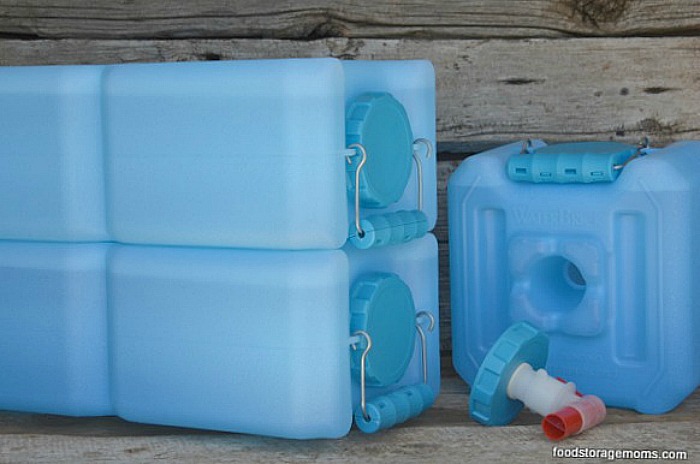 These are a great way to store water long term because you fill and forget them for five years before needing to rotate the water if you use the Water Preserver above.
Tips on water:
Minimum water needed per day:
1 gallon per day per person to stay hydrated. If you live in an extremely HOT area you might need more.
4 gallons per day, per person, allows for personal hygiene, washing of dishes, etc.
5 to12 gallons per day would be needed for a conventional toilet.
1/2 to two gallons for a pour-flush latrine.
Boiling water for use:
Boil filtered and settled water vigorously for one minute (at altitudes above one mile, boil for three minutes).
To improve the flat taste of boiled water, aerate it by pouring it back and forth from one container to another and allow it to stand for a few hours, or add a pinch of salt for each quart or liter of water boiled.
Bleaching/purifying water:
Information from Clorox: When boiling water for 1 minute is not possible in an emergency situation, you can disinfect your drinking water with Clorox®Regular-Bleach as follows:

Remove suspended particles by filtering or letting particles settle to the bottom.
Pour off clear water into a clean container.
Add 8 drops of Clorox® Regular-Bleach (not scented or Clorox® Plus® bleach) to one gallon of water (2 drops to 1 quart). For cloudy water, use 16 drops per gallon of water (4 drops to 1 quart).
Allow the treated water to stand for 30 minutes. Water should have a slight bleach odor. If not, repeat and wait another 15 minutes. The treated water can then be made palatable by pouring it between clean containers several times.

Thanks again for being prepared for the unexpected. You never know when you will need extra water, food, and fuel. You can store water, today. May God bless you and your family.

My favorite things:

WaterBrick 1833-0001 Stackable Water and Food Storage Container, 3.5 gal of Liquid, 27 lb of Dry Food Products, Blue

WaterBrick 1833-0005 Stackable Water Container, 1.6 gal of Liquids/Up to 13 lb of Dry Foods, Blue

WaterBrick WB-0001 Ventless Spigot Assembly, Fits Both WaterBrick Water Container Sizes, Blue/White/Red

WaterBrick 3.5 Gallon BPA Free Portable and Stackable – 10 Pack