How To Make Perfect Baked Breaded Crispy Bacon
On Christmas morning, my daughter asked me if I wanted to know "How To Make Perfect Baked Breaded Crispy Bacon?" I said, "what is it?" I love bacon cooked, baked or fried. She said she saw it on Pinterest and wondered what I thought. Of course, I said, "let's do it!" You basically dredge raw bacon in flour and bake it in the oven. It makes the bacon-less greasy because of the flour absorbed in it, I guess.
It's kind of like chicken fingers, but it's bacon fingers. It sounds kind of weird, but it's actually pretty yummy!
Crispy Bacon
Well, I love bacon probably way too much, but I do. I like crispy bacon in omelets, frittatas, salads, sandwiches and whatever else that sounds good. I realize it is not the healthiest food product. I am starting to buy the bacon without nitrates. I read once where it is healthier to buy real pork bacon over the turkey bacon. The article made sense to me because it said it took so many chemicals to get the turkey to taste like bacon. Hmmmm. Yep, I only buy real pork non-nitrate bacon now. I can't even look at the turkey bacon now. I would love to say I raise my own pigs…no, I do not.
First Step-Dredge (coat) the bacon in flour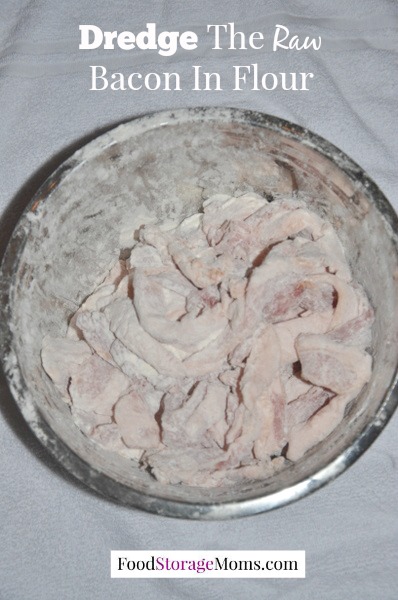 Dredging bacon in flour seemed so funny to me as my daughter was coating each slice of the raw bacon in flour to make it crispy bacon! I know you are probably thinking why add more calories to the high-calorie bacon, right? Well, I always like to try new recipes, so, as you can see above you dredge the bacon or coat it, however, you want to say it, in flour.
Second Step-Bake the breaded bacon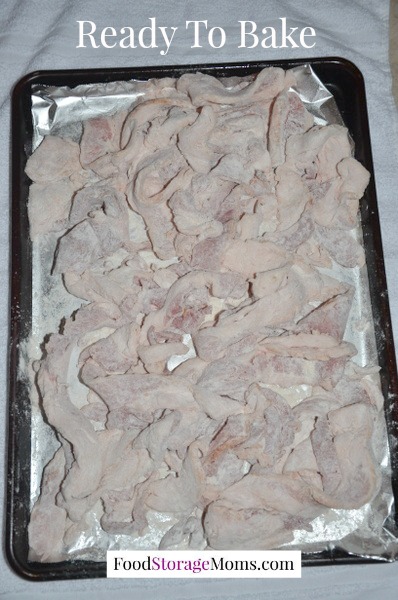 It seems like around the holidays my family eats more bacon than normal. Do you have fancier breakfasts when family or friends come to visit? We tend to have lots of eggs, hashbrowns, and crispy bacon! My grandkids loved this bacon, even the more picky kids.  It was gone before you could say "Kris Kringle."  With the flour breading the bacon seemed to stay moist and chewy longer, and the flavor was wonderful.  The fat from the bacon seemed to help the baking process as it was cooked and absorbed by the flour.  I was one pleasantly surprised cook! Please share your favorite breakfast menus with me, I would love to hear from you! Bacon With Maple Syrup Post.
USDA Hog & Pork Information Website: USDA.
Baked Breaded Crispy Bacon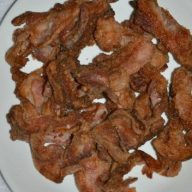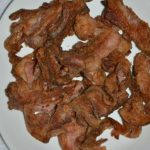 Baked Breaded Crispy Bacon
Ingredients
2

or 3-pounds raw bacon

1-2

cups

of flour
Instructions
Preheat oven to 375 degrees

Dredge the raw bacon in the flour and spread on foil in a cookie sheet. Bake about 1-1/2 hours or until desired doneness.