The last few months I have been trying to think of how to make an emergency car toilet you need in your vehicle. Some of us have those #10 cans with food storage in them. After we empty one of those cans that are approximately six inches in diameter and nine inches tall we never should throw them out. If you are like me…I think to myself "I might need this for something"! So I stash them in the pantry or garage. Well, I have read in the newspaper where cars with adults, toddlers and babies are stranded sometimes for hours on a highway. This can happen anywhere, anytime. It can be a storm or a car accident. There is no way to drive forward or exit the highway or freeway. Let me tell you why I think every family needs an emergency car toilet……
Emergency Car Toilet For The Gorge
There is a section called the gorge between St.George, Utah and Mesquite, Nevada. The drive is spectacular with the Virgin Mountains and the Black Rock Mountains with the Virgin River running down the middle. We have so many people talk about how beautiful the drive is through that  gorge.  I literally smile the whole way driving through there looking at the beautiful formations of rock.
There is really only one real drawback through the drive and that's when there is an accident or a bad storm and the rocks fall on the highway. Or it floods the road after a torrential rainfall. Here's the deal with that highway section. There are no, and I mean no, pull offs. No bushes or turn-abouts. Period. No portable toilets. Hmmmmm
Really Bad Rain Storm
Well, a few months ago there was a really bad rain storm and horrific waterfalls coming off the top of the rock formations. Rocks were sliding and roads were washed away. I am talking a main thoroughfare going from California up north to Salt Lake City, Utah. Truckers were stopped, families on vacation were stopped from traveling back home. Several people could not get to work for almost three to four days because they were stuck/parked on the freeway. This does not happen often, but it did happen. They had to divert everyone around the debris on the roads that did not wash away. They were stranded for 9-10 hours. Maybe more. We only heard what was shown on the TV or in the newspaper.
Here is my other Emergency Toilet
I have my Emergency Car Kit here, but I am going to add the new shiny #10 can to my car and strap into the bungie cords to keep it from flying through the car. I will not add the emergency car toilet to it.
Emergency  Car Toilet Contents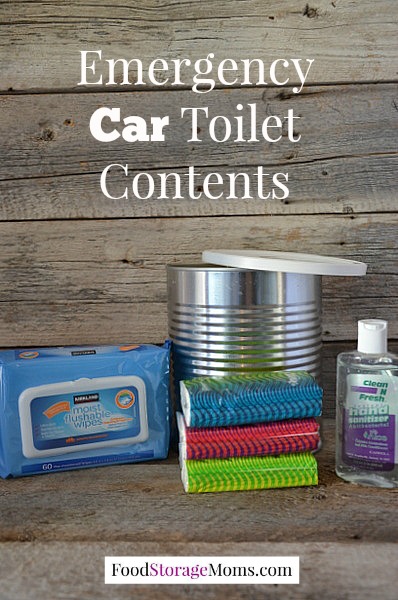 You can see I have some moist flushable wipes, known as bum wipes. I have some small packages of kleenex tissues and some hand sanitizer. They all fit into the #10 can car toilet with a lid. You can dispose of the can when you reach your home and discard as needed. You will want this car toilet….I promise.
Emergency Car Toilet or Extra Diapers
I washed the #10 can and filled it with water to make sure it would not leak. I let it air dry and started gathering the necessary items.  Luckily it had zero leaks and I started filling the emergency car toilet with the items needed for an emergency if our car is stalled or the traffic/weather stops us in an unforeseen situation. You know the guys have it made…they can go behind a bush or pee in a bottle. Well, its a bit harder for we chicks. We can get toddlers to pee in a diaper if we have an extra diaper or two in the car. Babies should be okay as long as we have enough diapers in the car.
Joyce's (awesome reader) Emergency Car Toilet Idea
One suggestion might be to put a few plastic grocery sacks inside. If you have to use the potty, you could line it with the sack, like you do your trash cans at home, and then tie it. That way, you really wouldn't have to toss your can when you got to your destination. Just an idea.
Desiree's (awesome reader) Emergency Car Toilet Idea
I have done something similiar when my children were small. I lined it with a plastic grocery bag and put a folded paper towel in the bottom to help absorb the liquid. When finished, tie it shut and toss at the next trash can. I really worked well!
Melissa's (awesome reader) Emergency Car Toilet Idea
Even better than grocery bag liners….large ziploc bags (with absorbent material inside such as a piece of a chux pad, cut up diaper, or sand) also an extra large ziploc to put used bags in case multiple uses are needed. And scented dryer sheets to throw on top of *stinky* potty use…..
Also, kitty litter (get the corn cedar variety) is very absorbent, lightweight, environmentally more friendly and can help mask scents
Appyhorsey, great idea! On the boat we actually have a curtain that velcros on for privacy. Only your head sticks out if you want it to! Something similar for car privacy could be velcro to put around the headrest or even better use a shower curtain and a couple of ring hooks [like key ring or binder rings] that could be attached to headrest posts when needed. Waterproof shower curtain can also double as emergency rain protection or be placed on your seats to protect from wet clothes/bathing suit.
Appyhorsey's (awesome reader) Emergency Car Toilet Idea
I've done this for MANY YEARS. Grocery bags are too cheap and usually leak, anyway. Get the small sized "garbage bags" instead. You can store them and a roll of toilet paper in the can. It's also nice to have a big blanket or tarp or something, to "hide behind" if at all possible. If your car is big enough you can use this IN the car, and cover the windows with something (blankets, towels, etc.) but if your car is too small, you will have to use it outside. (In a big traffic jam, you may be stuck in a center lane and NO where to "get out of sight" of other people.) If your car is a 4 door, open a front and back door and hang a blanket/tarp. If you only have a 2 door car, I'm not sure what your options are. Ha. Hang the blanket over the door then hold up the other half? Maybe use this in the trunk with a blanket hanging as a cover? I like the idea of a folded paper towel in the bottom to absorb liquids. Never thought of that.
Cherie (awesome reader) Emergency Car Toilet Idea
I use the large plastic coffee containers [ a.k.a. Maxwell house or Folgers]. I also have one with toilet paper in it and one baby wipe container. I carry an inexpensive pop up tent for privacy. It's all together in a vac spacebag. I also carry kitty litter and small bags in assorted sizes. The small bags can go inside the coffee container with a small amount of kitty litter in the bottom – then the bag can be thrown away leaving the container clean.
The kitty litter in the car toilet also serves as a winter staple in case you get stuck in the snow. The baby wipes will also be used for headlights or windows in an emergency only since they do leave a film. [Just incase I forget to put my rags and vinegar in the winter supply ]. The plastic bags can also be used to cover outside mirrors overnight, used inside your boots,hats and mittens to keep you warm. Everything I carry has more than multiple uses.
Just thought this might help some people. You can also zip 2 sleeping bags together to make a portable privacy screen.
Kenneth (awesome reader) Truck Idea For Emergency Car Toilet
Well you ladies seem to have this well thought out. Being a guy I have carried the wipes and toilet paper in my truck for ever. I drive a pick up so I carry a 5 gal utility bucket. It holds all sorts of necessary items for emergency stops. Linda those nice clothes pins would hold up a travel blanket attached to a partially open window or edge of an open car door and the run off gutter on most trucks. What ever it takes it is much better then a ticket from a LEO for exposure or a nature call in public. Oh yea I carry orange and strawberry scented hand sanitizer.
Fin (great tip)
For discretion while using an emergency toilet outside I recommend buying a cheap plastic rain poncho. When it's worn it should come down low enough to cover what's going on and allows your hands to be free inside the poncho too.
Jan (great tip)
Having spent 14 yrs as a 'crime scene tech', I had to carry "new paint cans /lids' for "evidence collection". So… when at a 'scene' in an out door area, away from any facilities, I used a paint can (1 gal size) with a small trash bag in it. I drove a closed in van so no problems. Happened more than once.
I hope you think about making an emergency car toilet for your car. You never know when you might need one.
FEMA.gov Federal Emergency Management Agency