How To Store Water Long Term Under A Bed For Survival
Are you wondering how to store water long term? Today I have one way to store 56 gallons under a queen size bed (depends on your bed frame). I always recommend several ways to store water. Today, I am talking about the WaterBricks. They are available in two sizes, 3.5-gallons, and 2.5 gallons. They come with a handle and you can purchase a spigot if desired. I have both sizes. The water storage under the queen size bed as shown below are the 3.5-gallon size.
I have the smaller ones ready to grab and go with my 72-hour kits or bug out bags. The bed skirt actually covers the WaterBricks. This room looks like any ordinary bedroom but has water stored underneath the bed for long term storage. This is just one way to store water long term.
Store Water Long Term Under Your Bed:
Here they are under the queen size bed: ***please note an awesome reader asked about the weight of the water, plus the bed and the weight of those who sleep on the bed. It reminded me of the "waterbeds" that were very popular back in the 70's. If you have a concern about weight in an upstairs apartment or bedroom…consider lining up the bricks behind a couch or make side tables with them….you will have water….when you need it.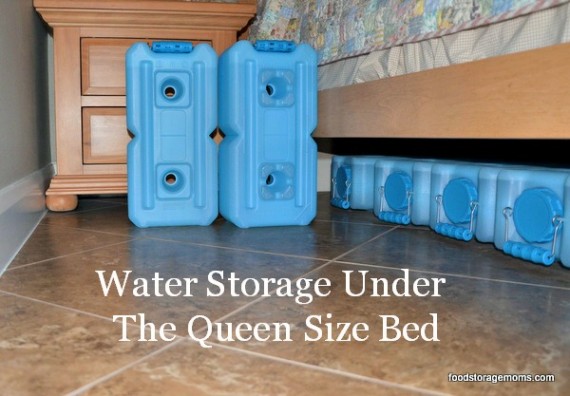 Dimensions of the WaterBricks (3.5-gallons) 9″ X 18″ X 6″
Each container holds 3.5-gallons
These are stackable,  16 will fit under a queen-sized bed (56 gallons total)
They stack/interlock for easy storage as well, yet you can easily grab one and go.
Add ½ teaspoon of Water Preserver to store for five years, change water every five years
These are a great way to store water long term because you fill and forget them for five years before needing to rotate the water. We need water:
We need water to survive by Food Storage Moms.
Survival food storage by Linda