Fresh Garlic-Parmesan-Pine Nut-Pesto Recipe
Well, I am sure a lot of you have made Pesto before, well I had never made it. I had to run to my friends for something and she asked if I wanted some fresh basil, her garden flourished with lots of basil. She proceeded to show me all these little containers of fresh basil she had made then frozen for future meals.
I was planning to run up to Salt Lake City, Utah for a family reunion and I called ahead and asked my daughter, Heidi if she had ever made it. She said her husband, Nate makes it all the time she mentions. This is so easy to make!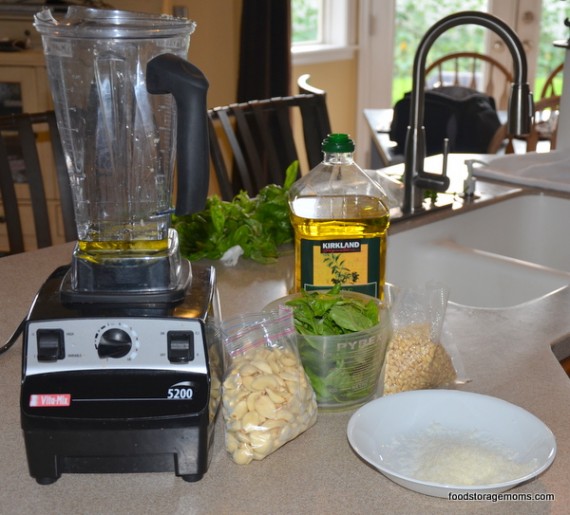 Do you see that bag of garlic cloves above? I would never use that much in my lifetime. Heidi uses a bag like this each month. Here is my favorite cheese grater: Zyliss Rotary Cheese Grater

Yes, I am pretty proud of my daughter and son-in-law's culinary skills…….Here is my daughter's recipe (I modified a bit):
Pesto With Garlic-Parmesan-Pinenuts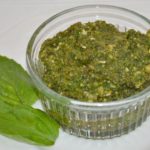 Pesto With Garlic-Parmesan-Pinenuts
Ingredients
2-3

Cups

washed fresh basil-remove tough stems

6-8

Cloves

fresh garlic

3/4

cups

olive oil

1-1/2

Cups

freshly grated parmesan cheese

1/2

cup

pine nuts

shells removed
Instructions
Use a blender to process the olive oil, garlic, and basil until smooth. Add the parmesan cheese and pine nuts and use the pulse button until mixed. This is great on cooked pasta and pizza. Delicious!
How to use Pesto:
pizza
toss with cooked pasta
spread on pita bread
mix into salad dressings
add some to your bread dough before baking
spread on toasted French bread
toss on top of vegetables
make meatballs with pesto
make quesadillas with a spread of pesto and mozzarella cheese
add some to a pot of bean soup
The ideas to use pesto are unlimited. If you grow basil you can also freeze basil fresh and you can freeze the pesto recipe above in small containers.