How To Prepare For A Power Outage Today
Are you prepared for a power outage today? Not tomorrow but today? We have seen the bad weather before, please get prepared. I have been thinking about this a lot lately. I got a call a few days ago from a multimedia reporter/journalist. She was wondering about different things concerning power outages and food storage. She was awesome to talk to and was genuinely interested in why people are stocking up on food and thinking about power outage issues. I love it when people want to know about stuff…stuff that might be new to them. Or maybe it never occurred to them why we need to have some emergency items ready to use. You know, how to be prepared for the unexpected.
So today I am going to show you some of my favorite ways to power the different items we have in our homes. We might want to have these powered up if, for instance, we only had a 24-hour outage. Just look around your home and ask yourself what things you MIGHT miss the most, like your cell phone. What if I had not charged my phone before the power went out.? Oh, and my iPad…..urgh…it has all my emails. What if I could not respond to that very email I have been waiting to answer and confirm something? What would you do if you lost power for one week, two weeks or more? Do you use a CPAP or nebulizer or similar medical device that HAS to be operational? Here is a post I did a few months ago. CPAP's and Nebulizers
Please note: I keep my Goal Zero units charged at all times. I have them charged through my house outlets with surge suppressors. I didn't turn on the units during all the pictures below since I don't want to drain the units of stored power. My intent is to show you all the ways you can survive a power outage. I would be antsy if I had zero power and my Food Storage Moms posts were not complete and they due to be posted TOMORROW….dang it!  I hate when the power goes out! I am talking about a real power outage here…yep the neighbor across the street has zero lights. The next door neighbor has a dark home…I want you to picture a complete blackout.
It seems like the lights or power always goes out at night or during my favorite TV show. We start scrambling for the flashlights, the candles, and whatever else we have thought to have ready in case we lose power. If you haven't made one of these….you might want to soon. It's my Emergency Bed Pouch.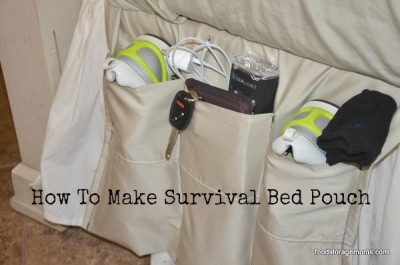 Power Outage-Ipad-Cell Phone-Radio-Small Electronics
This Goal Zero YETI 150 can be charged in my car, the outlets in my home, and of course with solar panels-using the sun to collect power. The one below can charge my iPad, cell phone and that radio I might need to listen to hear about weather reports. This is not my favorite radio…I"m saving my money to find a really good one. But it is a radio. This unit can also charge my walkie talkies to communicate with my neighbors. These are different walkie talkies than the ones I used to use at Disneyland. I got together with a few neighbors to get us on the same radio frequency channel so we could check to each other in case of a disaster or unforeseen emergency.
Power Outage-Laptops-TV With DVD Player
This is the Goal Zero YETI 400 that can power a laptop. This unit can charge a cell phone, iPad and run my small TV with built in DVD player. This is important to me because I want something to help entertain/distract the kids in my neighborhood, or some adults if we are without power for a long period. This is one thing I heard from a reader during Hurricane Sandy…".thank goodness for movies and a TV with a DVD player." You basically check the wattage you have on the item you want to be able to use and purchase the solar unit that fits your budget. It was cold and zero electricity in some areas during Hurricane Sandy. Some locations had heat, others did not. Then some areas would get electricity but zero heat from furnaces. Some neighbors banned together and shared their fireplaces, hot chocolate, popped popcorn and watched movies (those with electricity).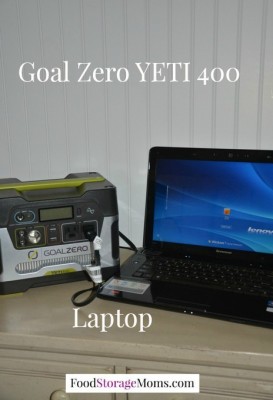 Power Outage-Solar Power On The Go
This is one of my favorite Goal Zero items. This Nomad 7 solar panel can be strapped to a backpack while hiking and collect solar for your cell phone. I use this Goal Zero Switch 8 to recharge my cell phone. It fits in a purse or pocket. I have used this when I use up all my battery on my cell phone. Sometimes I take a lot of pictures of my cute grandkids. Or I use Instagram a little too much. I pull my Goal Zero Switch 8 out of my pocket and I am good to go with some extra power.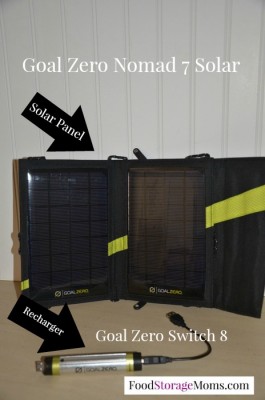 Power Outage-Bosch Bread Mixer and NutriMill L'Equip Wheat Grinder
I have done a post about using only Goal Zero solar power to power my Bosch Bread mixer as well as my NutriMill wheat grinder. This is the YETI 1250.  I  have wanted it for such a long time. I feel so much better prepared knowing I can grind the wheat I have and make the whole wheat bread I am used to making every week for my family. The Bosch bread Mixer uses 800 Watts. The NutriMill wheat grinder uses 1200 Watts.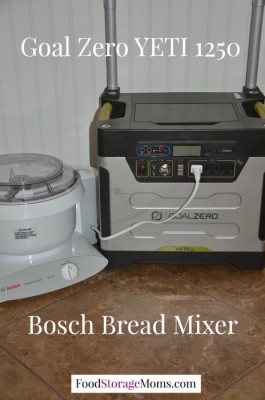 Power Outage-Goal Zero YETI 1250 Works

Power Outage-Mickey Mouse Villa Ware Waffle Maker
This picture below is the one thing I would love to use in a disaster or emergency situation when we have a power outage. Who wouldn't love a Mickey Mouse Waffle? This is the one thing my grandkids want for breakfast when they come to visit, yep even the ones over 20 years of age. This waffle maker uses 1000 Watts. Shhhh…my grandkids think these are Mickey Mouse pancakes…when they were little if I said waffle, they would say no thank you. So yes, they still call my Villa Ware Mickey Mouse waffles..pancakes. I love being a grandma!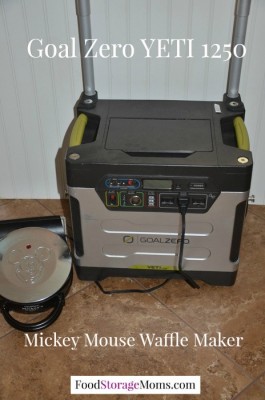 Power Outage-Fagor Pressure Cooker
I would love to be able to use this Fagor 1000 Watts pressure cooker in an emergency. Of course, I have my SunOven to cook most anything, but the pressure cooker works great and it is fast using the YETI 1250. I just like having more than one more option to prepare food for any emergency or disaster.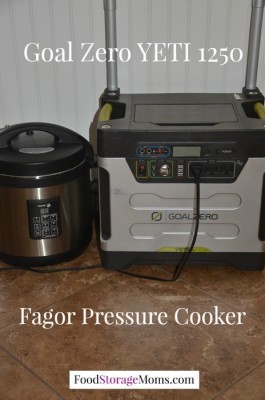 Slow Cooker-3-1/2 Quart Size
The picture below is a slow cooker that uses 200 Watts. Now, this is a very small 3-1/2 quart size slow cooker. Normally I wouldn't waste my solar power to cook anything in this, I would use my solar oven or my thermal cooker. Here again, I am showing you how to prepare for the unexpected, and there may be times that the SunOven couldn't be put to use.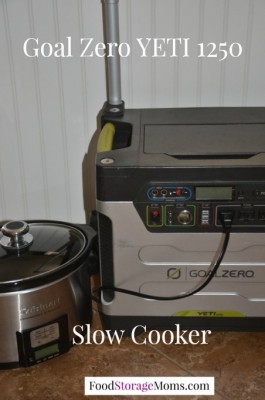 Rice Cooker
The picture below shows using a rice cooker with 650 Watts. Here again, I would use my SunOven to prepare rice in a long-term power outage. But I do want more than one option to prepare a meal or meals. It's who I am.

Portable Table Fan
I must confess….I do not like the heat. Yes, I live where we have high temperatures in the summer. I was thrilled to know my fan will work with my Yeti 1250! Here again, how to prepare for power outages….this fan has 27 Watts. The fans do not use up the solar power like the portable heaters. I will bundle up with layers of clothes and blankets before I use my heater.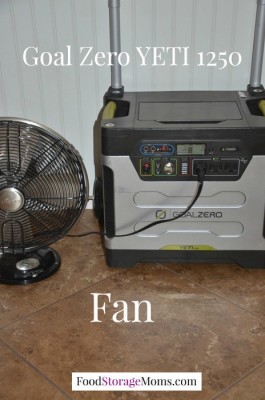 Power Outage-KitchenAid 6-Quart Mixer
Here is one more way to use solar power. Yes, we can make most anything with a spoon…I grew up that way. We made cookies with a wooden spoon. Here's the deal,l I can make cookies with a spoon and cook them in a solar oven or a Camp Chef Stove/Oven combination. But if a power outage goes on for weeks…I want to be able to use my Kitchen Aid 6-quart mixer. It has 575 Watts.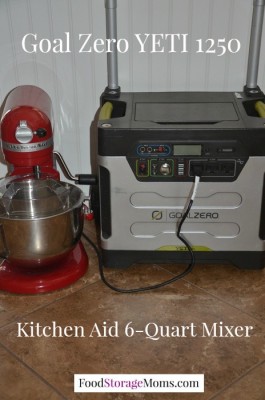 Power Outage-Table Lamps Equal Light
Here is another good way to prepare for a power outage. I need light…yes a flashlight works great. But I would like to read a book and not have to hold a flashlight hooked to a book. This lamp has 60 Watts. This lamp would work well with the Goal Zero YETI 150 or the YETI 400.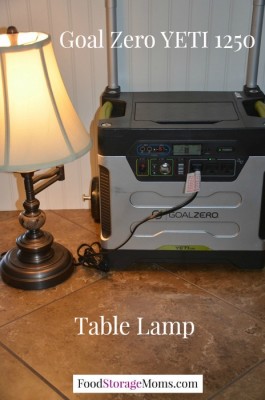 Power Outage-Goal Zero Boulder 30 Solar Panel
You can chain several solar panels together depending on the Goal Zero unit you are using. I use this Boulder 30 shown below to charge my YETI 1250. Each unit has a specific solar panel to use. You set it outside and charge the Goal zero unit you have, just think, you have FREE power….to use in power outages!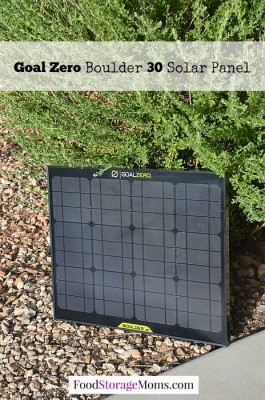 My goal today was to show we can be prepared for so many situations. Whether we need it for an all out disaster, a grid down, an unforeseen emergency or just to use every day to save money on utilities. These units are not just for camping and hiking. These solar power units could truly save a life if you know someone who needs a Cpap or nebulizer or other home use medical device.  Please, sincerely consider looking into and purchasing some GoalZero products for your home, office, RV or cabin, you'll be glad you did.