How to Handle Burns in an Emergency

Roughly 1.1 million Americans face serious burns that require medical attention every year. Nearly 10,000 of those cases prove fatal. As if dealing with serious burns was not already bad enough, what would happen if this situation were to happen during an emergency? It may be a while before any medical assistance could provide you with the care that you need. Would you know the proper steps to provide your own personal care for the burns that would hold you over? Let's talk about how to handle burns in an emergency. I stock this product: Burn Free
You may have been misinformed on remedies to use to manage serious burns, which could result in further skin damage. That's why it's so important for you to know what you should do and not do when dealing with serious burns. Here's how to handle burns during an emergency. Please keep in mind I am not a doctor or anyone in the medical field. Always consult your medical consultant for any information you need. I highly recommend getting this Medical Book or this Medical Book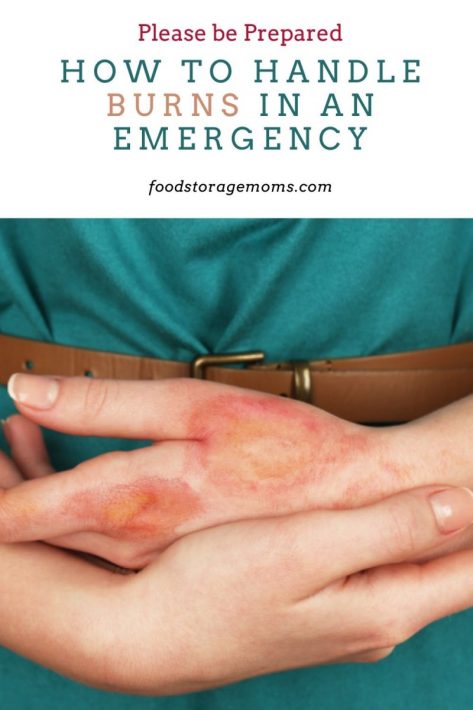 What Makes Our Skin so Important?
Besides playing the crucial role of keeping everything within us intact, our skin has several other tasks that it's responsible for. It helps us maintain proper body temperature and fluid regulation, along with preventing bacteria and viruses from easily getting inside our bodies.
If our skin was to become severely damaged from a major burn, our body would have a much more difficult time performing those functions. A serious burn would not only cause a break in the skin, but we'd become more susceptible to infections and our bodies would also struggle to stay warm. This is important to know so that you know how to handle burns in an emergency.
Different Degrees of Burn Damage
The severity of a burn depends on the depth of damage caused to the layers of skin. Unfortunately, skin burns can mature over time and go from less severe and evolve into something far worse. Take your typical sunburn for example. At first, you may notice only slight discomfort the first day, but throughout the night blisters can begin to form, making your situation that much more intolerable.
The same happens with burns that are at a much higher degree right from the beginning. You must know what type of burn that you are dealing with to treat it properly. The different degrees of burns can be classified as follows:
1st Degree Burns
First-degree burns are much milder in comparison to major burns, but are still something uncomfortable to deal with nonetheless. Your skin will appear dry and red, where damage is only caused to the top layer of skin, the epidermis. Blisters do not form with a 1st-degree burn, but you may notice a slight skin discoloration for some time.
2nd Degree Burns
A 2nd-degree burn reaches through to the middle layers of skin, called the dermis. It appears red at first, followed up with blisters and swollen skin. Long term effects on the skin may include thickness and tightness in that region of scarring.
3rd Degree Burns
With 3rd degree burns, you'll notice that the skin appears white and charred, reaching throughout every layer of skin and fat. This type of burn can cause extensive long-term damage.
4th Degree Burns
This is the most severe type of burn that you can experience, where not only your layers of skin are destroyed, but the burn can cause plenty of damage to bones, tendons, and muscles. With a fourth-degree burn, you no longer have any feeling in that area because all your nerve endings have been destroyed. It's also very likely that you will experience shock at this level. A fourth-degree burn shows signs of charred skin, and bones may even be exposed. It's potentially life-threatening and could require amputation.
Treating Minor Burns
The first thing that you need to do is clean the wound by using lukewarm water. Don't make the mistake of flushing the wound with cold water. This can cause even further damage to the skin and may expose the skin to infection. Also, make sure that you remove any jewelry around the injury, including necklaces, rings, or bracelets. If the swelling and inflammation set in around those restrictive items, they may cut into the skin.
Next, you'll need to dress the wound with an antibiotic ointment, such as Neosporin or Bacitracin. Silvadene is another topical ointment that is highly preferred and can be found over the counter.
People have often used butter as a remedy in the past when dealing with burns. Don't do this! Doing so can cause even more extensive damage to the skin.
Treating Major Burns (2nd and 3rd Degree Burns)
Major burns can be life-threatening and medical treatment in most cases is necessary. The victim should be moved to a safe place where they are no longer exposed to the threat of further burn damage and risking any additional injury. Be sure that you remove any burning material away from them and call 911 immediately.
Don't use cold running water on the burn or it may cause the victim to experience a drop in body temperature, which can lead to hypothermia. It's best to keep the victim warm and in a still position until emergency help arrives. Wrap a clean sheet around the individual to help them maintain body heat and encourage them to lie still. Place a loose bandage or cloth over the burn in the meantime.       
There are also some things that you don't want to do with a major burn. Never make the mistake of applying ice or topical ointments and creams directly to your skin. You also should not remove any clothing that may have become stuck to the skin. And never, never peel or pick at blisters and skin that has begun to unravel in the affected area.
Treating 4th Degree Burns
Fourth-degree burns are not only life-threatening but the victim will also have to deal with permanent damage for the rest of their lives. That's why these burns need to be taken very seriously.
Severe burns, such as fourth-degree burns, may cause you not to feel pain due to the extensive nerve damage that may have taken place, but other organs and muscles may be affected besides merely the skin. Failing to get treated immediately can further increase the risk of other complications such as organ damage and loss of circulation.
If it's possible, you need to raise the burned body part into a position above the heart. Flush the burned region with lukewarm water only if it's a chemical burn that they are dealing with. Next, place a loose bandage over the wound and then lay a sheet or light blanket over them, especially if they appear to be cold.
Final Word
It can be extremely difficult, if not impossible, to get the medical treatment that you need following a disaster or major emergency. Yet, if you or someone you know is facing 3rd or 4th-degree burns during this time, it's crucial that you get the help that is needed as quickly as possible. Especially if the victim is burned anywhere on the face, chest, hands, feet, or groin area.
These are regions on the body that are extremely sensitive and can result in further damage, or even death. How do you handle burns in an emergency? Please be prepared, we must. May God Bless this world, Linda
Copyright Images: Horrible Burns on Hand Deposit photos_62957213_s-2019