21 Things Every Woman Should Have In Her Purse Today
My friend, Lisa has the cutest purses on the planet, I swear. I have had the same little black purse that is just big enough to hold my cell phone, drivers license and a couple of dollars. She has a purse in every color of the rainbow. My purse is black patent leather and is at least ten years old. I have had the zipper fixed once or twice. The reason I am telling you this is because Lisa and her husband were in a serious car accident a few days ago near Page, Arizona and she was so pleased to have her purse in the car. The location was bad (of course any car accident location is bad) because if you have driven through there you are thinking the same thing I did…..no cell service. Some cell phone carriers work there, and most do not.
A few weeks ago I was at Lisa's house and she was showing me all the things she carries in her purse. I could not stop laughing about the underwear and socks. Well, I am eating my words now for sure. Thank goodness she had these items I am going to talk about in her purse.
21 Things Every Woman Should Have In Her Purse:
1. car/house keys
2. wallet with ID, driver's license, debit card and cash
3. lipstick-lip balm
4. cell phone and cell phone charger
5. extra pair of underwear and socks (better grab some for your partner and kids)
6. flashlight
7. toothbrush/toothpaste
8. Ibuprofen or similar item
9. granola bar/snack
10. seat belt-cutter
11. hand sanitizer
12. whistle
13. mirror
14. water bottle
15. card with emergency contact information
16. extra prescription medications-extra pair of contacts and glasses
17. diapers, extra pacifier (if you have a baby), monthly menstrual items
18. nail file/nail clippers
19. tool to break a window to crawl out of the car
20. pepper spray
21. compass
David and Lisa's car hit some black ice during a really bad snowstorm, the car rolled and landed on the driver's side. Now keep in mind this is 2:00 A.M. in the morning on a two lane highway where you rarely see anyone driving at night, especially in crazy snow storm weather. seemingly trapped in the car after the accident, they knew they could make it through the night if they couldn't call 911 for help. They had sleeping bags in the back seat. Now, they are dangling with seat belts caught and trying to unbuckle themselves.  Luckily they saw a car drive by and turn around and come back to help. They were two wonderful good samaritans on their way to the Lake Powell Resort. They helped Lisa and David crawl through the sunroof to get out of the car.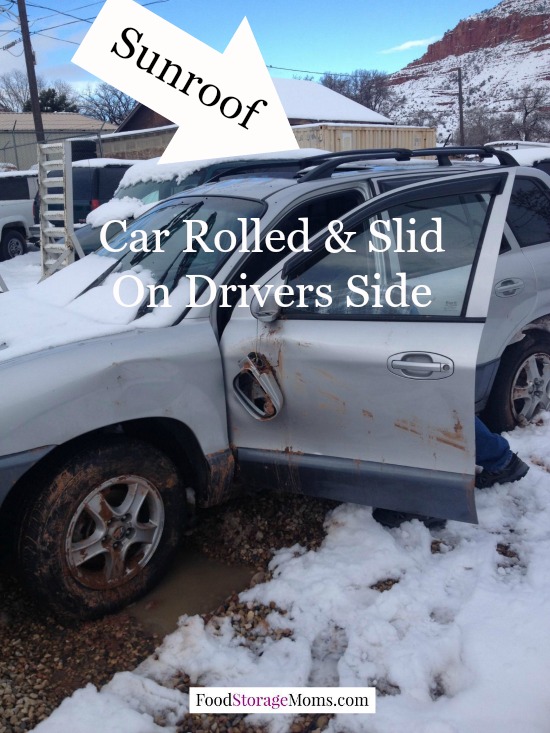 David and Lisa got a ride to the hotel with the guys that stopped. Luckily Lisa had the things listed above in her purse….she was totally prepared for the unexpected. David has never been in a car accident, ever. They were not hurt, thank goodness, but the car is totaled. I will never laugh again about having clean underwear and socks in a purse! The car had to be towed and some friends came and got them when the weather improved. They had to stay overnight at the hotel. Thank goodness she had a purse with clean underwear and socks……
Please tell me what you would add to my list. I have an emergency car kit….I will be thinking about getting a bigger purse…maybe….
Comments from readers:
1. I bought a large leather backpack, about three years ago that I use for my purse, I so appreciate your list…I was just saying the other day, "I carry this big thing around why don't I have some emergency things in it?" Starting today I will have. I wear contacts so that would be one thing I would add to my bag also feminine products, and don't forget to add clean undies and toothbrush for your hubby…Thanks so much for this great list!
2. This was a great article! I already carry a flashlight, knife with a seatbelt cutter and window breaker, Swedish fire steel, hand sanitizer, and socks. Here is what I intend to add: space blanket, water, Lifestraw, granola bars, nuts, waterproof matches, medicine, small first aid kit, para cord, and fire starting material. I save dryer lint and pack in toilet paper tubes, then stuff them in a zip lock bag. No weight at all. I appreciate this article because even though my purse is big enough I have procrastinated.
3. I always have keys, phone, Swiss army knife (with both pliers and scissors) and wallet in my pockets, not a purse. I have a vest with pockets I can use if there are no pockets in my outfit. In my bag, I also have a headlamp, first aid kit, sewing kit, tiny pack of duct tape, a lighter (I don't smoke), paper and pen. A whistle hangs on one pack strap, little flashlight/visibility light on the other. That's walking distance from home. If I go further there's another layer of stuff that includes a mylar emergency blanket, small street map, thermos of tea or water bottle, visibility vest (rolls up tiny), slightly larger first aid kit. The car has its own emergency supplies and a seat belt cutter/window smasher is in the console between the front seats. I never leave home without a book, never know when you might get stuck in a boring place. I always dress in or have with me, clothes that would suit being out in the weather all day.
4. Ok – you made me go look through my purse! I carry most everything on the list. I really suggest you have the combined window break/seat belt cutter on your key chain. My dog & I were in a rollover accident (black ice is not fun). We both were wearing our seat belts. Everything flies around and compartments open etc. They found my cell phone, gun and various other things outside the car. If it is on your key chain it's in the ignition right at your fingertips. Besides what is on the list I have – a knife & multi-tool, safety & bobby pins, paper clips, small notebook, antibacterial ointment packets, band-aids, eye drops, a fan, shims, a double-sided compartment pill box w/Imodium,Benedryl, antacids etc., matches, lighter, toothpicks, dental floss, zip lock type bags, tissues, nylon bag & bandana. I have friends that used to laugh at what I carry until we were hiking & one of them fell and hurt their hand. Out came my first aid wipes, my antibiotic ointment band-aids. Almost everything I carry has more that one use. Thanks for posting the list!
5. My purse is very small. I carry one debit card, driver's license [both in RFD sleeves] and only $20 cash. I have my keys on a lariat around my neck. Never in my purse in case, it gets stolen…[ not a smart idea for keys to be in purse]. If I should ever leave my purse somewhere I have my keys on me.
In my car, I have my BOB which carries everything else.
My cell phone goes in my pocket…never in my purse…again it's not safe in case it gets stolen.
Ladies be aware ….don't carry everything in your purse -it isn't safe and if it gets stolen you lose everything…
6. I wear jeans all the time so I have my metal wallet in one pocket, my bus id and pass in another, cell phone and cash in front, along with my keys in the fourth. I always carry an umbrella for both rain and the hot sun here in Florida. I have an old leather backpack that holds all my other stuff……first aid kit, leatherman, snacks and tea bags, sunscreen and bug spray (both Coleman in small tubes), tiny sewing kit, tissues, baby wipes, candy and a few reusable shopping bags. I am retired, living in a large urban area and don't have a car – I either ride the bus or my bike where ever I go so these are all I need whenever I go out.
7. Don't for that if you have feminine products in your bag, such a pad you can use it as a dressing for an injury As they are sterile.
Food Storage Moms Emergency Car Kit: Emergency Car Kit.