Tornado Siren Prepper: A Cautionary Tale
This is a post written by my very good friend, Melissa Richardson, author of two books I will show you at the end of this article. I was in a tornado when I was 16 years of age. I saw the tornado rip the roof off the house next door and flatten the headstones in the cemetery across the street. I was terrified. When Melissa contacted me about her own experience after moving to the Midwest. I was thrilled that she would share it first hand with my readers. I still remember seeing her post about her tornado experience as she was driving to her new home. This article will help so many people really think about the importance of being prepared for the unexpected. Thanks to Melissa, here are her words:
I had been listening to the news reports all day. Two tornadoes were expected to touch down in my area. It was late afternoon, and as predicted, the storm clouds rolled in and began doing some serious aerial acrobatics. I pulled out the flashlights and took the filing box with our most important documents downstairs. Almost exactly one year earlier we'd had a close call while moving to our new home in the midwest, so I felt like I knew more or less what to expect from the upcoming windy ride.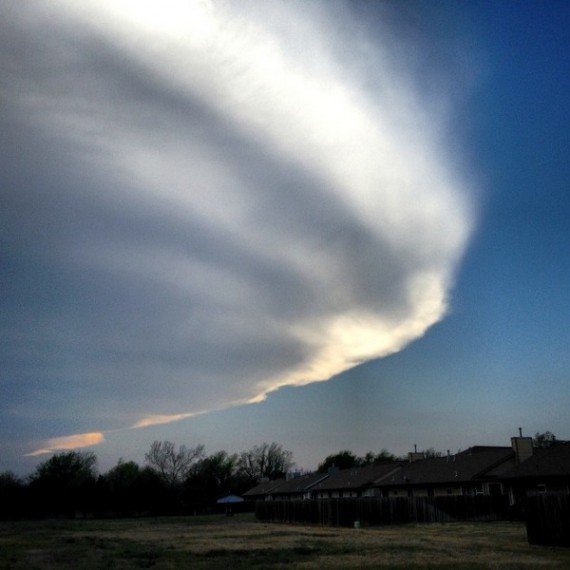 The storm was making me nervous, but dinner wasn't going to fix itself. Regardless of weather, we needed to eat. I stepped outside to gather my kids in, and passed neighbors standing on their porches or hanging out in open windows watching the sky. One neighbor waved to me as I passed and asked "You all ready?" I laughed and replied that I would never be "ready" for a tornado. He nodded and smiled, then said "I've done my best I guess. I like to be prepared. I've got water for all of us, food in our kits, first aid, flashlights, candles, clothes, and a crowbar for digging out my neighbors." He winked at me and we laughed as I headed for the house behind the kids. His very thorough list of preparations had made me re-evaluate my own preparations. What DID I have ready?
We hadn't lived in the Midwest long, which is no excuse, but as I cooked the chicken for dinner I realized that my "preparation" attempt with the filing box and flashlights was a joke. What if we were trapped in our basement until rescued? I'd heard that in severely damaged areas, victims can wait days to be pulled from their homes. Could we eat our birth certificates to survive?
I considered making a run to the store for some jugs of water and at least some energy bars, but by the looks of the sky there was no way I would be back before the worst hit. I was right.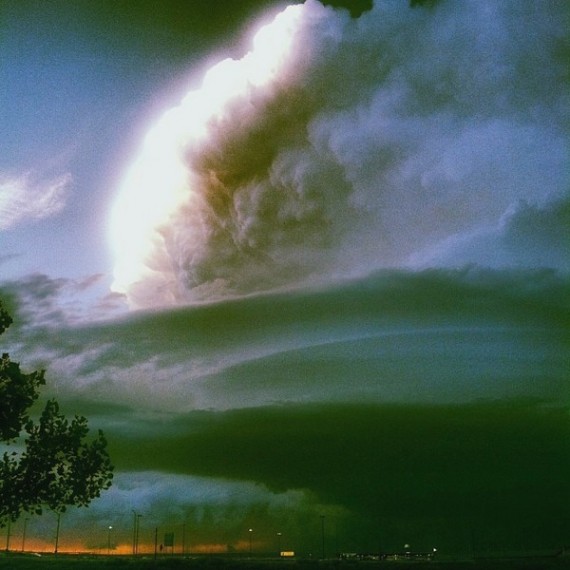 Wind, and lots of it, hammered at the house. Lightning and thunder cracked all around, joined quickly by the pounding of hail. The sirens went off, signaling that a tornado had touched down near our home. I ushered the kids downstairs and into the concrete storage room to await the all-clear (hopefully). I looked around, trying to assess what exactly I had to work with if we were hit. Sure we had tons of camping gear (we love the outdoors), but it was all still in tubs from winter storage and finding them would take some maneuvering. We had pounds upon pounds of uncooked grains and legumes, but no water in which to cook them. I looked at my kids, frightened and huddled around me for comfort, and realized that as of that moment, I had failed. Massively. I had literally done nothing to protect them in any way from a known (although unpredictable) danger.
I do not wish that moment upon anyone, and I was so thankful when a few short seconds later the sirens faded and did not sound again that night. I had been given a pass.
Not so true for the folks of Fairdale, Illinois. The same storm that skirted us mowed right through the center of that town, claiming two lives and injuring others. Considering the extensive damage to the area (hundreds of homes completely obliterated, foundations left empty), I was surprised the death-toll wasn't higher. In most cases this was because the people of this town had been prepared. They knew what to do. Even one of the ladies who had died (her home did not have a basement) had been found hiding in her bathtub clutching her purse- something I hadn't even thought to grab.
It was brutally apparent to me that I had a lot to learn about tornado season in the Midwest, and I needed to learn it ASAP. Little lives depended on it.
Maybe you're like me. Maybe there are known dangers in your area that you haven't prepared for simply because you would rather imagine that they don't exist, or that they won't happen to you. People like us tend to procrastinate even getting started with emergency preparedness because it seems like such an overwhelming endeavor. I have found only one way to overcome this mental roadblock: find a way to make the danger real.
I didn't really have to work hard for this to happen in my situation, but boy did it do wonders for clarifying where to start. We needed food, water, warmth, and a way to escape, and we needed it now, not when I had time to research the very best types of food storage and equipment. Now. During this turbulent time of year in the Midwest, the next storm could come knocking tomorrow. I had been given time, a small window of it, and I wasn't going to waste it.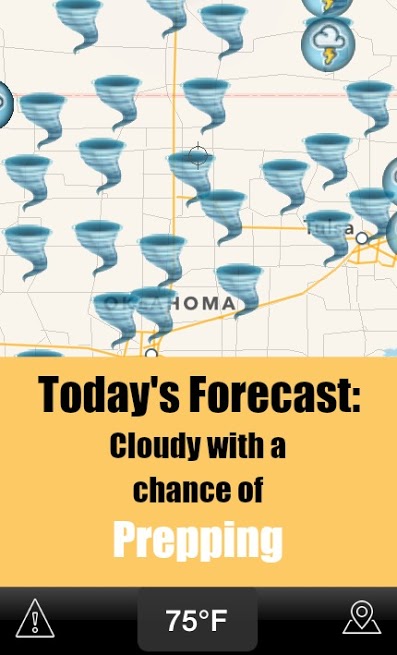 First stop: FEMA.
So what exactly did we need to be prepared? Rather than waste time writing up long lists of "guesses," I turned to folks who spend their careers in the "aftermath." They know what you need, what you don't, what works, and what doesn't. For the Midwest, they had detailed info on what to do before, during and after a tornado.They also had links to lists for emergency preparedness kits specifically for tornadoes (they have similar lists for other natural disasters). I printed these out to use as my master lists:
I read through the lists and did a five-minute brainstorming session of extra things specific to our family. For example, I added contacts and an extra pair of glasses for my husband, children's pain medication, and protective gloves and eyewear to protect us while digging ourselves or others out of basements. I also added electrolyte replacement powder and spray paint (for writing messages that could be seen from the air or from a distance) to the list. I wrote down everything that came to mind, just to get all my ideas down on paper. Anything non-essential could be crossed off later.
Then I used my deadline of "what do we need to survive a tornado TOMORROW" to highlight the absolute most important items I had time right now to gather. Again for me this was food, water, warmth, and escape.
Second Stop: Storage/Shelter Room.
I evaluated our space. What did we have room for? Were necessary items accessible? Could rearranging make access easier?
I checked the FEMA lists and grabbed items from the garage we already had (like the crowbar my neighbor had mentioned) and moved them to our shelter area in the basement. I swept through the house and snatched up clothes, underwear, and socks for each family member and tucked them in an old duffel bag. These, alongside our emergency tents, blankets, and fuel, would take care of warmth.
Next I dug out the 72 hour kits we had gotten for our wedding over a decade ago and decided that now was as good a time as any to see what was inside. While probably a little lower-end in quality (as far as survival gear goes) I was amazed by how much I was able to cross off the FEMA lists with what was already in these basic bags. Between the kits and our camping/backpacking gear we were much more prepared than I'd realized, but still lacking key survival elements, and basic organization. We had a 72-hour supply of dehydrated meals and survival bars for each member of our family, but the expiration dates and tastiness of that food was questionable. Since something was better than nothing, and keeping "tomorrow" as my deadline, I decided to work on what we DIDN'T have first.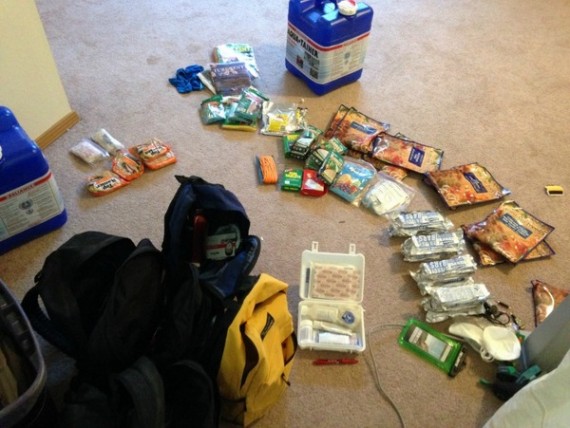 Third Stop: Shopping
I figured water was paramount and my deadline wouldn't allow for Amazon to deliver the containers on sale in a few weeks. I bought these fantastic BPA-free ones with a built-in spigot at my local Sporting Goods/Outdoor retailer. Yes, I probably paid more than I could have. Was that price worth the possibility of saving my children's lives? Yep.
Next I focused on preserving our data and communications. I bought waterproof protectors for our important documents, backup flash drive, extra batteries, matches, and the prepaid cell phone I will be purchasing. I copied what documents I had easily available until I could order certified copies to replace them.
Our basement is deep and might be difficult to climb out of if our house were hit. I decided that protective hand and eye gear were top-of-the-list important. I have seen photos and footage of tornado aftermath, and it is not user-friendly. I didn't want to survive the disaster only to damage ourselves further during the escape.
I now had the most urgent items covered. Food, water, warmth, escape, as well as light, physical protection, identity preservation, and communication. You'd think I'd felt satisfied. Nope.
Fourth Stop: NEVER Stop
This is the part that used to terrify me the most about emergency preparedness. I am a woman of the list. I LOVE the satisfaction of crossing an item off my list and tossing that hairy little monkey off my back. But, once you become preparedness-aware, there is no going back. That monkey is your new friend for life. There are ALWAYS ways to be better prepared.
Our cars need kits that can withstand the crazy variations of temperature in the Midwest. Our house kits could use cash and credit cards. The food in our kits turned out to be every bit as nasty as I thought. The survival bars in particular were super gross and gave us all diarrhea (better add some Imodium to that first aid kit…) despite still being "good" in terms of expiration. Better replace those too.
What I've realized is that the hard part was finding the reason/motivation to dive into emergency preparedness headfirst. With that behind me, and our most basic needs covered, I can enjoy the satisfaction of that accomplishment and use that momentum to propel me forward one small step at a time.
I still have my FEMA list. I keep it in my planner and pull it out each week when I am writing up my shopping list. I glance over it and choose at least one item from the lists to add to our kits. It also helps me take advantage of sales on things we need. For example:
Last week: Freeze-dried meal packets for the whole family to replace one meal of yucky survival bars.
This week: Supplies missing from our hygiene kits (mini shampoo, toothbrushes with cases, bar soap).
Next week: Waterproof map of our area.
This is a pace that will keep me going in the right direction and keeps us in our grad-student budget.
By this time next year, I will have done 52 things to prepare us for an emergency. 52!
Waiting until the clouds are swirling and the sirens are blaring over your house is the wrong time to begin your preparedness evaluation. I was lucky this time, and my error was not magnified by tragedy. Sure, preparedness is a constant work in progress, but it only took me a few hours to evaluate, organize and get my feet onto a preparedness foundation I could build on.
Has a natural disaster galvanized your preparedness? What has been your most important step towards survival and safety in your area?
Melissa Richardson aka: The Bread Geek. Melissa is an expert at using natural yeast and has written two fabulous books to teach the world how to use it.
Reader Comments:
1. Ranger Rick: My first meet and greet with tornados was in the early 60's when 100+ tornados ran thru the mid-west. I have been in 13 tornado's since.
In 1963 I joined Red Cross in high school and have since worked dozens of tornados/hurricanes in the mid west, east coast and gulf.
I spent 40years with Red Cross and soon will see 39 years as a volunteer with the Fire/EMT service and retired from Emergency Management .
This article is golden, well written and timely. Stay safe and get ready. Be Prepared – Be Prayerful – Be Thankful – You are an AmericanRangerRick.
Automatic Survivor – President/Instructor
2. Denis: Ceiling do not provide shelter in a tornado, it's mostly just a decoration. In the bathroom, take down the ceiling drywall and install 3/4 inches plywood instead. The reason that people are more protected in a bathtub is that they are laying down and the wind is just flowing over them, Injuries are from falling objects. Don't be standing up in the wind path.
3. Mary: Thanks for the good advice. I saw this Fairdale aftermath on the news. Reminded me of when we had just moved to Lexington, Ky in the early 70's, the year hundreds of tornadoes touched down all over the state and also in Ohio. That was year Zenia was obliterated. We had no basement, so I drug a section of our couch (a sectional) down the hallway, stuffed our two kids under it with extra pillows and blankets. I had never experienced anything as scarey.For your emergency pack. I would suggest any prescription medications family members might be on, as well as a digitized "family album" of treasured photos. Again, very informative article, thought provoking, too.
4. Carolyn: add a tetanus shot to that list. Many let theirs expire but in a tornado after scenario, you will be walking on boards with exposed (rusty) nails, etc. I personally hate shots but that is one that I don't let expire.