How To Bake Brownies Outside Using A Solar Oven
Sun Oven brownies are so easy to bake. Of course, this is a box mix. They are yummy! Today I decided to bake some in my Sun Oven using ONLY the sun for power.  I used a packaged mix and just added vegetable oil, water, and eggs. I doubled the batch because I had company coming for dinner. You need to remember, you can't use stainless steel pans in the Sun Oven because they will reflect the sun rays away from your Sun Oven. You can use glass or dark colored pans. Today I used some non-shiny bread pans.
You can bake anything in a Sun Oven that you can bake in your conventional oven, same temperature and time. If the pan fits and you have the sun shine to raise the temperature to what you need, you can bake it.
How To Bake Brownies Outside Using Solar
I mixed up the batter with a spoon as directed and proceeded to put the batter in a glass 9″ by 13″ cake pan which I placed in the Sun Oven. Oh yes, the glass cake pan material was fine, but NOT the size since it ended up being too big.  Just remember you can't use a 9″ by 13″ pan with handles, nope it won't fit. I have the old style Sun Oven that works great with the smaller baking containers, but the new ones I have heard will accommodate a 9″ by 13″ pan.
I started laughing, I am still learning to use this awesome Sun Oven. ( I wrote this post 2-1/2 years ago.) I came back into the house and sprayed two bread pans with vegetable oil spray and scooped the batter out of the 9″ by 13″ glass pan into the bread pans.  What's crazy, I have the correct size pans, I just needed to use them!  I put the batter in the new pans and set my kitchen timer as directed.  I kept going outside to "watch" them bake.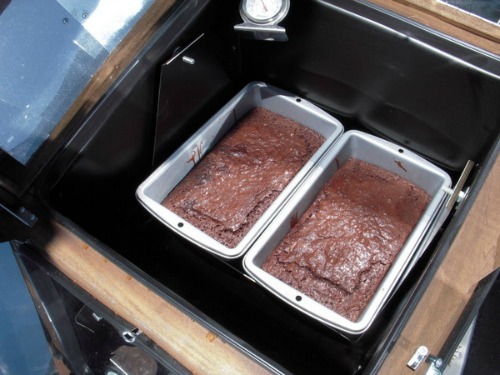 I heard the timer go off. I forgot to go outside and check the oven, 30 additional minutes went by. Yep, the brownies were still REALLY moist. I absolutely LOVE this Sun Oven! This Sun Oven is a MUST have for every family. Whatever you can bake in your conventional oven you can bake in one of these ovens. It will bake bread, meatloaf, chicken (even put in frozen), lasagna, baked beans, corn on the cob, the list is endless. Trust me, you would love baking in one of these great ovens. Keep in mind that the baking is free since you aren't turning on a gas or electric appliance, just the heat generated by the sun. It adds some adventure to the daily cooking activities. My grandkids love to see me use this new approach to cooking meals. I haven't had a bad experience using the oven. It does take more watchful care since you need to adjust the direction the stove faces so it gets the full benefit of the sun's rays.
101 reasons why I recommend one of these
Here is my favorite Sun Oven: All American Sun Oven Dehydrating and Preparedness Accessory Package