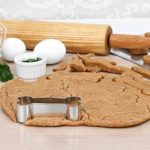 This recipe was posted on my blog back in 2012, but it looks like her website is no longer up and running.
2 ½

cups

whole wheat flour

2

eggs

½

cup

pureed pumpkin

2

Tbsp

peanut butter

½

tsp

salt

½

tsp

ground cinnamon
Preheat oven to 350 degrees.

Whisk together the flour, eggs, pumpkin, peanut butter, salt and cinnamon in a bowl.

Add water as needed to help make the dough workable, but the dough should be dry and stiff.

Roll the dough until it is ½ inch thick. Cut into ½ inch pieces. I used my special cookie cutters!

Bake in a preheated oven until hard, about 40 minutes. They smell amazingly good as they are baking!

Store in an airtight container.