Best Zucchini Chocolate Chip Cake In The World
My favorite zucchini chocolate chip cake recipe is below. It is a really moist cake that's perfect for breakfast or dessert. This is my mother's carrot cake recipe substituted with zucchini instead of carrots. How is your garden doing this growing season with zucchini ready to eat? I had to buy this zucchini. I really do not think I have ever had to purchase zucchini in my entire life. I am usually giving away baskets of zucchini to the neighbors. Oh well, something went wrong with our Southern Utah weather this year.
I love the small mini chocolate chips! Sometimes they are really hard to find. So when I find them I buy ten packages. Do you love chocolate as much as I do? This zucchini chocolate chip cake recipe is a popular cake to take to family reunions. It's one of those cakes that tastes even better the next day since it seems to generate more flavor overnight, along with seeming to be moister. So you can make this zucchini chocolate chip cake ahead of time and freeze it a month or so before your family reunion or neighborhood party. Let it thaw on the way to your party! Love it!
I don't know what it is, but mid-summer I love to bake something with zucchini. It can be zucchini bread, cookies or cakes. My husband teases me that he likes the cake, not only for its texture and flavor but because it is good for you since it has vegetables in it, namely the zucchini.
He also loves chocolate, especially the dark chocolate used in this recipe.  I don't think this cake will last long in our house.  Don't be afraid to try other vegetables in your cake, like the original carrots in my mom's recipe, other varieties of squash, etc.  Nothing like adding creativity to meal preparation.
Zucchini Chocolate Chip Cake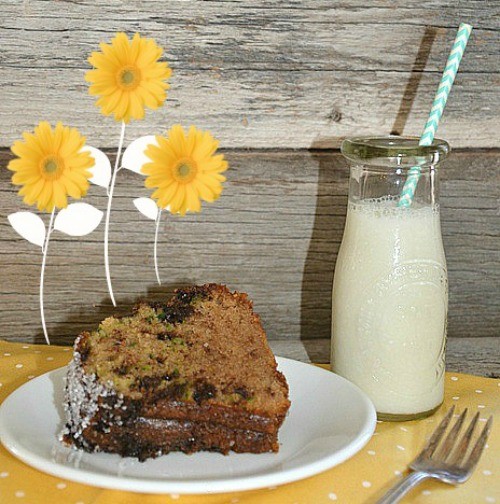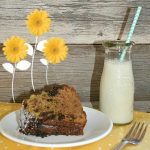 Zucchini Chocolate Chip Cake
Ingredients
1-1/2

cups

oil

2

cups

sugar

5

eggs

2

cups

flour

2

teaspoons

cinnamon

2

teaspoons

baking soda

2

teaspoons

baking powder

3

cups

grated zucchini (skins and all-stems removed)

1-12-

ounce

package chocolate chips (I prefer mini)
Instructions
Mix the oil, sugar, and eggs, beat well. Stir in the flour, then add the cinnamon, baking soda, and baking powder. Add the grated zucchini and chocolate chips. Bake @ 350 degrees for 45-55 minutes or until a toothpick comes out clean. I used a bundt cake pan for this recipe. Invert onto plate or cake pan after cooling for about ten minutes in the pan.

Optional: sprinkle with sugar crystals