Why You Need To Meet Your Neighbors

My post today is explaining why you need to meet your neighbors. Of course, if you have lived in the same house for 30 years, you probably know almost everyone on the street. Where I live is mostly renters, so the people move in and out all the time. It's a bit more difficult to get to know the ones that rent only 60 days, or even six months. I do have about 30% of the people on my street that actually own their homes. I live in a neighborhood where about 50% of the people are under 60 years old and about 50% are over the age of 60. It's quite common to hear at least one or two ambulances every other month in my subdivision.

MY LATEST VIDEOS
This is the reason why I feel very strongly about writing this post today. This last weekend was spring break and Easter. Well, Mark and I had company here and we heard the sirens very close to our home. Mark walked down the street to see if he could help in any way. He saw an ambulance drive away from a friend's home. I'm sure because of "privacy issues" the fireman standing next to the firetruck would not confirm Mark's question as to who was in the ambulance. The front door was open at the home and Mark rang the doorbell to see if her daughter was still there. The daughter is older and has some very critical medical issues so Mark asked her "was that your mom in the ambulance?" She nodded and said, "just call her". Well, our friend in the ambulance did not answer her phone. Mark started trying to call people in the neighborhood who knew her extended family members' phone numbers.
Keep in mind it's the day before Easter and most people were out of town. All we needed was a phone number to contact her relatives to help with her daughter and let them know the ambulance left with our friend. It took Mark about an hour to get a relative's phone number. Mark called a few people who then headed to the main hospital we have here in town. Luckily, she was okay but was in really bad pain and the emergency room took very good care of her. The people who went to the hospital were able to bring her home after she was treated.
Meet Your Neighbors:
Here's the deal why you need to meet your neighbors, we need contact information. Now, some people are very private and would never give you any information. I remember one day I looked in my mailbox and there was an envelope with a different address, that obviously had some credit cards enclosed. I walked down about four houses and knocked on the door. Well, I've never met these people and they must not want to meet anyone on the street. They had a huge sign on the door that says something like "We have our own religion, We don't need anything, We don't want to buy anything, and We love Jesus". Well, I was hoping to give the credit cards to them personally but I put them in their mailbox. I get it.  I won't be asking them to come to my "Contact Information" party, complete with bagels and cream cheese.
I am going to go knock on a few front doors and see if I can get a few to come to my party to share names and phone numbers in case of an emergency. Mark has two great friends, Craig and Craig in the neighborhood and I'm filling out a form for them to have in case of an emergency. I'm filling out a form for our best friends, Brent and Kathleen to have in case they need to get in touch with family members for any reason, emergency or whatever. I hope I can get a few people to come to my "Contact Information" party and this way we can all help each other when needed.
This picture below is a partial copy of the document, and here is the PRINTABLE: FSM Emergency Contact Info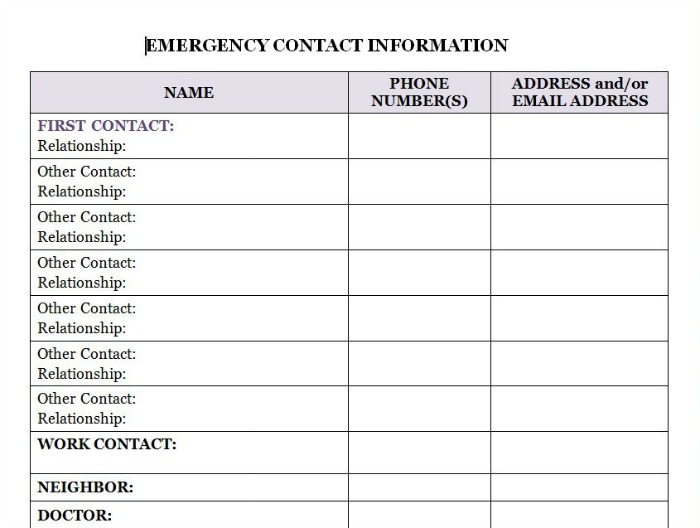 I also have a shortened version I call my Emergency Contact Information PRINTABLE: Emergency Contact Information
Emergency Contact Information
Name:
Email:
Home phone number:
Cell phone number:
People to contact with information indicated above
Name:
Email:
Home phone number:
Cell phone number:
People to contact with information indicated above
Just think how much easier it would be for everyone if we could contact family members or friends of our neighbors after a disaster, or an unforeseen emergency if we had emails, phone numbers, etc. Of course, I'm hoping we have electricity or the internet in order to do this, I understand we may not at some time or another. Block parties would be awesome as well. This is why you need to meet your neighbors. I need to meet all of my neighbors. May God bless you and your neighbors to get together and share emergency contact information.
Readers comments:
Jan: Also have everyone place a paper on the fridge with numbers on it. The paramedics will look there for things like DNRs(do not resuscitate orders). And in your wallet. And add ICE(in case of emergency) file on your cell phone.
Charolett: I also have on my cell phone the names listed as husband then name, daughter then name, son then name… You get the idea. Along with it all on the frig, in my wallet, and friends and neighbors. I keep a list of the meds I take in my wallet at all times. All my friends and family know it is there and on the frig.
My favorite things:
Neenah Exact Index Card Stock, 8.5 x 11 Inch, 90 lb, White, 250 Sheets (40311)
Avery 74102 Top loading non-glare poly sheet protectors, heavy, 100 per box
Prepare Your Family for Survival: How to Be Ready for Any Emergency or Disaster Situation