The Best Whole Wheat Morning Glory Muffins
Whole Wheat Morning Glory Muffins, have you heard about these? Well, I had never even heard of them until one day when I was teaching a class right here in St. George, Utah. Someone by the name of Faye brought me two Morning Glory Muffins! I was so excited to try one because they looked delicious, and was thrilled that she brought me the recipe. I asked her if the recipe was an old family recipe. She said the recipe was from her daughter. Faye mentioned they freeze really well. She makes a batch and microwaves them after removing them from the freezer.
My husband loves these as a dessert after dinner, or as part of a breakfast.  He's taken them with him to share with his golf buddies, and they really look forward to enjoying them instead of the usual dry granola bars.  When you consider the fruit and nut ingredients these are good for you too. Do you have busy mornings and you just want to make a quick breakfast? These taste even better the second or third day. They are so moist and are perfect for a run out the door breakfast.
I modified the recipe a bit because I wanted to use freshly ground whole wheat flour.  What kind of fruit or veggie would you like in your whole wheat muffins? What would be your favorite nut/s to add to these yummy muffins?
Whole Wheat Morning Glory Muffins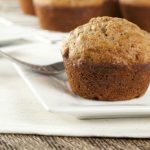 Whole Wheat Morning Glory Muffins
Ingredients
2

cups

whole wheat flour or white bread flour

1

cup

sugar

2

teaspoons

baking soda

2

teaspoons

cinnamon

1/2

teaspoon

salt

2

cups

grated carrots

1

large apple

grated

1/2

cup

sweetened shredded coconut

1/2

cup

raisins

1/2

cup

walnuts

3

eggs

2/3

cup

oil

2

teaspoons

vanilla
Instructions
Preheat oven to 350 degrees. Grease muffin tins. Gradually add all of the ingredients into a medium mixing bowl or stand mixer. Mix all together until moistened. Spoon the batter into muffin tins or paper lined cups. Fill about ¾ full. Bake for about 15-20 minutes, or until a toothpick comes out clean when tested.
Survival food storage by Linda