How To Make Whole Wheat French Bread In One Hour
This recipe I call my Whole Wheat French Bread In One Hour and is perfect for last minute guests. This recipe I posted before with the option of using enriched bread flour or freshly ground hard white whole wheat flour. My daughters sold this bread door-to-door for about 70 cents a loaf. We sold out every time. Now, this was about thirty years ago, so you know this is an old family favorite recipe!
It's a no-fail recipe if you have fresh ingredients. I just love the feel of the freshly kneaded dough. You can tell instantly if you have fresh ingredients. The yeast has thousands of living plant-like microorganisms. It's activated by warm water and a little sugar or starch. It then releases tiny carbon dioxide bubbles which make our bread rise.
I usually give one of the two loaves to a neighbor so they can enjoy the fresh bread.  Some families say they eat it like their favorite dessert. It is great with butter, butter and honey, jams, jellies and other toppings of choice.  My father-in-law loved to eat it with milk late at night, you know, the old bread and milk standby, just like cereal to many of us.
This bread is fluffy and moist at the same time. It has a different texture than my regular whole wheat bread, but is still delicious! Now, let me tell you something about this French bread. It does not stay as fresh as my other bread. It doesn't really matter to me because this recipe only makes two loaves and I promise you people will eat both loaves in quick order. Who doesn't love freshly made homemade bread coming out of the oven?
Here's my other French Bread recipe post: French Bread In One Hour Start To Finish by Food Storage Moms. This is how I store my weekly bread making ingredients in the refrigerator, then all I do is grab my Cox's honey, olive oil from the pantry, lemon juice from the refrigerator and water from the sink. I grind my hard whole wheat one month in advance and keep it in the freezer. I would pass these labels out to classes I taught on making whole wheat bread. The labels say, sea salt, SAF yeast, wheat gluten, instant milk, dough enhancer. This plastic container goes in my refrigerator.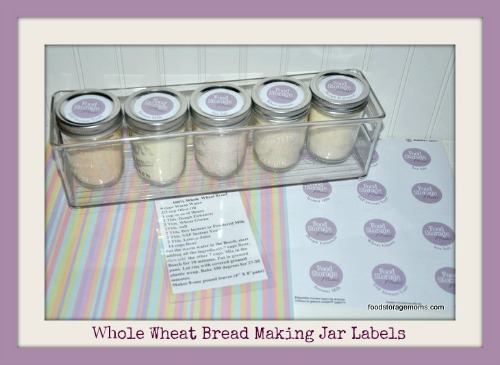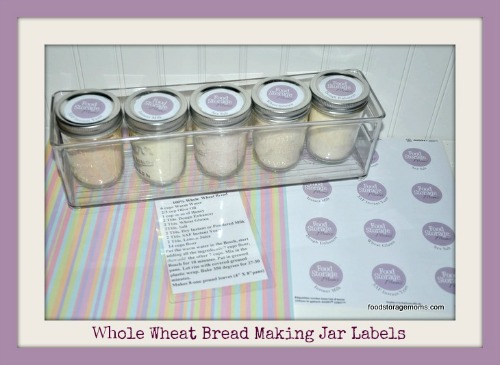 Step One:
I am a dumper if you didn't know that by now. I literally dump all the ingredients into my Bosch. I used my Bosch bread mixer and mixed the dough a FULL 5 minutes as stated in the recipe.  I let the dough rest for 15 minutes while I grease the pan and separate the egg yolks from the egg whites. As you can see some of the yolks ended up in the egg whites, that's okay. I promise, a Bosch mixer will save you so much money if you use it to make bread at home rather than buying the store-bought bread, and it is more healthy for you too. This is the one I have: Bosch Universal Plus Kitchen Machine
. By the way, I ONLY use SAF instant yeast. Period. Here's a link to the kind I use: Saf Instant Yeast, 1 Pound Pouch
. Once opened, please store in an airtight container.

I store at least 6-8 of these in my freezer at all times. BUT I make a lot of bread for my family and others.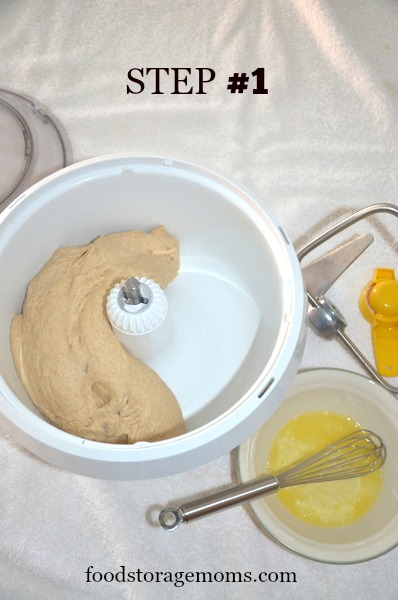 Step Two:
I never "pull" my dough, I "cut" my bread dough with a pastry cutter. Now sometimes the bread chunks might be different sizes. I do not weigh my dough. Nope, I just mold them into two loaves. Sometimes one is larger than the other. That's how it goes.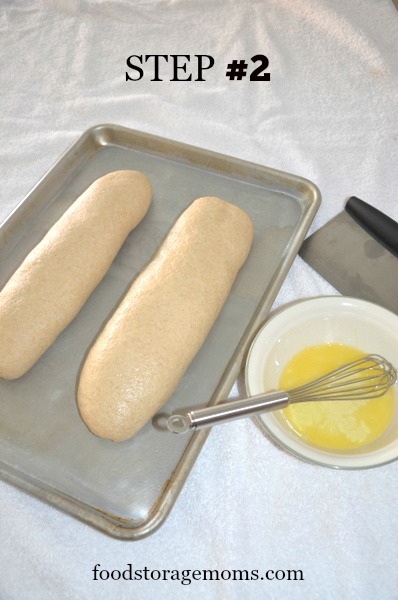 Step Three:
I lather the egg whites on and make a few slashes and let them rise about 15 minutes.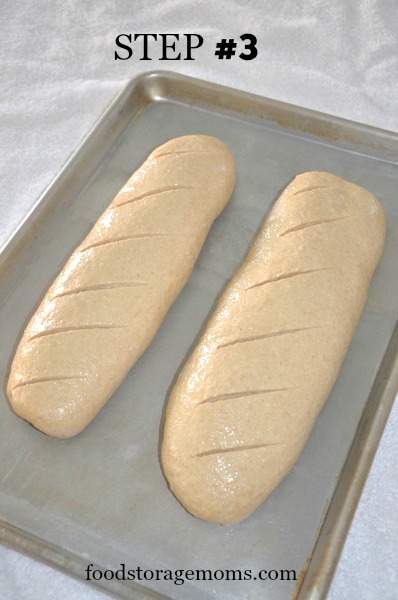 Baked:
I bake my whole wheat French bread at 450 degrees for 15 minutes. Easy peasy.
Whole Wheat French Bread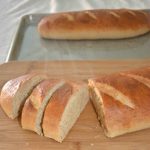 Whole Wheat French Bread
Ingredients
Ingredients:

2-1/2

cups

hot water

2

tablespoons

SAF instant yeast

2

tablespoons

sugar

2

teaspoons

Real Salt

5-1/2

cups

freshly ground hard white wheat

egg whites

lather loaves with the brush after first bread rise/cut 4-5 shallow cuts on top of loaves

sesame seeds or poppy seeds

optional, sprinkle on egg whites before the 2nd bread rise time **I don't use seeds on my bread
Instructions
Mix everything in the order shown except the egg whites and optional seeds. Knead for about five minutes in a bread mixer. Let rest for 15 minutes covered. Shape the dough into 2 loaves and place on a greased cookie sheet. Lather the tops of the loaves with the egg whites, cut four to five shallow cuts on top of the loaves. Next, sprinkle with seeds if desired. Let rise one more time about 15 minutes. Preheat the oven to 450 degrees and bake for 15 minutes.