My No-Fail Whole Wheat Dinner Rolls Anyone Can Make
This is my all-time favorite whole wheat bread recipe, that also makes the best whole wheat dinner rolls. Here's the deal, if you start with fresh ingredients anyone can make the most delicious bread. You can save money on your food budget at the same time. I grew up with my mother making bread. I absolutely love the smell of baking bread coming from the kitchen. There is just something about the feel of bread dough in your hands that is so therapeutic to me.
When my girls were little they would love to have a chunk of dough to play and mold their own loaf. My grandkids and "adopted" neighbor grandkids have all loved playing with real bread dough. Well, I did a post showing how to make my no-fail white dinner rolls and I received many emails asking for a whole wheat recipe dinner roll.
Here they are ready to bake. Today I used the recipe below and made 5-one pound loaves and one cake pan with 12 dinner rolls. I make them about 2 to 2-1/2 inches in diameter balls. I tuck the edges underneath and space them about one inch apart in the greased 9 inch by 13-inch cake pan.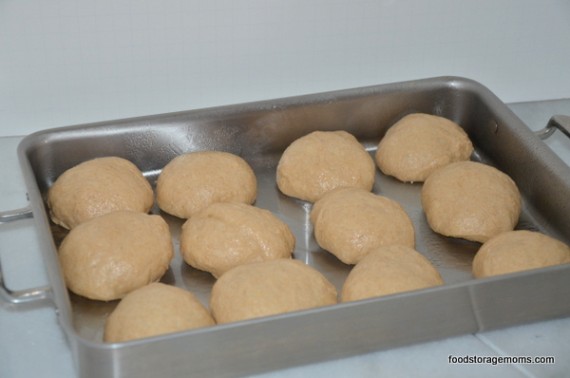 Here is my no-fail whole wheat dinner roll recipe. Please remember if you use fresh ingredients anyone can make bread. You really can and you will save money at the same time!
Whole Wheat Dinner Rolls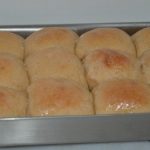 Whole Wheat Dinner Rolls
Ingredients
6

cups

warm water

2/3

cups

olive oil

1

cup

honey

2

tablespoons

dough enhancer

2

tablespoons

wheat gluten

2

tablespoons

dry instant milk

2

tablespoons

SAF Instant Yeast

2

tablespoons

lemon juice

2

tablespoons

Real Salt

14 -15

cups

freshly ground hard white wheat flour
Instructions
Start adding the ingredients in the order shown above with one exception into your mixing bowl…start with 7 cups of flour and slowly add more flour until the dough pulls away from the sides of the bowl. I use a Bosch Mixer. I grew up making bread without a mixer..it can be done by hand. I grew up letting my bread rise twice so I still do that. I mix it for 10 minutes in my Bosch. Form dough into balls and fill greased cookie sheets or 9 by 13-inch pans. Cover with greased plastic wrap. Let rise again. Remove the plastic wrap. Bake in a preheated oven @350 degrees. Bake about 15-20 minutes. I brush with butter on the tops after baking.